How to Sync iPod without iTunes: 4 Alternative iTunes Software Options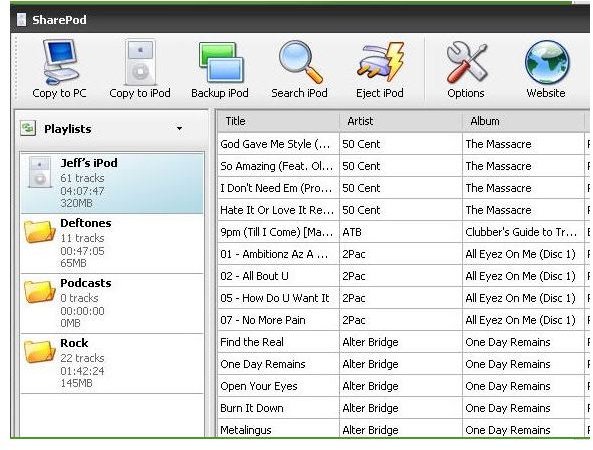 There are countless ways you can sync your iPod without iTunes. Software developers just like you have determined they don't like using iTunes, either, and created different iTunes alternative software to use instead. So you can stop wondering, "Can you sync music to your ipod without using iTunes?" because now you can.
Understand though, that you must sync your iPod with iTunes for the first use, no matter which software you choose. Your computer must be authorized to make changes to the iPod, or no software can sync with your iPod.
Also, realize that most alternative software do not sync applications, games or podcasts. You can edit, add or delete songs and movies, sometimes manage photos and delete existing podcasts, but most software cannot deal with iTunes Store related products.
Floola
Floola works on Mac, Windows and Linux platforms and is one of the only iTunes alternative software to do so.
Floola is a great choice to use if you want to update artwork on your music. Not all iTunes alternatives allow tinkering with such graphics, but if you can't live without the artwork that goes along with your music, you'll probably need this program.
This program also allows you to transfer songs from the iPod back onto a computer, which is helpful for transporting songs between two computers.
Sharepod
Sync iPod without iTunes using Sharepod if you want to copy music and movies to your PC with little hassle. Although you can still add tracks from the computer onto your iPod with this program, Sharepod is best known for its ability to take tracks off of your iPod and place them anywhere on your computer.
If you want to transport songs between iPod libraries, you can do so with Sharepod, as it will give you the option of inserting all music into your library whenever you copy tracks onto the PC.
Media Monkey
Media Monkey does a lot more than just sync iPods without iTunes. You can manage the music on your computer with it by renaming, organizing, ripping and burning music and a host of other tasks.
One thing you should know about Media Monkey is that it is a music player first and an iPod syncing software second. It's a great alternative to programs like Windows Media Player as far as music is concerned. But it's not the easiest interface to use if you just want to sync iPod without iTunes.
CopyTrans Manager
CopyTrans Manager is an all-around, easy-to-use software with a very user-friendly interface. It doesn't look as daunting as other software when you open it up. Everything is fairly straightforward, as it allows for drag-and-drop music additions, easy right-click deletions and one-click syncing.
CopyTrans Manager comes with a variety of other iPod management software, including a backup and restore utility, photo manager and library utility. These are not all free, but the CopyTrans Manager itself is.
So, can you sync music to your iPod without using iTunes? Absolutely! Just select one of these software programs and start syncing without iTunes as soon as it's installed.
Sources:
My own experience with iTunes alternatives
Image Credit:
Simple Help: 10 Alternatives to iTunes for Managing Your iPod