Review of the Sharp Aquos LC52D65U 52-inch 1080p LCD HDTV.
Features (4 out of 5)
The Sharp Aquos LC52D65U 52-inch 1080p LCD HDTV can be purchased online for about $875 online. While you do give up some features, it's a nice, large television for the money.
The LC52D65U comes with a surprising number of HDMI inputs at five as opposed to the usual two or four. You will be able to hook up a variety of devices via these inputs. You can also plug in your computer and use the television as a monitor.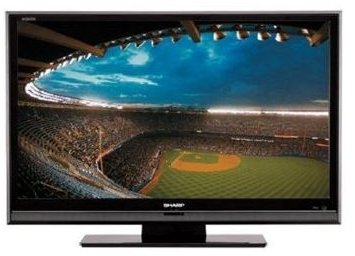 The television does have true HD 1080p and wide viewing angles, allowing you to place you are seating just about anywhere. It comes with a removable black cabinet that hides your speakers if you don't plan on mounting your television on the wall.
The dimensions of the television are 33.7 X 49.2 X 12.8 inches, and it weighs nearly 64 pounds. If you do plan on mounting this television, ask a friend or someone in your family to help you. But, one good thing is that the system is very slim, and Sharp has great customer service if you happen to run into issues.
Picture and Sound (4 out of 5)
The Aquos LC52D65U is relatively responsive with a 6ms response time. For a television that's way under the $2,000 mark, the picture is surprising clear and crisp. Both Blu-ray and HD programming look very nice on it. The sound is also quite good for a cheaper model. The television is 3.0 Energy Certified so it won't use up that much power.
While the picture and sound are great, you are going to sacrifice some quality with the lower price. The contrast ratio is 10,000:1 which is much lower than the 50,000 or even 100,000:1 ratios that can be found on similar units. This unit also doesn't have many of the features that the more expensive models have.
Possible Problems (3 out of 5)
The remote control requires a thorough reading of the manual since it's awkward to use and figure out. Setting up the television is going to take some work on your part because it's not standard. But, you should be able to figure it out. If not, as mentioned earlier, Sharp has excellent customer service.
Price for the Quality (4 out of 5)
Overall, this is a wonderful television for anyone who's on a budget. It's very large for the price, and the picture quality is quite good. Your Blu-ray movies and HD programming will look perfect on it. While you are sacrificing some quality, it isn't going to be enough for those who want a true bang for their buck.