Samsung 52 Inch LCD TV Review - Introduction & Setup
The 52" Samsung LN52A550 LCD HDTV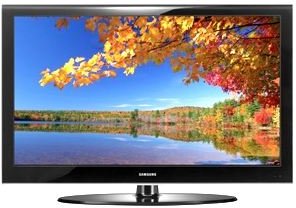 Introduction
2 weeks ago my brother out-did my Samsung LN40A550, by purchasing a big 52" Samsung LN52A550 LCD HDTV. At one time I held the record for owning the best tube in the house; then he had to come home with this monstrous dream of a machine. Jealousy naturally got the best of me; especially after I got some 'eyes on' experience with this 52" beauty.
The most attractive 'pop out at you' feature is the size of the screen. Even before the unit is powered on, you can tell that it will deliver some stunning clarity, and picture details. The high gloss 2" black frame that surrounds the LCD screen is also an attractive feature that Samsung seems to stick to when it comes to their HDTV's.
After poking around at the back of the unit, I noticed that everything is primarily set up in the same manner as my smaller 40" unit. There are 3 HDMI 1.3 inputs, a 2.0 USB port, and of course the LCD is 1080p, which basically means a higher quality picture, sharper lines, and clarity that is just as beautiful as a vacant Caribbean sea.
The remote was the same Samsung remote that my model came with, which is a nice sturdy sleek black remote with a high gloss finish. Poking through the different picture settings are also the same, so adjusting the brightness levels, and color tones were all simply done by going through the on screen menus. What's really interesting about it though, is that you can set up different settings for different HDMI channels. For instance, one HDMI connection could be your XBOX 360, or Playstation 3. You can adjust colors that are best fitting for the gaming experience, while having a separate setting for your regular TV viewing pleasure.
Ease Of Set Up (5 out of 5)
After inspecting the unit, I came to the conclusion that setting up the 52" Samsung LN52A550 LCD HDTV, was just as easy as setting up my 40" model.
The swivel base was all the same, just larger. On the box the HDTV came in, Samsung adds these nifty twist and pull clips on to their boxes, which allow you to twist them off, it will then release the top section of the box, keeping your HDTV safely tucked at the bottom. You simply slide the top section off after unclasping the clips, and wallah, you have your HDTV. It will be standing up in an upright position, which allows you to easily move the unit from point A to point B.
The backing of the Samsung LN52A550, is also set up to allow you to add it to a wall mount. It's really your choice on how you want to display the model (y_ou will have to buy a wall mount separately)._
Anyhow In less than 20 minutes my brother had the model set up and running, so the additional size, and weight (71.2 pounds) did not pose a problem for him at all.
Turn to page 2 to take a look at some of the many features that come packaged within the Samsung LN52A550.
Features (5 out of 5)
The Samsung LN52A550 comes packed with all sorts of features. The first of course being that the wide screen flat panel itself is a sharp 52", 1080p HD resolution LCD.
The LN52AA550 also has wide screen color enhancers, which basically makes sure that the entire surface of the LCD screen is flushed with bright and brilliant coloring; regular TVs tend to fade out colors that are closer to the screen edges. The wide color enhancers make sure you're getting even crystal clear color quality on every little speck of your screen. A nifty feature that you will likely take notice of immediately, especially if your previous model was a standard space hogging box TV.
The Wiselink 2.0 USB Connection allows you to hook up devices such as digital cameras, and MP3 players in order to view photos, or listen to select music.
The LN52A550 also has a 5-millisecond response time. Basically what these means is that every single pixel on the screen will respond in a 5-millisecond time.
What's that mean for you? Well it pretty much means no blur, or fuzzy looking picture during high paced action sequences on your screen. Simple little features like this is what makes your viewing diamond sharp. With a contrast ratio of 30,000:1, which enhances bright and dark scene details on your screen in order to deliver the stunning sharp picture quality.
Another fantastic feature built into the Samsung LN52A550 is**, DNIe (Digital Natural Image Engine)**, which will also deliver the best, lifelike picture quality.
SRS TruSurround XT will deliver a nice true surround sound like experience for your viewing pleasures. That's right, while displaying a super sweet image; you also have some crystal clear audio to go with it.
The unit also has PIP (picture in picture) to use for when someone in the household wants to watch a show on one channel, and you want to watch a show on another channel at the same time. PIP allows just that.
There is also a built in port to add headphones. Although it is unlikely anyone will ever use this feature, it is there for the taking.
A VGA Port allows you to hook up a PC. I have actually done this on my 40" unit, and even though the picture quality was superb, I did not like using such a large screen as my monitor. On the 52" Samsung, I imagine I would like it even less. For those of you used to having huge screens as your PC monitor, maybe you will like this feature. For the rest of us though, getting from point A to point B on such a large screen seems to take forever. Sometimes big is too big when it comes to PC monitors.
Composite AV / S- Video will also allow you to add a VCR to the unit. Not many use VCRs anymore, but for those of you who want to enjoy an old home movie, or an old VHS tape, the connection is there for you. Naturally included, you also have ports available to hook up a DVD player.
There are also 3 HDMI Connections for you to plug in numerous HD ready devices. You can plug in video game consoles that come with HDMI Ports (although you will need to buy separate HDMI plugs), Blu Ray players, and your HD Cable box if you have one (if not, I highly recommend the upgrade).
One of the HDMI Connections is located at the far left side of the panel, while 2 are nestled neatly at the back of the unit.
The Samsung 52" High-Definition LCD TV, LN52A550, also comes with a high gloss black finish swivel stand which allows you to move the entire screen from left to right with no effort at all. I especially like this feature for when I am working on my computer and want to watch TV at the same time. A small push to the side of the HDTV, and I can position the screen to where I want it.
The features are sweet, and they are all nicely tucked into this flat panel HDTV to deliver the best picture quality possible.
So how is that picture quality?
Turn to page 3 to find out.
Picture Quality (5 out of 5)
Picture quality changes with each device I used while using the Samsung LN52A550. Regular cable TV has a lower quality than any other device due to the fact that most channels are not delivered in full 1080p quality. HD channels looked pretty sharp, but even those cable channels were lacking that 'wow factor'. This however cannot effect my rating on the picture quality due to the fact that Cable itself is a bit behind when it comes to delivering the best quality picture for 1080p HDTVs.
On standard digital Cable channels the Samsung 52" LN52A550 delivered a very nice picture, which was truly impressive. Details were sharp, colors all bright and vivid, and not once did I experience any picture glitches, fuzzing, or blurs during quick action scenes.
HD channels were charged up with even sharper image than standard TV, clarity on HD channels are also crystal clear. Noticing the little extras that you would normally miss will have you stunned for quite some time (Imagine this: Celebrities with pimples! Pimples you wouldn't normally see on a standard television set).
Standard DVDs also will seem charmingly gorgeous in picture quality. Colors are vivid, and details that you have never seen before will pop out, begging for attention and you won't miss them unless you blink.
Just when you think it cannot get any better than watching a standard DVD on the Samsung 52" LN52A550, out comes Mr. Blu-Ray. Say hello to Mr. Blu-Ray, he is your HDTV's best friend. Together the two will create the sharpest picture your eyes have ever seen. Feast on it, it's good.
The 'wow factor' goes from a level 7 to a level 10 when it comes to Blu-Ray. In my opinion, as of right now, Blu-Ray is what these HDTV's are made for. You truly will not experience how wonderful the Samsung 52" LN52A550 is until you plug in a Blu-Ray. Picture clarity is so impressive that no matter how many times you watch the same Blu-Ray movie, you will still be amazed each and every time. Details literately come to life, and look even more stunning on screen than they do in real life.
Popping in my Pirates of the Caribbean on Blu-Ray, using this model blew me away. Although this exact Blu-Ray looks superb on my 40" unit, the Samsung 52" LN52A550 made things larger than life, and allowed for more detail to shine through. Glorious it was, glorious it is, and glorious it shall remain.
Next we have gaming. We own both an XBOX 360 and a Playstation 3. Plugging these 2 consoles in using 2 of the available HDMI connections allowed full 1080p gaming. Some games will play in full 1080p, and these particular games will deliver a gaming experience so delightful that gamers won't be able to look away. With the game mode settings in place, delivered to your eyeballs and ear lobes, will be a jaw dropping gaming experience, with vivid colors, and flawless crystal clear audio.
Picture quality in my opinion is a solid 5 star rating.
Images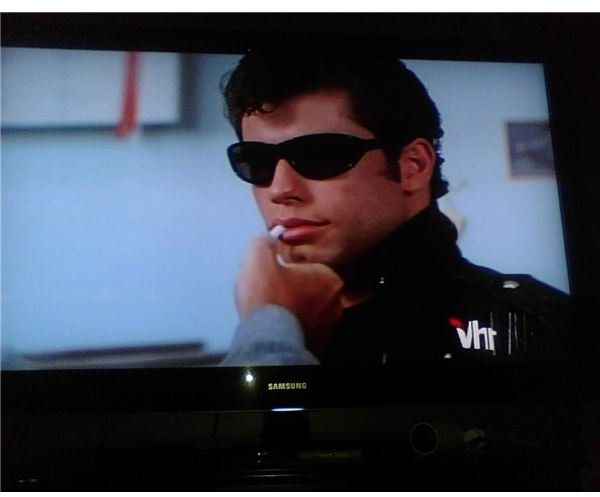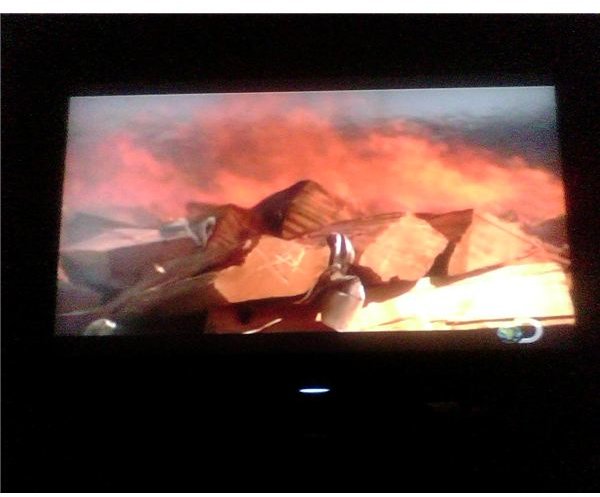 Conclusion (5 out of 5)
The Samsung 52" LN52A550 is a sweet, sweet HDTV. The pricing is very fair for the superb quality you are getting. The size of the screen is perfect for a large room, or living room. Its clarity is amazing, and the model has yet to disappoint.
Gaming will put you in a dream like state, regular digital cable will display a huge upgrade in picture quality compared to regular TV sets, you will be simply smitten with HD channels, standard DVD viewing will have you mesmerized, and Blu-Ray disk will have you drooling.
The Samsung LN52550 can be found being sold in nearly every electronics retail store such as Best Buy, or PC Richard's. The price will range anywhere from $1,999, to as low as $1,200 from online vendors.
Is the model worth the price? I'd have to say yes. A large crystal clear display like this one, is worth every penny you will put in to it. I do suggest shopping around though, as you can locate this exact model for much cheaper than what Samsung is selling it for.
Related Material
Do Expensive Monster HDMI Cables Work Better Than Cheap Generic HDMI Cables? Wanting to compare expensive monster HDMI cables to cheap low priced generic HDMI cables. Is it worth it to spend more money on monster cables? Or should you go with a cheap brand of HDMI cables?
Comparing Blu-Ray Home Theater Sources: Players, HTPCs, and the Playstation 3 If you've decided you'd like to make the leap to Blu-Ray, the next question is obvious - what Blu Ray player do I buy? What is less obvious is that there are more options than standard Blu-Ray players, and that both HTPCs and the Playstation 3 are valid options for your home theater.