Review of the ION VCR 2 PC
Why I Wanted It, Why I Needed It; The ION VCR 2 PC
Back in the early 80s my parents purchased a very expensive VHS video recorder. This was the old school type, but believe it or not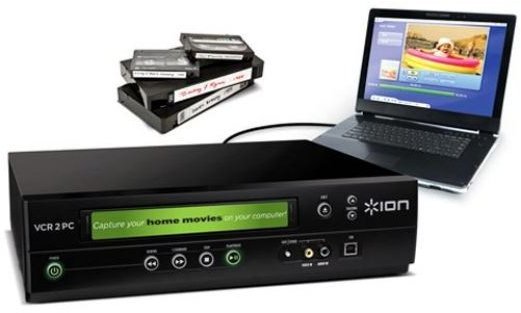 that old aged recorder still works! It was the best you could get, the type where you could slip an entire VHS tape into a chamber, hit record, and point it at whatever you wanted to tape.
In our family's case, most of our home movies are memories that we can re-live each and every time we watch the old VHS tapes. Unfortunately after close to 25 years, the VHS Tapes are in pretty horrible condition. Some of the tapes reels looks like they are filled with mold, and have grown very fragile over the years. They could easily break, which in turn would cost us memories that we could not replace.
When I noticed that half of our VHS home movies were looking like they were holding on to their last breath of life, I knew I had to do something fast in order to preserve these moments.
I took my search online and came across many different types of converters, but so many of them looked difficult to use. I like simplicity, and I found simplicity with the ION VCR 2 PC.
What was so attractive about the ION VCR 2 PC was that although it hooks up to a computer with an included USB cable, it works just like an old school VCR. That's right! You simply pop in your video tape, hit play on the ION VCR 2 PC, and on screen on your PC just hit record. I will go into further details later on, but seriously folks_, how simple is that?_
Appearance
The ION VCR 2 PC looks like an old VCR. It has the push in trap door that old VCR units had, and it even has the same simple buttons located on the face of it. A big rewind button, play button, a stop button, and fast forward button are all neatly sprawled out across the main faceplate of the device. It however does NOT record. The record button is located in the software CD that comes with the unit.
The unit has tracking buttons, and a power on/off button located at the far left of the device.
All in all the ION VCR 2 PC looks like a VCR just a little more modernized.
Next: How it Works Mini-Tutorial
Tutorial On How the ION VCR 2 PC Works
The ION VCR 2 PC is a very simple device to use. Those who are computer illiterate can even follow the simple instructions.
Basically you plug the unit it. It is shaped like an old VCR, but is just a little smaller in size. You simply plug the unit into an available AC outlet, and then plug the added USB cable into the ION VCR 2 PC. You then plug the other end of the USB into an available USB port on your computer. It's simple.
Next you simply pop the installation disc that comes with the unit into your PC, and install the application in order to get the ION VCR 2 PC to work properly.
Once you have installed the drivers and the program, you then only need to put the VHS into the device and rewind the video by hitting the rewind button located directly on the ION VCR 2 PC device.
Once you are ready to hit play and record your home video, you first will want to go over to your PC's ION software that you just installed. There will be a main menu with tabs. Hit the tab that says VCR2PC on the main menu.
You will see a new screen where you will see a square that should be black on the right side. Now you can hit play on the actual ION VCR 2 PC device. It's a big button that says "Play." You really can't miss it!
Next on the PCs menu, click Record. The software will do the rest. The only thing you need to do is to sit back and watch your old film on your PC screen, and wait for it to finish.
Once it is done you will now have a video file of your old VHS on your computer.
The ION VCR 2 PC will save your VHS videos in Mpeg2 or Mpeg4.
Once you have your VHS videos converted over to your computer you are free to do whatever you want with them. You can make DVDs to store the video on, you can post the videos to MySpace or you can share the videos with others on whatever social website you prefer. Burning your home movies into DVDs and giving them to relatives as gifts is pretty special as well.
You can also use the ION VCR 2 PC as a VCR by hooking it up to your television set. It has the full functionality of an old school VCR (except recording to a VHS tape) and capabilities to transfer VHS videos to my PC. Sweet!
A Warning For Those Who Don't Run 32-Bit Windows
The one thing you have to make sure of before buying this converter is that your computer is running a 32-bit version of Windows. It took me hours to figure this out, and I thought the unit was broken because it would not work with my 64-bit Windows! Thankfully I had a laptop that had 32-bit Windows. Had I not had that laptop, the ION VCR 2 PC would not have worked. I thought this was sort of stupid, because most new computers run at 64-bit.
I was rather annoyed that the company I bought the unit from (Hammacher) did not have this mentioned anywhere on the site. I only was able to discover this on the ION website. It is hidden in a FAQ section on their site. I think stating that the device only works with 32 bit PCs should be written in bold on every site that is selling it so that it is clear to those who don't dig into the FAQ sections before purchasing. The specifications only state that it is compatible with Windows XP and Vista.
Next: A Few Issues, Overall Conclusion and Rating, Related Reading
Issues
As chock full of wonderful the Ion VCR 2 PC sounds, it does in fact have a few minor issues that I have to mention.
The very first issue I found with the ION VCR 2 PC Converter is the fact that while rewinding it would sometimes just play video on my PC screen on its own, without being fully rewound!
It was annoying to have to go back and hit rewind again, and I don't know why it does it, but it does randomly decide to do this for no apparent reason. Thankfully though during recording time there are no issues at all.
The other issue also happens when I am rewinding a VHS tape. Sometimes for no apparent reason while in the middle of rewinding the ION VCR 2 PC will just eject the tape instead of finishing the rewinding process. It got me worried the first time this happened because I thought it ate the reel.
Thankfully the VHS was fine, but it is definitely an issue that needs mentioning.
In my experience with the ION VCR 2 PC, everything seems to work flawlessly, except for when I am rewinding films.
The last issue, once again, focuses on the rewinding process.
It takes close to 7 minutes for a 2 hour VHS to fully rewind. This is crazy long, but at the same time the slower process makes sure your old reels don't rip. If you are not a patient person you could always rewind the VHS tapes on an actual VCR. The ION VCR 2 PC though does it a bit slower in order to baby the fragile reels within the tapes.
Overall (5 out of 5)
All in all though the issues are very small compared to what the ION VCR 2 PC is capable of doing, which is storing your old VHS tapes into digital media for your family's generation after generation of viewing.
The device works wonderfully; the process of converting VHS tapes to your PC is easy step by step all the way, and even new users will find that using the ION VCR 2 PC Converter is a cinch!
Being able to store old VHS home videos on to my computer was what I wanted this device to do, and it did it with simplicity and grace. I now have managed to save all of my home movies on to DVD by burning them. I also have my old videos stored on my Myspace account for long distance friends and family to view them. This would not have been possible for me to do without the ION VCR 2 PC.
I recommend it to anyone looking for a simple way to save their old VHS home movies.
The ION VCR 2 PC can be found in many online stores priced anywhere from $90.00 to $150.00. It's worth the price in my opinion.
Editor's Note: If you have a Media Center Windows PC with a television tuner card, it's possible to record directly from an old VCR to the PC. Please follow the first link below to read the article.
Related Reading
How to Copy a VHS Tape to DVD Using Your Media Center PC - It's a myth that HP Media Center PCs running Vista don't support copying analog video and audio signals from the front-panel inputs. Hauppauge "WinTV" tuner cards have long supported analog capture and encoding from an analog source to a digital (MPEG) output. Here we show you how it works.
Do Expensive Monster HDMI Cables Work Better than Cheap Generic HDMI Cables? - Wanting to compare expensive Monster HDMI cables to cheap low priced generic HDMI cables. Is it worth it to spend more money on Monster cables? Or should you go with a cheap brand of HDMI cable?
Review: Samsung 22" LCD SyncMaster Monitor 2232BW - The Samsung 22" LCD SyncMaster Monitor, Model 2232BW is just about as sexy as an HDTV when it comes to crystal clear clarity, colors, and of course that sleek, slim look that nearly all Samsung LCD's have. This monitor is a treat to the eyes, with a price tag that will make you smile!