The Best HTPC Motherboard: Buying Guide & Recommendations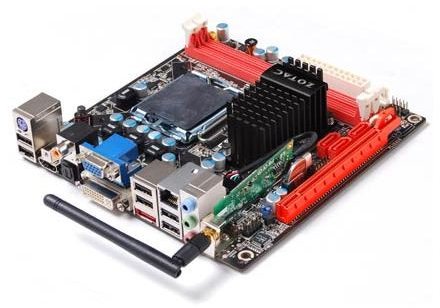 DVI Outputs
A home theater PC (HTPC) is a computer system that allows you to basically ditch your television. It boosts the normal functioning of your computer to allow you to fully enjoy movies, videos, photos and music. HTPC motherboards are different than standard motherboards since they have to compensate for the additional graphic strain. The best HTPC motherboard resembles something like a gaming motherboard, which produce better graphics than regular motherboards.
So, what constitutes a good HTPC motherboard? Well, stability may be the highest qualification on the list. Without stability, your computer is going to crash…a lot. Standard computer systems just can't handle the pressure of high-intensity graphics and animations. So, you are going to run into the problem of stalling and crashing.
Another popular component of the best HTPC motherboards are good DVI outputs. DVI standard for Digital Video Interface, and these devices allow you to take full advantage of both your video graphics card and LCD monitor. Most computers come with single-link DVI output cables, but this probably won't do the job properly.
You should look into dual DVI devices. These devices do double the work of the single-link DVI, which means that you double the power and double the transmission. For example, if your monitor has a resolution of 1920 x 1200 with the single-DVI link, it will have a resolution of 2560 x 1600 with the dual link.
VIVO
Video In Video Out (VIVO) is also important. This is a video graphics port, which is found on many high-end video cards. VIVOs allow you to
transfer analog video in two directions, and these ports also support more than the standard video input and outputs, including S-Video, component and composite. Standard input/output ports only usually support S-Video and component.
Dedicated Graphics Card
Look for a motherboard with a dedicated graphics card. These cards have their own processors and RAM memory, which means that it takes the job of processing graphics away from the CPU and installed RAM. Dedicated graphics cards can better handle 3D graphics, and many come with a TV-tuner adapter, which is a must for all HTPC motherboards.
TV-Tuner Adapter
The TV-tuner adapter allows you to basically turn your computer into a TV, by allowing you to receive TV signals right on your computer or laptop. Look for one that allows you to receive digital and analog signals as this will give you more programming. Also, one with video capture technology would also be a plus.
HTPC Motherboard Recommendations
A good all-around HTPC motherboard is the Zotac GF9300-D-E. It's a compact motherboard, but it's packed with features, including six USB ports, WiFi and one eSATA port. It comes with one 16x PCI Express slot, and it has a NVIDIA GeForce 9300 GPU, which allows you to watch videos in true HD TV. This device sells for around $140.00.
Another standout motherboard is the ASUS P5N7A-VM motherboard, which also uses the GeForce 9300 graphics core and it comes with 7.1 audio and the Intel DG45ID. This motherboard is specifically designed for the HTPC market with four video output options, and it produces excellent video quality. This device sells for around $120.00.