How to Turn a Room into a Home Theater: Create the Cinema Effect in Your Own Home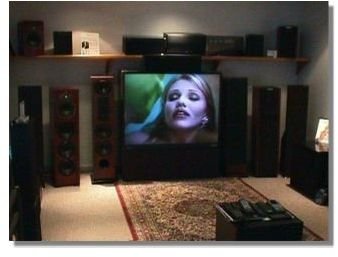 Building a Room into a Home Theater - Hire an Expert When You Have a Big Budget
When you want the real theater experience at home and budget isn't a constraint for you, the best way to get the most out of your investment is to hire an expert to design your home theater room. We say this because with a high budget you can go for only the top-notch gadgetry or the customized equipment best suited to your room. If not installed or customized properly, it may ruin the whole experience, and the best way to prevent this is to actually have someone knowledgeable in the field.
Make sure you hire only a licensed installer or contractor to design your home theater. Contact CEDIA (Custom Electronic Design and Installation Association) to get a licensed installer or contractor near you.
NOTE: A home theater design expert saves you from a thousand worries and ensures you the best experience!
However, if you want to build a home theater yourself, you need to check out the basics_._
Cine Experience at Home - Convert your Room to a Home Movie Theatre
The idea of converting any room or maybe the basement of your home into a home theater is relatively new for common people, and it has only been possible due to advent of technology. A home theater is a combination of a display unit like a plasma or LCD television or a projection system; a DVD, HD-DVD, or Blu-ray player; and the sound system. Apart from these, the construction of your room is also an important aspect in building a home theater. After you decide on the room, here are the few important steps which can lead you to a perfect home theater for your house.
Getting the Room Ready
This topic in itself can be huge to cover for us because your room prep has to depend on the size of the room and the budget you have. If you're really not worried about the budget, you should involve experts to design a real theater into your room. Otherwise, if you're conscious about your budget, just ensure a few things before you actually put the home theater system into the room. Make sure the room has adequate noise isolation; you certainly don't wish to bother the complete house while watching a movie. It is essential to use thick curtains for windows or doors and ensure that the floor is covered. A thick covering can provide some sound absorption and make your speakers sound better. You can think of making the room soundproof if you have a big budget. The lighting for the room should be such that it can be switched on or off with a single conveniently located button; it's better to not allow any natural lights into your home theater room.
Choosing the Video Display System
You first need to determine the size you need for your screen. It should be considered while keeping in mind the dimensions of your room. Now, when you have the dimensions, decide whether you need a flat panel LCD or plasma television or if you want a combination of a video projector and screen. A little research on the Internet can help you come up with the best solution.
Disc Player
Your disc player can be a DVD, HD-DVD or a Blu-ray player or may be your computer connected to the video projector.
Sound System
You may install those high-end 5.1 or 7.1 surround speakers with a built-in DTS/Dolby surround system. Or, depending on the dimensions of your room and your budget, you can get a custom speaker arrangement. There isn't a perfect formula for arranging the speakers except that front speakers should be in front and the rear ones at sides or behind of viewer. The rest you need to judge with your ears and decide what arrangements suits best.