Tag My Movie Collection: Best DVD Collection Management Software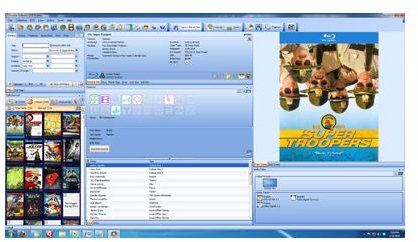 DVD Profiler
DVD Profiler is a program sold by Invelos Software that features one of the most powerful DVD archiving tools on the Internet. The software is free to use to tag my movie collection with limitations. There is no limit to how many movies you can enter into the program but, after 50 are entered, some features are unavailable in the free version.
Entering the DVDs is as simple as inputting the UPC from the case and DVD Profiler collects all the information from its database and enters it into your collection. You can also put the DVD in your computer's DVD drive and DVD Profiler will recognize most titles and let you import the information that way. There have been a few DVDs I placed in the drive that were not recognized but, once I entered the UPC, it found the DVD.
DVD Profiler is also a community tool. If you find that the DVD you are trying to enter is not in their system, you can manually enter the information yourself and submit it. Once the information is verified and accepted, that DVD is available for all users to access in the future. The software also allows you to scan the DVD cover and enter it yourself if an image is not available.
Another quality addition to DVD Profiler is the ability to upload your collection to a server and access it on any computer. There are problems with this method when trying to access it on a phone or wireless device because the titles are listed in alphabetical order without a search option. For larger collections, it is time consuming and difficult to find specific titles on a handheld device.
Another problem with DVD Profiler is the mobile version. Even if you paid the full $29.95 price for the unlimited database, you must buy the mobile version separately for an additional $18.95 if you want access to it. While this version offers users much more access to their collection than trying to use the server, this mobile version is only available for Windows Mobile phones. While Invelos has teased iPhone and Android possibilities for years now, it seems like those options will never come.
For more information, visit www.invelos.com.
Images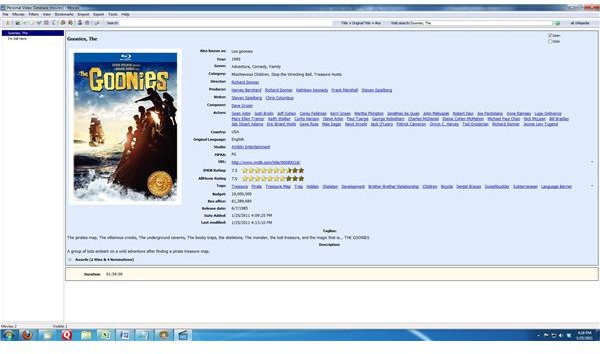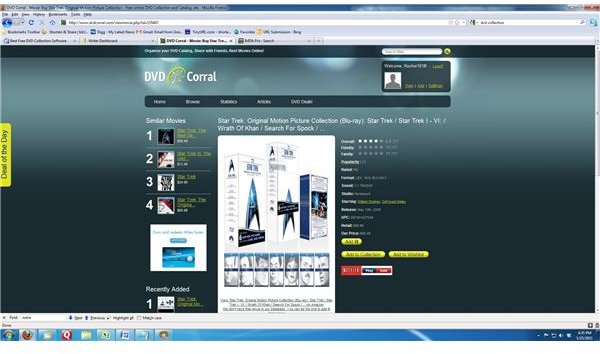 Personal Movie Database
Personal Movie Database (PVD) is a free alternative to DVD Profiler, which allows a user to input the title of the movie they want to enter and then download the pertinent information. This is a good way to tag my movie collection but is nowhere near as user friendly as DVD Profiler.
While it is easy to enter your collection, the fact that you are responsible for downloading all the information makes it tedious to enter your entire collection if it is large. The software offers the opportunity to download information from IMDB, Amazon, AllMovie.com, AdultDVDEmpire and AnimeNfo, offering a variety of options for different DVD collectors.
If you are someone who wants an easy way to archive your collection at home and don't mind losing the bells and whistles of DVD Profiler, this is a great free option. The biggest downfall for PVD is the inability to upload the collection to a remote server to have available when shopping for new movies. However, there is a way to export the collection in a variety of formats including HTML and plain lists to load onto your portable device.
For more information, visit https://www.videodb.info/forum_en/.
DVD Corral
DVD Corral is an online application that allows you to archive your entire collection on a remote server and access it no matter where you are. The ability to easily enter a DVD by title or UPC code makes building your archive simple using this software.
There are limitations to using this software, the biggest of which is the lack of solid information about the DVD or Blu-ray release. When you go to the page of the DVD, all you get is limited information including the top stars, release date and price. One nice addition that is available is a Wish List, but that is also available on DVD Profiler.
For a free program, this is one of the best tools to have when searching for a simple tool to take with you when shopping for new movies. When I tag my movie collection, I can easily use any mobile device, pull up the website and find the movie I am looking for. There are ways to filter your collection based on genre and rating but, unfortunately, there is no way to filter the movies based on whether they are DVD or Blu-ray.
The main site also tracks upcoming DVD and Blu-ray releases, ranks lists of popular movies and includes DVD news. If you are only looking for an online way to tag your movie collection, this option is the best bet.
For more information, visit www.dvdcorral.com.