Car GPS System Review: The All-New TomTom VIA 1535
TomTom VIA 1535 Overview
TomTom has recently released a bunch of new models of car navigation systems. This includes the TomTom VIA 1535 GPS model. In this TomTom VIA 1535 review, you'll learn whether or not this GPS navigation device is worth the over $200 price tag.
Body (4 out of 5)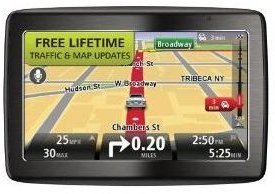 With more and more people using their phones for navigation duties, GPS manufacturers had to become a bit more competitive with their offerings. TomTom has definitely stepped up its game with the 1400 and 1500 series of car GPS systems, and the VIA 1535 is no different.
This car GPS system has a large touch screen at five inches with a resolution of 480 by 272 pixels. It comes with up to 2 GB of internal flash memory, allowing you to add additional maps and features to the unit. It also has a SD slot for additional memory. It's also relatively lightweight at just 6.45 ounces.
Features (5 out of 5)
The major selling point of this unit are the features. It's just packed with them. One of the best is the Advanced Lane Guidance offering. This feature not only tells you when you have to get off at an exit, it also tells you what lane you need to be in to make the exit.
It also comes with the Eco Routes application, which shows you the route that will cost you less in gas. Another standout feature is the IQ Routes. All GPS units can show you the fastest routes based on speed limits. The IQ Routes is different in that it shows the fastest route based on how fast drivers are actually moving. So, you easily get around traffic accidents and construction.
You also get a guarantee that if a new map release comes out within 90 days of purchasing your device, you can download it for free from TomTom. The MapShare On-Demand feature allows you to download map updates to your current maps as often as you like, and you can even share maps with other drivers.
This GPS unit is Bluetooth-enabled, allowing you to make hands-free calls. It has an integrated mount that you just fold up into the unit when you are done using your GPS device.
Maps (4 out of 5)
The TomTom VIA 1535 comes standard with Canadian and United States maps. If you get into an accident or break down, you can find your exact location using the Emergency menu. You can save frequent destinations, and add your own labels to those destinations. For example, you can add your home address, and give a name like "Home" to distinguish it from other destinations.
Battery Life (3 out of 5)
The major downside to this car GPS navigation system is the battery life. You only get a maximum of two hours of battery life. So, if you forgot your car charger, then you probably won't have enough battery life to get you to your destination and home again before your GPS system dies.
Bang for Buck (4 out of 5)
Despite the problem with the battery, the TomTom VIA 1535 is a pretty impressive GPS system. The features are amazing, and the screen size is just about perfect. Even at just a little over $200 at Amazon, it's still relatively inexpensive for the features it offers.
So, if you are in the market for a new car GPS navigation system, then you definitely need to check out this TomTom.
References
TomTom, https://www.tomtom.com/en_us/products/car-navigation/via-1535-series/#tab:specifications
CNET Reviews, https://reviews.cnet.com/car-gps-navigation/tomtom-via-1535/4507-3430_7-34468416.html?tag=specs
Image credit courtesy of Amazon