Geocaching Ontario: Plan Your Trip Here Geocachers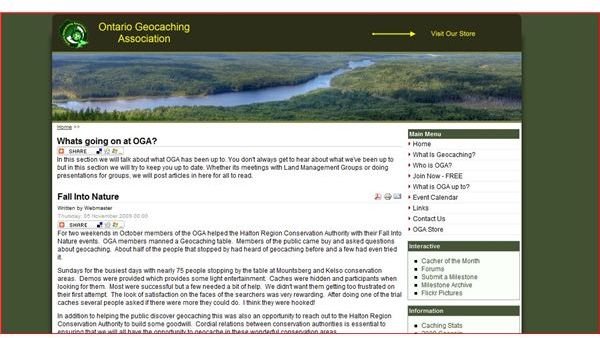 Endless Lakes, Heritage, and Thriving Big Cities
Geocaching Ontario will give you many opportunities to discover scenic places, culture, history, and hidden treasures that you might otherwise miss. You're probably reading this because you're a geocaching enthusiast already, so rest assured that Ontario is an outstanding place to enjoy your hobby. Ontario is an enormous territory, the second largest province in Canada after Quebec that encapsulates both huge swaths of wilderness and teeming cities like Toronto and Ottawa (the capital of Canada). Some sections of these cities have that old world, European feel to them, and you can find geocaches (many of them of the virtual variety) that will teach you some fascinating history and heritage.
There is a massive amount of water up there; Hudson Bay, Lake Superior, Lake Huron, and the Niagara River, among the other 250,000 freshwater lakes. That bodes well for boaters, kayakers, and anglers. And you can do any of those while you're geocaching to double-down on outdoor recreation pleasure. Read this article on The Mountain Biking Geocaching Connection to see these dual-hobby combos are available everywhere.
Whether it's hiking deep in the Canadian woods, canoeing thousands of miles of freshwater coastline, or finding the most intriguing geological features, you can find geocache stashes to bag while you're at it too. For example, the multi-cache "Ontario Sprit Quest" listed on geocaching.com will take you on a tour of all the final resting places and monuments dedicated to the pioneers who forged their way into new frontiers. You'll learn a lot about how the land was settled by them along the way.
Ontario's Many Geocaching Organizations Generate Enthusiasm
The Ontario Geocaching Association
Dedicated to promoting and supporting this hobby within its territory, along with announcing and coordinating events for all enthusiasts, residents and visitors alike, the Ontario Geocaching Association is a worthy resource indeed. They are proactive in coordinating with landowners, government agencies, Provincial Parks, Conservation Parks, and Municipal Parks to form safe, fun, and mutually beneficial guidelines for geocaching in Ontario. They help all involved see how tourism is generated and opportunities for education are available when GPS hide-and-seek sites are planted and sought after. For a look at geocaching resources everywhere in the Great White North, read Geocaching Canada: Seek, Find, Never Yield.
South Western Ontario Geocachers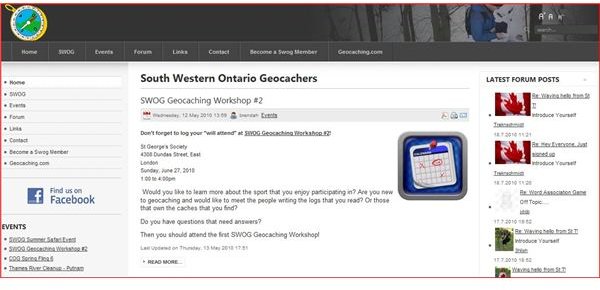 For more details and goings on in this region, plug into the information-packed offerings the South Western Ontario Geocachers compile for the benefit of all visiting and resident geocachers. There, you'll find out about workshops, forums, and social gatherings dedicated to this GPS-assisted sport in this area of Ontario which is essentially a peninsula surrounded by lakes and the United States.
NWO Geocachers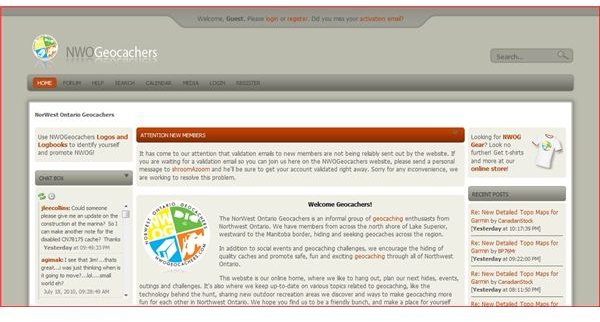 If you want solitude and adventure in the subarctic, sparsely-populated North Country, along with caching opportunities around here where people do live, visit NWO Geocachers. They share information on the latest caches, events, and the best GPS devices; all in an effort to promote safe and pleasurable experiences. They're friendly and feverish about hiding caches in challenging places that will introduce you to the vast, quiet beauty found there.
Geocaching.com
As always, the site to find all the details, coordinates, names, and logs for all available geocaches anywhere in the world is geocaching.com. I just linked you to what is available in greater Ontario for your convenience. As you will see, there are many thousands to choose from. Use their Google Maps function to find the ones in the areas of Ontario you plan on visiting to seek or hide caches. There are even more associations in Ontario for geocaching, which are linked to in the above sites, or a quick search will lead you to discover them and what they've got in store for you. Good luck and keep on caching!