Lowrance Fishfinders: Top 5 Recommendations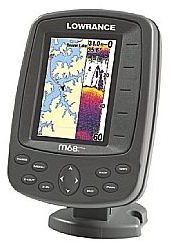 Lowrance fishfinders are devices that help you detect fish, their distance from you and how fast they are moving. Fishfinders become a valuable tool if you don't want to spend time in an area where there are no fish.
1. M68C S/Map Compact Fishfinder
If you want a high-detail mapping system and an internal GPS and WAAS receiver in color for a low price, this is a great choice for you. Its features a bright 3.5-inch VGA active matric TFT transflective LCD screen with 256 colors for a clear and colorful viewing experience. It has a depth penetration of up to 600 feet powered by a 12-parallel channel GPS and WAAS capability and an internal antenna. Its compact design makes it ideal for people with a lower budget but cannot settle for anything less than the fishfinding features included in this device. You can buy it from Lowrance official website for $299.97.
2. X50 DS Dual-Search Fishfinder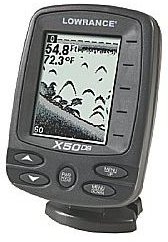 It may not be in color but its four levels of gray scale is capable of giving clear and high contrast visuals on its 240 x 160 four-inch Film SuperTwist display screen. Its compact design makes it easy to transport and store and is a nice tool to bring with you in the field because it does not occupy a lot of space. It features Dual-Search technology that finds fish with a coverage that can go up to 120 degrees. That is a wide coverage range for a small device, making it one of the most efficient fishfinding tools around. You can buy it for $119.
3. X67C IceMachine Fishfinder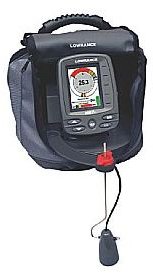 If ice fishing is your thing, this versatile and portable sonar system is a tool that will do wonders with your fishing trips. It features a brilliant TFT display screen with 256 colors. It has a depth penetration of 600 feet. This device comes with a battery charger, a rechargeable battery, a battery well with tie-downs, a swingout transducer bracket and a carrying bag. It is a complete ice fishing package that is both efficient to use and attractive to the eyes. You can get it for $249.
4. X96 Sonar Fishfinder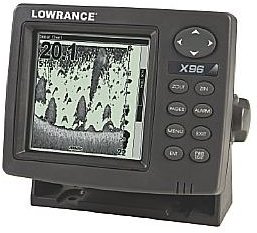 This fishfinder features a high definition 320 x 320 display screen with 16 levels of gray scale. It also has a temperature sensor and a 200 kHz transducer. It is designed for great performance in both deep and shallow water in terms of sonar detection of fish. Its sonar capability combined with its temperature sensor makes it one of the most effective and powerful fishfinding devices available. You can purchase this fishfinder for $267.19.
5. X126 DF Sonar Fishfinder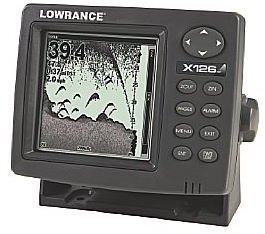 If you want a heavy duty sonar fishfinding device with a big screen that offers clear visuals, this is your ideal tool. It is enhanced for great sonar performance for both shallow and deep water. Its LCD display screen features a high definition 480 x 480 resolution with 16 level gray scale. It uses its speed and distance sensors to assist you in finding fish no matter the depth of water during your fishing trip. You can buy it for $349.
Conclusion
These Lowrance fishfinders are the best you can find in the Lowrance line of devices because of their compact designs, useful features and attractive price tags.
For basic information, you may want to check out the article on How to Use a Fishfinder.
References
https://www.lowrance.com/Products/Marine/Compact-Sonar-Fishfinders/M68C-SMap/
https://www.lowrance.com/Products/Marine/Compact-Sonar-Fishfinders/X50-DS/
https://www.lowrance.com/Products/Marine/IceMachine-Portable-Fishfinders/X67C-IceMachine/
https://www.lowrance.com/Products/Marine/Full-Size-Sonar-Fishfinders/X96/
https://www.lowrance.com/Products/Marine/Full-Size-Sonar-Fishfinders/X126-DF/
Screenshots courtesy of Lowrance