Rating Color Portable Fishfinders: Garmin, Hummingbird, Lowrance, & Eagle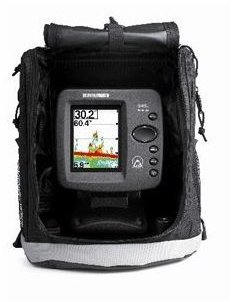 Hummingbird 345C
The Hummingbird 345C has a 3.5-inch color TFT screen and scans the depths up to 1,000 feet. It uses a dual sonar system to give amazing pictures of the lake or river bottom and everything between you and it. This is a perfect fishfinder for ice fishing as well due to its tiny footprint (12x14x6). It also has an expansion slot for adding a navigation chip that works with the on-board GPS. For $318.78 this is the very best when rating portable color fishfinders on the market today.
Lowrance HDS-5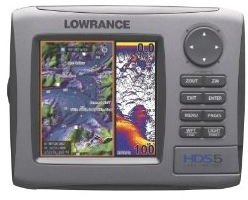 The Lowrance HDS-5 is both a portable and mountable fishfinder. Its small size, 12.4 x 8.8 x 5.6 inches and 4.9 lb. weight, makes it one of the smallest, lightest color fishfinders on the market. Don't let its small size fool you; it is packed with features including enhanced GPS locator, depth meter, and digital filtering. For $719.99 this broadband fishfinder with a 5-inch screen gives you everything you need and more (special features include 5,000 U.S. lake maps and 120-degree scanning option).
Hummingbird 788ci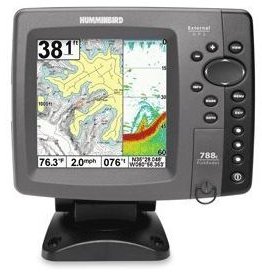 The $649.99 Hummingbird 788ci offers a 5-inch color screen with 640x640 resolution and Uni map technology to easily locate and mark where the biggest fish like to hang out. The Hummingbird has two SD card slots so you can use one for your Navionics map chip and one for saving all your other fishfinder data. The quick change display has presets for all your favorite functions and makes using the Hummingbird much easier than units with the scroll and drop-down menu interfaces. The detachable head of the unit allows you to take it with you when you leave the boat so that you can be sure it's safe. A nice piece of sonar equipment at a great price makes this one stand high in the ratings for color portable fishfinders.
Garmin 160c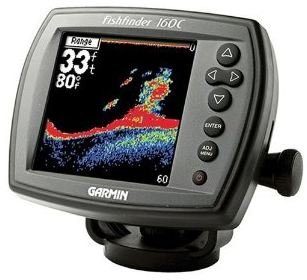 The Garmin 160C is the cheapest of the top five portable color fishfinders on the list. At $164.80 you might expect it to be a substandard model but it isn't. This fishfinder is specifically designed for shallow freshwater applications. The rangefinder can adjust the sonar from a 14- to 45-foot spread to maximize fishfinding. This unit is a bit slower than the higher priced models, so it isn't for use while speeding along the lake or stream–it works best as a standstill or trolling unit. The 4.5-inch color screen does give great contrast and fish are easily recognizable.
Eagle Fishmark 640c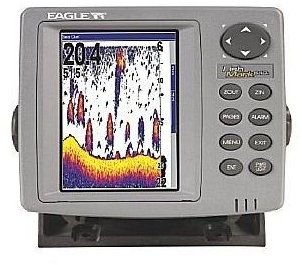 The best deal on a color portable fishfinder has to be found on Amazon.com where the Eagle Fishmark 640C is over 60% off at a cost of only $289.99. It has a bright 5-inch screen that is easily viewable even in direct sunlight, adjustable split screen display, operating depth of up to 800 feet. and operating speed of up to 61 kph. This unit also comes with a shallow depth alarm that can be toggled on or off depending on the areas in which you'll be fishing. When rating portable color fishfinders this one should rise near the top of the list.