Feeling the Need for Speed? Ultimate Buying Guide to Remote Control Cars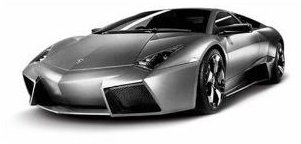 The world of remote control cars can be pretty daunting, which is why we've put this buying guide together. We recognize that playing with cars is not just for kids. In fact, it has grown into a huge hobby industry, with the availability of car kits and gas-powered cars for adults. You can buy anything from a bumper car or police car for a child, right up to some high-end sporty models that are just like mini replicas of the originals.
We start at the kids' end of the market, meet somewhere in the middle with fun options like cars that climb walls, or even those that can be sent off to do a bit of spy work, and finish with the more expensive options for the enthusiast.
Engines ready? Let's go!
Best Remote Control Cars for Kids
Remote control cars might be fun for everyone concerned, but it's true to say that not all options will suit all gift recipients – especially when it comes to children. Many models can be difficult to control, and the size of the control units themselves can be much too heavy or cumbersome for a young child to hold. This round-up puts you in touch with all the top options for kids.
Think Pink! Remote Control Cars With a Girlie Feel
Even in this day and age, it's hard not to notice that the bulk of toy cars are intended for boys. While girls who want an RC car will be happy with any model (and why wouldn't they), it's certainly true that they might have a higher likability factor for some girls if they are pink. We feature the obvious options of Barbie and Strawberry Shortcake, but have rounded up some other cars that all have the pink factor
Remote Control Police Cars for Kids
Racing and police cars just seem to go together, and are as popular as ever. In this roundup we take a look at the best options in various different age categories, to make sure your little one is a happy little police driver. There are options for everyone from toddler to teen, so you are certain to find a top notch choice to suit.
The Best Remote Control Bumper Cars
No need to worry about a lot of dents and bumps with these cars! RC bumper cars are a whole lot of fun, and especially suited to the younger driver as it really doesn't matter if they keep crashing. They are usually sold in pairs, which really makes using these remote control cars more social rather than a solitary activity - although you can use them that way too. Take a look at your best options in this article.
Remote Control Cars That Climb Walls
For some added trick-ability, look no further than this selection of remote control cars that can climb walls. Most of these models feature advanced tech that makes your vehicle cling to the wall (almost like it's sucked on there). Many also have the ability to easily switch between wall and floor functions, so they are a great option no matter what the age of the "driver."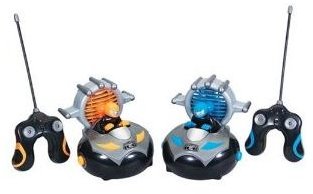 For something a little bit different to the regular snazzy sports car or super truck to race, robotic remote control cars have what you need. If you think "Transformers," you'll be on the right track. The Transformers films of recent years have upped the popularity of this type of machine once agian, so they are just as much a craze now as they were in the eighties – only this time these babies have real power. With most of these you get remote control options for when your beast is a robot as well as when it's a car. Two for the price of one? What's not to like?
Be a Secret Agent - Top RC Spy Cars
Much like with the robot cars above, spy cars are proving hugely popular. Afterall, they have that added dimension to them. Not just any boring old RC vehicle, these options come with either a hidden camera, or a sound recording device or transmitter - and sometimes even both - built into the car. Suitable for little kids and big kids (like Dad), check out this guide to suit whoever you are buying for.
With custom RC cars, we are really in the leagues of the big boys' toys – although little guys and gals will love them, too. When we refer to "custom" in this sense, we are talking about those cars that are designed on the original vehicles. The most popular would be buggies and monster trucks. Find out which is best for you in this rundown.
Feel the Speed with the Top 5 (Very) Fast RC Cars
With the options in this category, we are looking at your classic sports car type of models – you know, the ones that go really fast in real life. They look great, and they have the power to match it. These cars also tend to be being pretty close replicas of the real thing. They have high-grip racing tires, four wheel drive, and composite shocks - not to mention that they are super lightweight too. These supremely well-designed cars could cost you a bit, so make sure you don't waste your money on a dud by checking out our top five choices.
There's something very satisfying about looking at an item and knowing that you've made it yourself. The world of remote control cars is certainly no different. Get the pleasure of building your own car, and then playing with it once it's complete. The best thing, of course, is that you can make certain alterations and will know how to fix it should it get bashed and bruised in a race.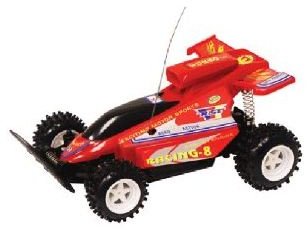 Where Can You Find a Cheap Gas Powered Remote Control Car
Most people who opt for a gas-powered RC car do so knowingly. These babies go much faster than their battery-powered cousin, and for many, owning a remote control vehicle has become a hobby more than a playtime toy. Their specs are often much higher, but of course hand-in-hand with that is that the cost is much more expensive. Find out where to lay your hands on some cheap models here.
Buying Guide for the Top 5 Gas-Powered RC Cars
If price is no option, then take a look here at our top five recommended gas-powered models. We also take a look at what you should be looking for before deciding to make a purchase of a gas-powered model. Here, we are definitely in the league of big boys' toys. These cars are expensive, so you want to make sure you're buying the right one for you.
References