A Review of the Stainless Steel Titan Peeler as Seen on TV
Titan Peeler and Slicer for the Modern Kitchen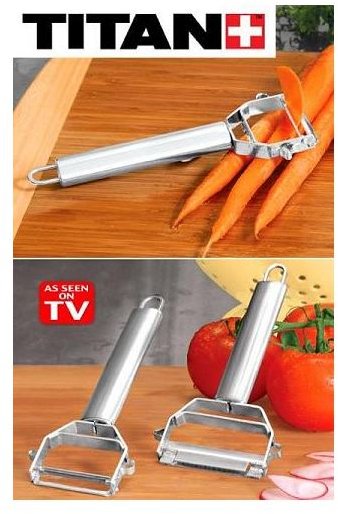 Titan Peeler as seen on TV is one of the popular kitchen tools on the market today. The product is designed to enhance efficiency and convenience inside the kitchen and is built to last for a long time. When you buy it directly from the company's official website or through their television commercials, you get the option of buying one peeler and getting the second one free. Furthermore, you get two slicing boards and two comprehensive garnishing guides in the package. This turns out to be an attractive package deal compared to when you buy it from an independent retailer.
Photo Credit: https://www.titanpeelersale.com
Titan Peeler As Seen On TV: Product Features (4 out of 5)
The Titan Peeler and Slicer is made of superior quality stainless steel that is highly durable. Its sharp blades are long lasting and don't become dull over prolonged usage. Peeling action can be performed in any direction with equal ease. The slicer saves time in the kitchen by speeding up the process of cutting vegetables and fruits. The dual action motion of the peeler is designed to reduce the peeling time by up to 50 percent. Apart from speed, the second advantage of its sharp blades is the perfection it brings to slicing of both soft and hard vegetables.
The Titan Peeler is dishwasher safe. It can perform multiple functions in the kitchen, which includes peeling, slicing, grating, shaving, shredding, and garnishing. It can slice both hard and soft cheese to perfection. Grating chocolates for desserts becomes easy. Outer layers of fruit and vegetables can be shaved off cleanly, with no waste. The julienne tool in the package helps to garnish food in a decorative manner for an exquisite presentation. Each blade is 7 inches in length and come with a lifetime warranty from the manufacturer.
The handle of Titan Peeler has an easy grip to ensure safe and comfortable usage. The edges of the peeler are partially serrated and appear to be slightly narrower than a traditional peeler. Since it is made of hard stainless steel, there is no worry of the blades developing rust with prolonged exposure to water. The shredding function of this product is equally good. It can shred cucumbers and onions in a much shorter time than the average peelers on the market.
Titan Peeler: Value for Money (3 out of 5)
Continuing on with our Titan Peeler review, the fact that this peeler is made of superior quality stainless steel makes it a great value for the money. If you buy it from the company's official website (provided in the link above), they offer it to you at $14.99 plus $7.99 for shipping and handling charges. They also offer you an additional peeler for which you have to pay only the shipping and handling charges. So if you avail their "Buy One, Get One Free" offer, the shipping and handling costs are doubled.. The company also offers a 60-day money-back guarantee, in which case the shipping and handling charges are deducted. For some people, the double cost of shipping and handling may appear too high, so for them it is better to compare the net cost with the prices of other high quality peelers available in retail stores. You can also learn more about Titan Peeler through customer reviews at Amazon.