Why Should I Buy a Kindle Wireless Reading Device?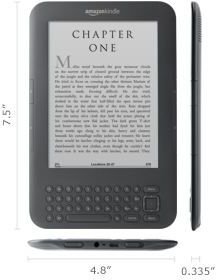 Introduction
The latest generation Kindle wireless reading device is one of this year's hottest gifts. Chances are you already know someone who has one and maybe you are considering buying a Kindle of your own.
However, not all book lovers are enthusiastic about exchanging a shelf of books for an electronic book reader, no matter how convenient. If you are in two minds about whether a Kindle would suit your reading style you are by no means alone.
Advantages of Kindle Wireless eReaders
Let's start with the positives, of which I think it is fair to say there are quite a few. These include the quantity of books available to you; the ease of selecting, uploading and reading ebooks on the Kindle; and the versatility of the device.
A Library of Books
Owning a Kindle can transform your reading experience. Taking up no more space than a very slim paperback (and that's including the case) the Kindle can give you literally hundreds of books at your fingertips at any one time. That's like having your own personal library with you wherever you go. Not all your old favorites will be available yet but there's a good chance new books from now on will include a Kindle version.
The Amazon Connection
There are several options currently on the market when it comes to an ebook reading device, each with its own advantages.
A major point in favor of the Kindle wireless reading device is of course that it is owned by Amazon. This gives you a seamless experience of choosing and buying ebooks from a vast selection. These can also, if you choose, be instantly delivered to your Kindle with a single click of the mouse. Plus you have the reassurance of knowing that Amazon's normally very efficient customer service team is there to help if you experience any problems.
Easier to Read Free Books
'Free books' is a phrase that will delight any book lover. Of course, many of the free ebooks that you can read on your Kindle have been free for several years now via services such as Project Gutenberg. The difference is that it is much more pleasant to read them on your Kindle than on a computer screen. The ease of reading also extends to the font size. It is simple to switch to a larger or smaller font for reading.
In addition to the public domain books, which include most of the popular classics and a whole host of lesser-known works, you can also find a limited selection of more modern ebooks available for free online. Amazon as well always seem to have a few from various genres in their Top 100 Free listing section.
Access to Other Media
The Kindle does not restrict you to reading ebooks. You can also subscribe to newspapers, magazines and blogs, and have them automatically delivered to you. Want to listen to music as you read? The Kindle designers have thought of that too. You can upload your MP3s direct to the Kindle, meaning that you only need one electronic device rather than two. While we are on the subject of the Kindle's audio features, for many books you can also use a text-to-speech option that will read the page aloud to you.
Organize Your Reading
No more losing your bookmark or feeling bad about writing on a page. With the Kindle wireless reading device you can highlight text and transfer excerpts to your computer (something I would have found useful as a student). You can also add your own notes without defacing the book in any way. Plus you can quickly and easily search your book for any word or phrase, and even use the dictionary for an instant definition of any unfamiliar vocabulary.
Please continue on to Page 2 for more on Kindle devices.
Disadvantages of Reading Books on a Kindle
There is no escaping the fact that the Kindle is not a book. No matter what cover you put on it, nor how impressive the paper-like screen is, you will still have to get used to turning the 'pages' by pressing buttons. Yes, you can do all kinds of cool things like adding electronic bookmarks and notes. However, for those who love a feel of the book in their hands the Kindle wireless reading device will take some getting used to.
Not for Technophobes
If you are easily frustrated by technology, the Kindle ebook reader might not be for you. It is fairly simple to set up and use, and Amazon is there to help if things go wrong. Nonetheless, you do have to trust that the technology will keep your precious library of books safe for you. There will also be times when you need to type on the small keypad and there is certainly no getting away from the constant clicking of the page turn buttons. Apparently this can also be annoying to others near you, particularly when trying to read in bed!
Feels and Smells Different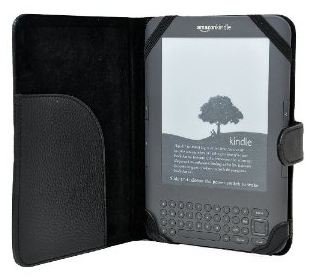 Yes, I did say 'smells.' While many say they would miss the feel of a book if they switched to a Kindle wireless reading device, some also love that unique smell of printer ink and paper. With old or expensive books this would have been combined with the leather cover. Of course, you can choose from a variety of leather covers for the Kindle which may be a solution. Believe it or not, you can also now buy an aerosol spray called 'Smell of Books' which is marketed as an ebook enhancer.
You can also change the feel of the Kindle with a cover. Some are padded which makes the Kindle ebook reader closer in size to a paperback. Others have a flexible front cover than can be bent back like a paperback book cover.
Even with these enhancements, some people miss the feeling of comfort they get from looking at a shelf full of their favorite books. Reading in the bath is probably not a good idea either.
You Will Need to Buy a Cover
This brings us to the next issue with the Kindle. It is only fair to say that this isn't a flaw with the device itself but more of a cost-cutting exercise by Amazon who has decided not to package the Kindle with a protective cover. You could argue that this is keeping the price affordable. However, if you want to keep your Kindle in good condition and if you plan to use it outside of the home, a good Kindle cover is a necessary investment.
Region Locked
What I mean by this is that you will be restricted to buying your Amazon ebooks on the domain for your country. If you are in the USA you will not be able to buy British ebooks even when they are cheaper than on the Amazon.com site, and vice versa. Instead, you will have to consider whether it is worth your while to import a physical copy of the book with all the associated fees. This is due to publishers' licensing restrictions (known as digital rights management or DRM) and can be a source of frustration for many Kindle owners.
Conclusion: Is the Kindle Wireless Reading Device Worth It?
Personally, I am now a happy Kindle convert, despite having had doubts of my own about whether I would enjoy reading with a technological device. I would say the Kindle wireless reading device is indeed worth it, if only for the convenience of having so many books with you wherever you go.
To get good value from your Kindle it would make sense to commit to using it for the majority of your reading. At the same time, owning a Kindle need not stop you from enjoying a print book when the mood takes you. Although the situation may change in the future, for many of us right now both ebook readers like the Kindle and physical copies of books still have their place.
Screenshots by author courtesy of the Amazon Kindle store.