Reviews of the Top 5 Amazon Kindle Waterproof Covers & Cases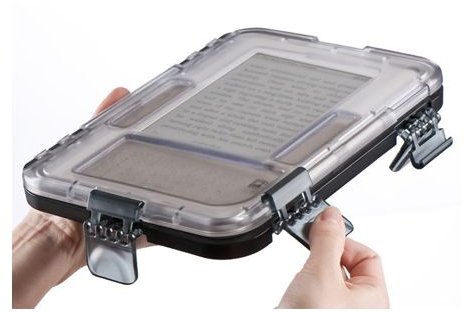 Have Case Will Travel
No matter what generation of Amazon Kindle you own, there's a Kindle waterproof cover that will meet your needs or is perfect to give as a gift. We've searched high and low for the best cases that will keep your Kindle safe from the elements in this top 5 reviews and recommendations guide - there's sure to be one to your liking!
1. Amazon Kindle Floating Case from M-Edge
This Amazon Kindle waterproof floating case holds second generation Kindles securely and comes in red, black and blue. Your Kindle is kept securely encased and is able to float on level water up to one meter deep. This patent-pending waterproof case has a molded interior and extra cushioned support for your Kindle. Equipped with dual hinges and O-rings, it also features four latches for a watertight seal. In the sun? No problem because this case has a screen that reduces sunlight glare. Made of sturdy molded plastic, this case weighs 17.1 ounces and is 6.5" x 9" x 1", and can be yours for around $45 straight from M-Edge. It comes with a limited one year warranty - read the brochure right from the M-Edge website - you'll be hooked.
Screenshot credit courtesy of M-Edge.
2. TrendyDigital WaterGuard Case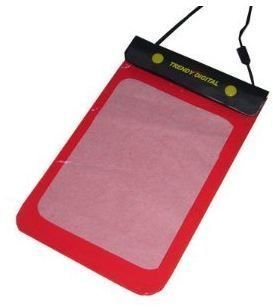 Fit for first, second, and third generation Kindles, this TrendyDigital Kindle waterproof cover is bright red and priced nicely at around $16. Weighing in at just 7 ounces you'll still be able to access your Kindle keypad and navigation button. Its ultra-violet stabilized tough and won't discolor even in harsh sunlight. The patented WaterGuard keeps it safe from the elements such as dust, dirt, sand, water, and even frost. The adjustable strap can be worn around the neck or shoulder. Don't be caught in the rain again - have your Kindle waterproof cover tucked in your purse or briefcase. It comes with a limited warranty on the case only - not your Kindle - and is a great Kindle accessory for all. Not fond of red? It comes in blue and purple too, direct from Amazon.
Screenshot credit courtesy of Amazon.
3. Hard Shell Cover Case From mCover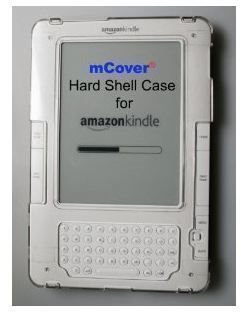 Especially designed for second generation models, this Kindle waterproof cover is more of a hard clear case made of polycarbonate. Made by iPearl, this sturdy case can be yours right from Amazon for just under $11. The DOW polycarbonate material is shatterproof and it's equipped with foldable/retractable feet for easy tabletop reading. It weighs in at only 3 ounces and the shell case is easily snapped on or off. Dimensions are 8.1" x 5.5" x .5" and while this Kindle waterproof cover isn't totally waterproof, it is water resistant and will protect your eReader from nasty elements.
Screenshot credit courtesy of Amazon.
4. TrendyDigital Plus Waterproof Case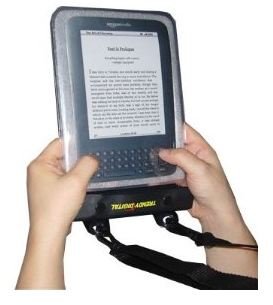 If it's your third generation model you want to protect including the Kindle Wi-Fi or the 3G Plus Wi-Fi, this is the case for you. This Kindle case allows for easy interaction to navigation and keypad buttons, comes in white, and weighs in at only 3.8 ounces. The limited warranty is great and this must-have Kindle protector is waterproof! Available at Amazon for around $20, if you own a third generation Kindle, TrendyDigital has done it again. It comes with detachable/adjustable straps and a little back padding for bumpy walks or rides. Protected by an extra UV screen so there's no worries about sun glare or fading with this Kindle waterproof cover.
Screenshot credit courtesy of Amazon.
5. TrendyDigital Waterproof Case for Kindle DX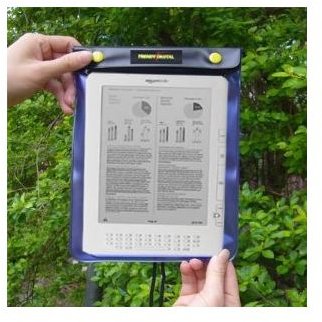 If you own the DX model, then this Kindle waterproof cover is the one you'll want to buy. Lined by a shocking purple border, this cover comes with all the same features TrendyDigital is known for. Weighing in at just 6.1 ounces, because it's designed for the DX model, just slip your Kindle in and snap the top securely for waterproof protection on a rainy day. Again the ultra violet protection keeps away the glare away and forget about dust, dirt, sand or frost - your Kindle DX will be safe. Get yours straight from Amazon for just under $20.
Choose any of these top 5 Kindle waterproof covers or go for the new and exciting Amazon Kindle waterproof floating case, the choice is yours. If you're looking for the truth behind the Kindle 3 rumors, we've got that for you here too!
Screenshot courtesy of Amazon.