The 5 Best Digital Handheld Cookbooks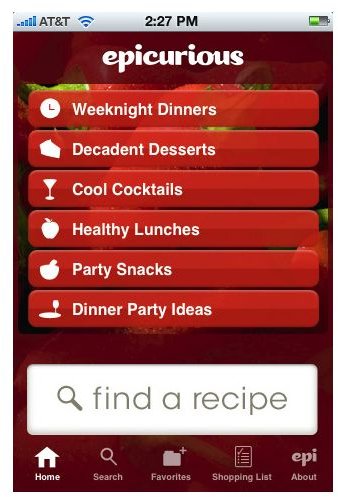 1. Epicurious Recipes & Shopping List
This digital cookbook for the iPad and iPhone won an award in 2009 as the best mobile application (American Society of Magazine
Editors), and with just cause. Not only is this the only free option from our digital handheld cookbooks top five, it also has all the features you could possibly want from a cookbook and more. You can flick through sections for inspiration, just as you would with a regular cookbook, or use the search option to find something more specific. You can browse by occasion - Easter Dishes and Mother's Day for example - by season, or by meal type. There is also a comprehensive section on cocktails. You can save your favorites, create a shopping list, or just type in what you have in your fridge and it will find a suitable recipe for you. The screenshot here is from an iPhone, the iPad squeezes in many more graphics and beautiful pictures, as well as page tabs to the side, to enhance the cookbook experience.
For the iPad and iPhone - available from iTunes as a free download. Adverts can get a little annoying though.
2. Levi Roots Reggae Cookbook eBook
Using a Kindle as a digital cookbook has its disadvantages, compared to using a color screen device. Kindles are intended to get the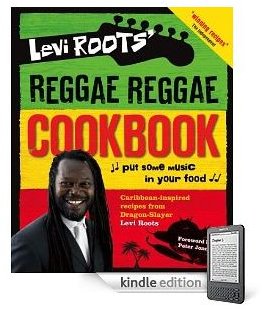 word across, so a cookbook that requires many colored images in order to support the recipe is not going to be a good cookery eBook for a Kindle. The digital version of Levi Roots aribbean cookbook helps to put some sunshine into your cooking, even with the stunning photographs from the print version removed. As Levi's instructions are so straightforward and easy to follow, with anecdotes along the way to paint the scene, it is a cookbook that translates well into the Kindle environment. Its file size is small too, so it won't take long to download, or take up too much disk space, either. If you like the idea of cooking Caribbean food with a twist, or even European classics like pizza and pasta with a Caribbean influence, this is a good option. Available to download from Amazon for the Kindle, Android phones, PC, iPhone & iPad, and Mac. This title is not available for download to customers from the US.
3. PDACookBook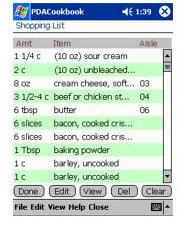 At a retail price of $30, this isn't the cheapest digital cookbook for your handheld device, but it is definitely one of the best. It currently offers over 1200 recipes, with shopping list and menu planning features. There are also plenty of other neat features not included in other digital handheld cookbooks, such as: the ability to paste in your own pictures; a smartpaste option for adding recipes found on the internet; scale ingredients quickly (i.e. the recipe is for 4 but you want to cook it for 6, and it works out the quantities); define your own categories and ingredient list to suit you (great if you have dietary needs, such as being a vegetarian). Free updates and upgrade are offered in the price, and you can even trial this eBook for free, before deciding whether to buy.
The PDACookbook works on BlackBerry phones, Palm phones, and Windows mobile & handhelds. Find more information from the manufacturer wakefieldsoft.
4. The Cook's Illustrated How-to-Cook Library
This is a back to basics, yet comprehensive, digital cookery book that will offer even the more experienced cook some useful recipes and tips. The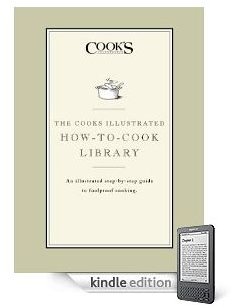 instructions are very easy to follow, and as the print version of this book didn't contain a high number of color photographs, the move to a digital version doesn't hurt it in the least. This was a special edition, made for the Kindle, incorporating all the separate "how to cook" titles from Cook's Illustrated, into one eBook. Titles such as Barbeque, Holiday Roasts, Soups, Shellfish, Deserts, Ice Cream, and a whole lot more are included, making it a highly comprehensive eBook for your cookery collection - imagine the room all these titles would take up separately in your kitchen!
Upon Kindle's first release, this eBook was offered for free, but is now still a pretty reasonable buy at $9.99. Download from Amazon.com for the Kindle, Android phones, PC, iPhone & iPad, and Mac. This title is not available for download to customers from the UK.
5. What's Cooking? with Jamie Oliver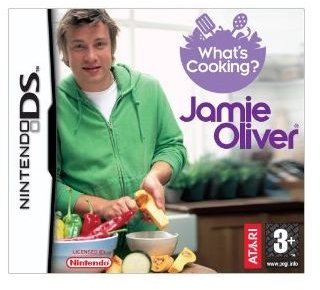 As one of the best priced digital handheld cookbooks, this Nintendo DS application packs in a lot of features for about $9 from Amazon. Most of the cookery applications you can buy for the DS are games with a cookery theme, and whilst there are others on the market that address looking for recipes, the Jamie Oliver DS cookbook is definitely the best. There are over 100 recipes accompanied with photographs, and also has voice recognition, which allows you to keep all hands on the cooking. There is also a shopping list feature, which automatically puts in all items you'll need for your chosen dish, with the added option of including extras yourself. If you wish, you can also create and store up to 100 of your own recipes and share them with others, using the DS Wi-Fi connection.
The other advantage of using the DS as a digital cookbook is that you can flip the screen down when you are cooking, to prevent splashes, and when you open it up again, it will still be on the same page.
This list of digital handheld cookbooks, should satisfy even the most experienced cook in the kitchen, no matter what your chosen handheld device is. But if I've missed your favorite please let me know by leaving a comment. Bon Apetit!