The Definitive List of Top 10 Electronic Gadgets to Give as Gifts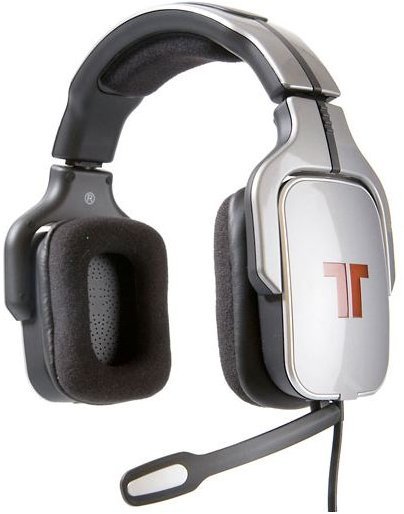 10. Tritton AX PRO 5.1
A gamer is forever in pursuit of products that immerse him or her in the game, and what better way to immerse oneself in surround sound than these 5.1 headsets. These 8-speaker powered circumaural headphones are built to give a gamer the best in positional audio. It can be connected to the PS3, Xbox 360 or PC and the included decoder box can even decode Dolby Digital audio over TOSlink.
With such connectivity options, these are any audiophile's dream. Get such a person one and they'll remember you every time they put these Tritton AX PROs on (or so goes the theory). Pricey at $200, but worth it.
9. Garmin Nuvi 3790T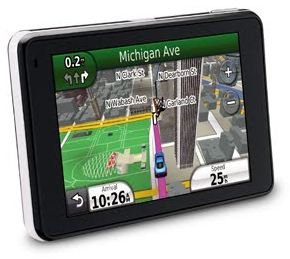 The latest and greatest gift idea when it comes to GPS systems, these are a must buy for any loved one who can't find their way around town. The Garmin Nuvi 3790T might be a bit expensive at close to $500, but the maps are top notch and the Bluetooth calling function helps drivers keep their hands on the steering wheel while driving. The Nuvi 3790T also ranks among the sexiest looking GPS systems to be placed on a car dashboard. Not to mention you can choose to speak to the system to issue commands and it'll proceed as directed.
8. Flip UltraHD
At No. 8 on our list of top 10 electronic gadgets to give as gifts is the Flip UltraHD. With the release of the latest model, Flip camcorders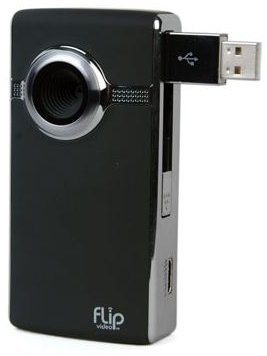 are the best in the business for those who love to upload video to YouTube. Record 2 hours of video at 720p at 60fps, flip out the USB port to hook the device to your PC and upload all your videos to your hard disk or YouTube. The latest iteration of the device comes with a rechargeable battery as well as the option of using 3 AAA batteries if you run out of juice. Perfect for the budding videographer!
7. Aliph Jawbone Prime
The Aliph Jawbone Prime is one of the snazziest Bluetooth ear pieces ever. This is not just a tech-toy, but a fashion statement in itself. For $69-$89, it's not quiet a steal, but the combination of features with style make it hard to ignore. It supports Bluetooth 2.1 with EDR, and eliminates any wind noise. It even has a "Voice Activity Sensor" and "Noise Assassin 2.0" which improve call quality further.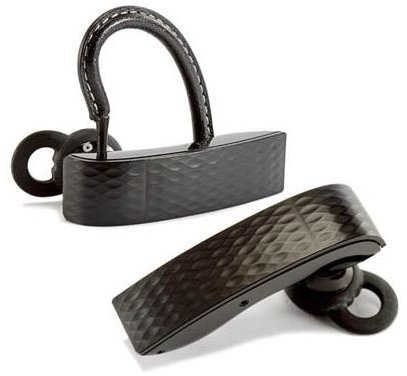 Too expensive for your taste? Then go for the Aliph Jawbone 2 (at $39).
6. Apple iPhone 4
It's the device everyone wants these days, something a tech-lover would love to receive as a gift. The iPhone 4 has a "Retina" Display with the highest pixel density on any phone screen that rivals even Samsung's Super AMOLED display. It's the first of the iPhones to have a flash with a 5MP camera, and HD video recording, not to mention a whole new design from the 3GS. The world of apps, the A4 processor and 3-axis gyro add to its desirability and with AT&T's service plans, the initial cost of the device can be as low as $199.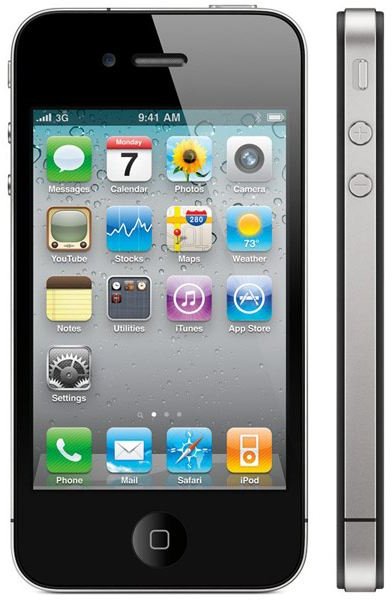 5. Samsung Galaxy S
With the introduction of Android, there have been a slew of competitors to the iPhone's crown, chief among them being the Galaxy S from Samsung. Underneath the large 4 inch, glorious Super AMOLED screen lies a 1GHz Hummingbird processor. The 5MP camera provides for shutterbugs, and heavy texters will find the Swype keyboard input method innovative and extremely useful. Similar to the App Store from Apple, Google's Android phones have access to the Android Market which offers a plethora of useful, sometimes quirky applications. This is truly one of the coolest of this list of top 10 electronics gadgets to give as gifts, especially if the recipient is the kind of guy or gal who likes to experiment with their devices. Mind you, in the US, the Galaxy S is found in 4 variants - the Fascinate (Verizon), Vibrant (T-Mobile), Captivate (AT&T) and Epic (Sprint) - each with their own features.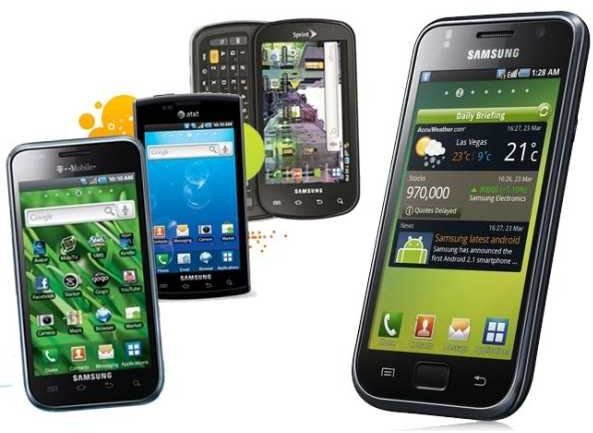 4. Livescribe 2 GB Pulse Smartpen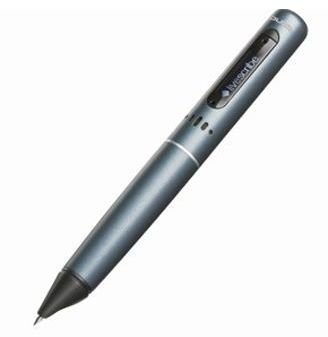 The Livescribe Pulse Smartpen is an awesome electronic gadget to gift to any student, teacher or office goer. This pen doesn't merely put ink to paper, it "records" whatever you write. Using the provided software, you can upload and search these files for whatever info you require at a later date. You can even record the entire lecture while you're taking notes with the audio recording feature on the pen and upload that to a PC later. In addition to all this, the pen can be further enhanced with applications available for download like an English to Spanish dictionary. All this at just $128!
3. TokyoFlash Traffic Watch
Japan's Tokyoflash is known for making quirky watches that are hard to read the time from, but look very very cool. At number 3 on our list of top 10 electronic gadgets to give as gifts we have the TokyoFlash Traffic Watch. This weird little watch has a smoked black plastic front with neon LED lights below that show the time. The neon lights crisscross in the form of 3 paths of orange, blue and green - and how you tell the time is what makes this watch unique. The battery is replaceable and can be charged by simply plugging the watch into a USB port. It goes for $169 if you're interested.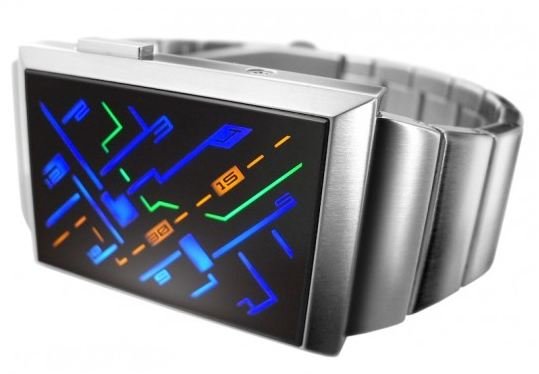 2. Logitech Harmony 900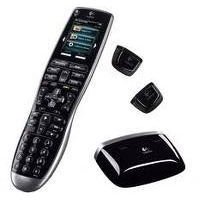 A quintessential gift for the couch potato, this remote can control pretty much any device out there. Though it may appear a bit pricey at $287, the Harmony 900 can be used with up to 15 different kinds of home entertainment devices. Sporting both RF and IR connection modes and a touch screen, this product is excellent value. A cheaper alternative is the Harmony One, if you don't mind losing RF capability.
1. iPod Touch 4G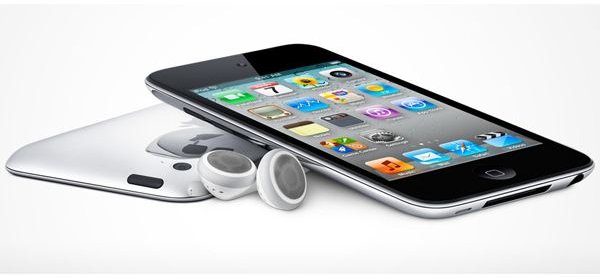 The fourth generation iPod Touch is an iPhone 4 minus the phone. The cameras have been toned down, and the GPS removed, but Facetime is intact, and you can enjoy all the same apps you would on the iPhone 4. The excellent Retina display, A4 processor and remaining innards find their place, and the device itself is even thinner than the iPhone 4. This wonderful little portable media player-cum-mini computer and gaming platform is an excellent gifting choice due to the absence of any kind of contract too, unlike the iPhone 4. Learn more about the iPod Touch 4.