Top VTech Toys: Get Smart at Play with V Tech Toys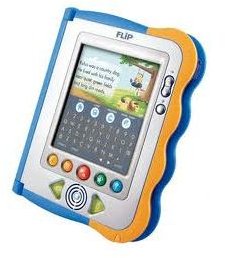 Making Quality Toys at VTech
VTech has made its mark in the toy industry. It keeps on making a trend by setting standards as a competitive market player. It is the official maker of electronic and educational toys for kids. It offers a variety of products across age groups. This way, children can embrace education at an early age. Learning is always on track with VTech.
Here are some of the best VTech toys:
VTech V.Reader
Get your child a VTech V.Reader animated eBook system, a reading tutor with this amazing storyteller electronic book along with educational games. There are several adventurous tales to discover. This is one of the latest VTech toys which is available for grabs. It is absolutely an attraction in its bright pink and some pastel shades. It comes with a stylus as it is touch-screen enabled. It is one of the most recommended eBook readers for kids made for three to seven years of age. It is priced at its most affordable offer for $59.96.
VTech V.Smile TV Learning System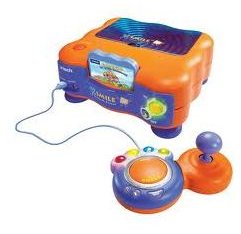 Draw a smile into your kids' faces with this amazing electronic control box known as the VTech V.Smile TV Learning System. It features the two-in-one concept of video gaming and interactive learning. It leads the gaming interest into a learning experience. Packaged in deep orange and blue colors, it is a captivating sight. It is designed as a TV add-on and functions as a gaming controller. It is advisable for children aging three to seven years. It is on the market for only $36.99.
VTech Cyber Spy Notebook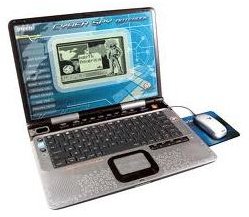 VTech Cyber Spy Notebook is another exciting educational toy recommended for children from 6 to 8 years old. Kids love to have their own laptop and this is just perfect for them. To portray the roles of a spy is just suitable for curious kids at this age. They will uncover hundreds of activities including language lessons for Spanish, German, English and French. It also feature voice recording and playback mode to aid children in proper foreign language pronunciation. Other learning activities include music, art, logic, math and more adventure quests. Cyber Spies mission never ends because more games and activities online are available for download by simply hooking the USB Cable to the computer. This is just one of the best VTech toys which will help children to learn while at home. Begin your child's cyber spy mission for only $79.99.
VTech Sit-to-Stand Learning Walker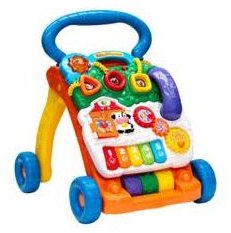 Sharpen your baby's mind with this colorful learning activity center and help him out in taking his first steps with VTech Sit-to-Stand Learning Walker. This is made for babies aging 9 months old to 3 years old. This walker has a detachable barnyard-themed play panel with music and flashing lights. Babies and toddlers will have fun sorting shapes, rolling the spinners and enjoy the sounds from the five light-up piano keys. It will also keep the baby busy while playing on the floor or while in the car during long travel hours. This durable VTech learning walker will support your baby while trying to stand and make the first few steps. However, parents guidance is a must in case the baby pushes to hard, loses his balance or leans back. It is available for online purchase at the price of $29.99.
VTech KidiZoom Plus Digital Camera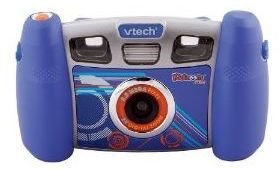 Capture learning into the kiddie picture with this fun VTech KidiZoom Plus Digital Camera. It is wrapped in refreshing blue tint. It can literally be used in making photos out of remarkable moments. It is a rewarding gift for children 3-11 years of age. It is priced for $60.58 at its most convenient offer.
For more digital cameras for kids, check these four popular choices.