Moving Kobo eBooks Onto Kindle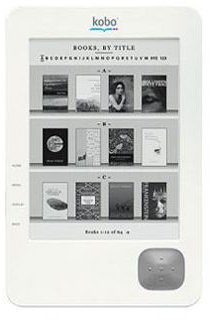 While the Amazon library is one of the largest you will find anywhere, there are a number of reasons why a person may want to shop in more
than one e-book library. You may have already bought the books that interest you from one resource. Maybe you prefer open formats, or you want to find better prices, or you simply prefer more choices. One of the likely options is Kobo because it uses the open ePub format. The problem is that while ePub is an open format it isn't one that the Kindle reads, so this will cover how to copy those books from the Kobo, convert them and put them on the Kindle.
Moving Books from Kobo to your Computer
Assuming that you have bought a Kobo there is a good chance that you already have books on it. There are a number of ways to get these books off the Kobo, but since once you have moved them off you will need a program to convert them as well, then choosing one which can do both is going to be the best option. There are a number of e-book management programs that you can use to get Kobo e-books onto a Kindle, or at least onto a computer, but Calibre is one of the best–as well as free.
In order to do this simply plug the Kobo into the computer, then start Calibre. Once you have recognized the device you will see a list of books in your Calibre library with a green check mark next to them. The others are on the device. Choose those books you want to move and import them into your Calibre library.
If you prefer moving them without a program you will want to go to the list of drives while the Kobo is connected to your computer by USB. This will be under Computer on windows. Right click and choose to browse the files. You can then drag and drop files from the Kobo onto your computer.
Converting eBooks for the Kindle
Amazon would prefer that people buy eBooks for the Kindle from Amazon, and because of that it does not support the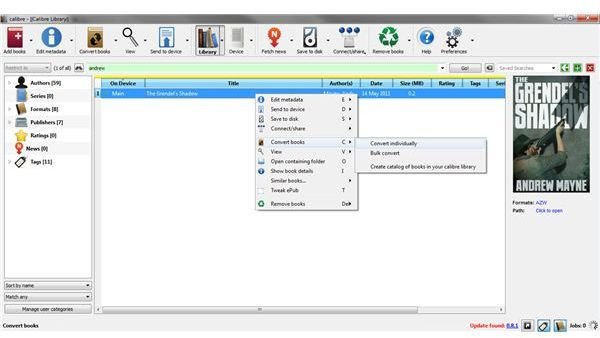 ePub format which is used by the Kobo. This isn't a huge problem, though, because as long as the books are not encrypted converting them is not all that big a deal. If you have used Calibre to import the book onto your computer then convert it, your next step is simply to right-click on the book and choose convert individually. If you have a lot of books you can convert them all at the same time.
The device should recognize the format that the book is in, but you'll have an option for converting books into a number of formats. The Kindle can read the TXT, Mobi, PRC, TPZ and AZW books as well as PDFs on modern Kindles, so pick one of those to convert into and it should work well on the Kindle. Be aware, though, that sometimes converted books do have odd artifacts and formatting issues.
.
Moving Books onto the Kindle
The final part of this process is to put your chosen e-book onto the Kindle. If you have already used Calibre to put it on your computer then adding it to your Kindle is going to be easy. Simply choose the book from your library and then use the Send To My Device button. It will even convert books automatically if it knows what format you prefer.
If you prefer putting books on yourself, it is not that difficult. If the book is in the right format all you will need to do is plug in your Kindle. Then you open and go into the list of drives on your computer. For Windows computers this will be under Computer. Once there, find the Kindle drive. Open that and the documents folder. You can then drag the converted e-books into that folder and you should be ready.
Reference and Image Section
Image of Kobo from Borders website.
Screenshot by the writer.