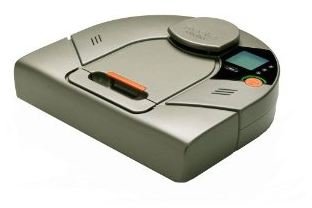 If you are on the hunt for some really awesome home gadgets that are practical, functional and will enhance various areas of your home, here are ten great suggestions…
1. The Neato Robotics XV-11 Vacuum System
First pick because it is so practical and useful for all floor areas and types. It saves time and keeps the house clean like a housekeeper. Perfect for those persons who do not have the time to clean every day but would love to have an immaculate floor. The Neato Vacuum has some unique features, like not falling over stairs, not bumping into objects and it finds its way to the charging base when it's done. Another cool feature is that the user can set the device to clean at specific times as needed. The price for this gadget is $399, it comes with charging base, filters, power supply and user guide. Read more about electronic gadgets for the home.
2. P3 International P4460 Kill A Watt EZ Electricity Usage Monitor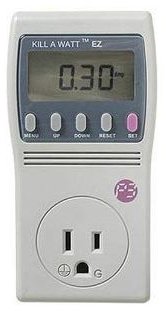 Second on the list is an energy saver. Conservation is very important to the budget in the long run and this electricity usage monitor can tell you how your energy usage is going. If you are not clear about which devices waste the most energy this device will give real time feedback about how much energy is being used. With this information one can figure out which devices are energy wasters or conservers and how much it costs to use particular appliances. This device cost $29.47.
3. Purifan Ceiling Fan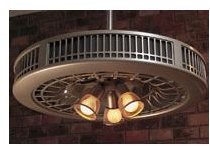 This gadget is awesome; it is an air purifier and ceiling fan in one. It provides a comfortable airflow throughout the room, using filtered, clean air instead of just stirring dust and pollutants. It is a great solution for persons suffering from dust allergies. It also contains charcoal in the filters which eliminates odors giving the entire room an odor free environment. Good investment for all rooms in the house and for those who want a multi-purpose gadget to solve odor, allergies and temperature regulation in the house. Costs for this gadget vary. For a basic package including those with the light, the average cost is $500 upwards.
4. Zojirushi Neuro Fuzzy Rice Cooker and Warmer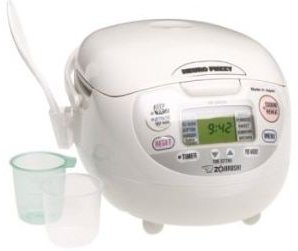 If you are a kitchen gadget lover then this computerized rice cooker and warmer with neuro fuzzy technology will make rice cooking a computerized breeze. This gadget features multi-menu selections, automatic keep-warm, extended keep-warm, and reheat cycles. Burnt rice is not an option for this cooker, the spherical, nonstick inner pan will ensure that this is the case and the LCD clock and timer will tell you when the rice is ready. The price for this gadget is $170. Interested in other kitchen gadgets? Read the Top 10 Cheap High Kitchen Gadgets for 2011.
5. Bodum Fyrkat 13.4-Inch Portable Charcoal Grill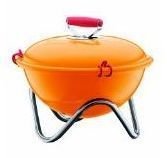 In the kitchen or better yet in your backyard or grilling area, this 13.4-inch grill is especially useful when entertaining large numbers of persons and yet it is quite compact, easy to carry and to store. It features a latching lid which makes it easy to transport if you have to change location. The price for this is $80.
6. AquaBourne Shower Radio AM /FM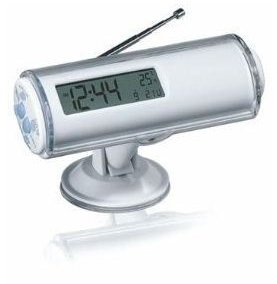 Singing in the shower just went to a whole other level with this shower radio. It is quite hardy and the sound is clear and best of all it is fully water resistant. It features easy dial tuning of all available AM and FM radio stations for listening to radio, talk and music and digital LCD clock with daily alarm with radio / alarm option. The price for this gadget is $29.99. Check out these audio and video gadgets.
7. The Healthiest Deep Fryer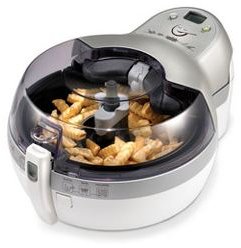 Weight watchers, healthy eaters or the curious, this gadget is for your kitchen, with 1 tbsp of oil this fryer can deep fry up to 2lbs of food. The device does not require any preheating, it has a timer, and its detachable parts are dishwasher safe. Price is $299.95.
8. Flex Remote Temperature Sensor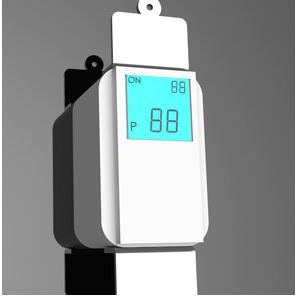 Save some money and energy with this wireless temperature sensor, it allows the user to have a virtual thermostat in every room of your house. This had to make our awesome gadget list because of the cost saving potential and all the many benefits that can come from this air system. There are various components that make this system work and these include: inVENT wireless damper, the ADVISOR wireless zoning thermostat, and the FLEX remote thermostat and temperature sensor. All of these together ensure that various temperatures are set for each room of the house, consistent monitoring and reporting of temperature settings and there is the added benefit of hassle free installation because of wireless technology. Price is $215.
9. Sony DPF-VR100 10.2-Inch WSVGA LCD (16:10) Digital Photo Frame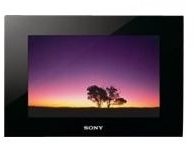 Digital photo frames are a must have gadget on our gadget list. That's why this Sony version had to make the list. You can display your pictures in an attractive slide show or listen to your favorite MP3 audio. The user just has to plug in a USB thumb drive or camera memory card in the frame and they can start using the frame immediately. This way of displaying pictures can really get your creative juices flowing and change up your living room constantly. Price is $199.99
10. Logitech Harmony 900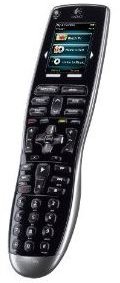 A gadget list is not complete without a universal remote, especially one that has the functions of the Logitech. It has a sleek design and button layout. It includes new Blu-ray-centric buttons, rechargeable lithium ion battery and docking station and it's easy to set up. There are other remotes too check them out here.
All of these gadgets are useful in various areas of the home, some of them are multi-purpose and can be used in various rooms, others were designed for particular areas. They are all great gadgets to have and are very useful whether you are just starting your household, redoing your decor or upgrading your home.
Image Credits: Amazon.com