Top 10 Toddler Gadgets Under $100 You Kids Will Love!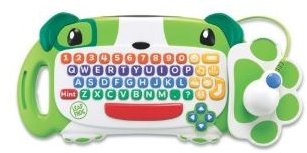 Traditional toys for kids such as dolls, cars and trains have been snubbed and most kids now prefer new technology gadgets like gaming consoles like Sony's PS3 and Nintendo's Wii. Electronic gadgets for toddlers are a great way to introduce children to today's technology craze. Here are ten of the best educational gadgets for under $100 that parents can get their toddlers.
1. LeapFrog ClickStart My First Computer
This offers the first wireless keyboard especially designed for toddlers. ClickStart My First Computer looks like a dog with its paw as a mouse pad. The console is attached to your TV where your kid can play interactive games and learn basic computer navigation along with how to use a keyboard and mouse. For ages three to six, this toddler gadget can be purchased at Amazon for around $35.
2. Vtech V Smile Learning TV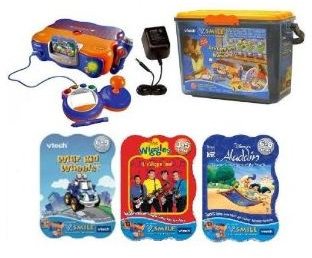 Following the TV gaming console concept, this toddler gadget will encourage your child to learn music, math, language and more while having fun. Using different game cartridges geared toward learning, the V Smile will serve as an educational gaming system that will be a favorite of your child. For ages three to seven, the V Smile is available at Amazon for $95.
3. MobiGo Touch Learning System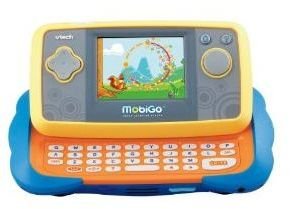 A portable handheld gaming system, the MobiGo Touch Learning System with its touch screen technology and slide out QWERTY keyboard will give your child a new way to play and learn at the same time. For kids ages three and up, this toddler gadget sells for about $50 on Amazon.
4. Fisher-Price Fun 2 Learn Computer Cool School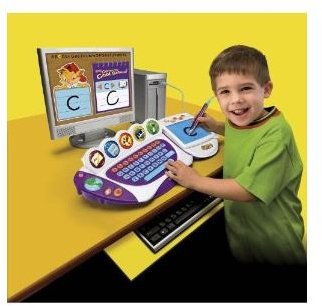 This toddler gadget helps your child get ready for school with its stylus, writing tablet, child-friendly keyboard and CD-ROM software. With five Learning Centers in its system, it teaches your child science, music, writing, math and reading and lets your child print out reward certificates. For children ages three years and up, buy it on Amazon for $43.00.
5. V.Reader Animated E-Book System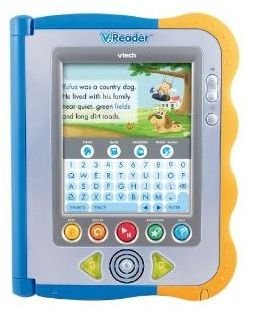 Teach your child how to read the fun way using this toddler gadget with its 4.3-inch color touchscreen that plays animated stories your kid can watch. It also has a story dictionary and reading games along with a USB port and can be expanded via its SD memory card slot. With a durable, kid-tough design, it's available on Amazon for around $50.
6. Thomas the Train: Thomas "Leader of the Track" Laptop by Fisher-Price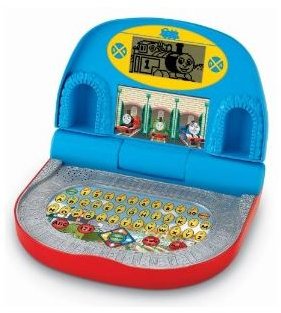 For ages two to six, this toddler gadget is a great learning tool with more than 30 activities that teaches your kid letters, numbers, music and more while playing with his favorite Thomas and Friends characters. This gadget is available on Amazon for $28.
7. Learning Through Music Plus – Blue's Room by Fisher-Price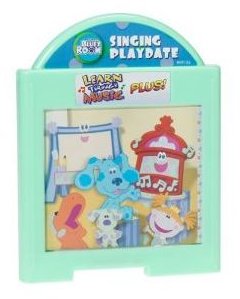 Based on the TV Series Blue's Clues, this toddler gadget will let your child learn through its music collection. A great learning tool with a curriculum that includes creativity, imagination, make-believe, role-play and heroes, and fairy tales among others, this is for kids ages two to five and can be purchased for $40 on Amazon.
8. Vtech Kiddizoom Digital Camera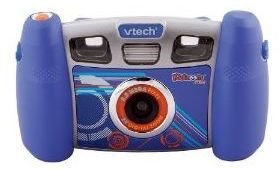 For the budding photographer, this is a camera, video-cam, and photo editor rolled into one neat toddler gadget. It even offers your toddler five different hand-held games and has 256 MB of built-in memory. The CD ROM photo editor lets your kid add silly stamps and frames to photos taken. For kids three to seven, buy it on Amazon for about $55.
9. LeapFrog Fridge Phonics Magnetic Alphabet Set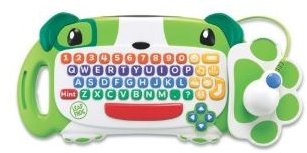 This new technology gadget introduces your child to letter names and sounds and even has your child sing along to the Alphabet Song. This gadget for toddlers also helps your kid remember the sound a letter makes through playful songs about phonics. With big, bright letters that can be grasped by your toddler, this is available on Amazon for $19.
10. Vtech 3-in-1 Learning Zebra Scooter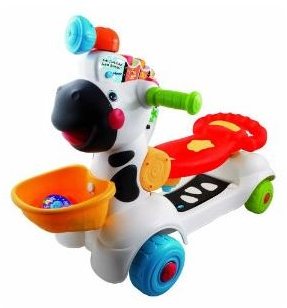 For children 18 months to three years of age, this gadget can be converted from a push-walker to a scooter you kid can ride on. With a wide, sturdy base, this gadget has three different modes of play and lets your child learn about colors, animals and destinations the fun way. Purchase it on Amazon for around $28.
With today's technology, parents can no longer afford to let their children be left behind and should take advantage of these gadgets under $100. Because these gadgets come with budget-friendly prices, today's parents can have the luxury to let their kids learn while having fun.
Product information and screenshots courtesy of: