Kindle Tips: How to Organize Kindle E-Book Readers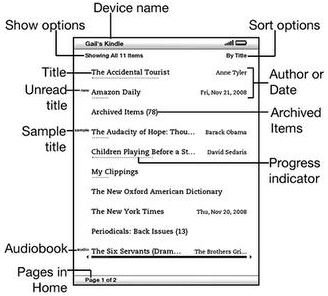 Create Collections
The Kindle is a very popular e-reader and has had some great reviews. Some great tips on how to organize Kindle products include organizing the books on your Kindle into collections. Learning how to organize Kindles using collections allows you to find what you want to read much quicker.
Click the Menu button on the home screen of the Kindle and select Create New Collection. Name the collection whatever you want and click Save. Keep doing this for each collection you want to create. You can create as many as you want. Add the content to the collections. Highlight the collection from the home screen, scroll to the right and choose Add/Remove items. Highlight the title of the book you want to add or delete from the collection. The book will have a check mark next to it if it is already in the collection. Click Done when you are finished to save the collection.
Now that you have created collections, let's move on and organize it even more.
Organize the Collections
Now that you've got your collections created, let's organize the books. Tap the 5-way controller on the right. Select Add to Collection from the options you are given for that individual book. Using the 5-way controller, scroll through the collection and tap Add to This Collection. If you want to remove something from the collection, tap twice for Remove from This Collection. You can add a book to more than one collection if you like.
You can also create a collection from this screen. Scroll to the bottom and tap Create New Collection. Type the name of the collection and select Save. Scroll down further and select Done.
Sort the Books
You can sort the books on your Kindle. You have the choice to sort by title, author or most recent read. If you own a Kindle 1, go to the Home screen and select the Show and Sort menu from the top. If you have Kindle 2, click the 5-way up and left for filter. Go right if you want to change the sort.
If you have the Kindle 2, the number of the pages of the book you are reading is at the bottom left corner. If you want to go to a certain page in the book, simply type the page number and click the 5-way. You can also type the first letter where you want to go using the 5-way if you sorted the books by author or title.
Sort Home Screen Content by Collection
You can also sort the content on the home screen. Move the cursor to the top of the home screen and highlight Show All Items. Move the 5-way controller to the right to show the available view options for you. Select Collections from the list of options.
Now that you've learned some tips on how to organize Kindle products, you can enjoy them even more! Here are some more tips on how to share the books on your Kindle
References
Amazon: Organizing Your Kindle Content https://www.amazon.com/gp/help/customer/display.html/ref=hp_dxcont_sort?nodeId=200375850&#sort