Learn Some Kindle Hacks & Tricks: Our Top 10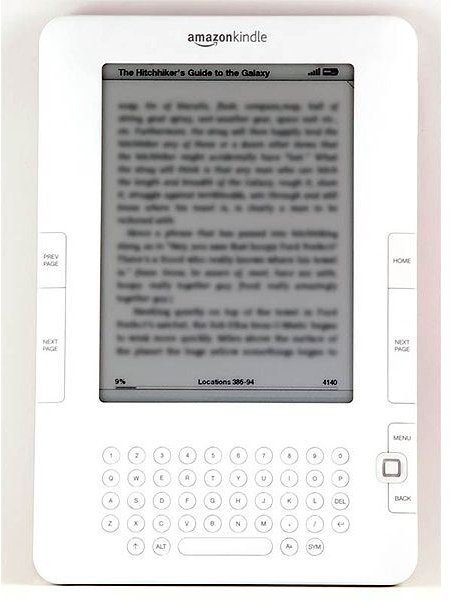 The Kindle is hands-down the number one e-book reader on the market today. Although there are a few actual hacks for the device, most of the cool features are already available on the Kindle, you just need to know how to access them. So most of what is on this list won't be true Kindle hacks but rather ways to access features that are already available.
1. Sleep Mode
Waking up a Kindle from sleep mode is simple, just hold the Alt and the Aa key together. Putting the Kindle to sleep is just as easy; the same key combination will instantly put the Kindle into sleep mode. This is great if you know you're not going to be using it for a while because it will save battery life.
2. Time Display
If you're out by the pool reading your latest Kindle download and need to know what time it is, there is a simple two-key shortcut that displays the time right on the Kindle screen. Pressing the Alt and T keys at the same time will display the time. The display is interesting as it isn't in the standard numerical form but rather in a creative text format. You may get a display that says five minutes to twelve or sixteen after four. Just a little quirk that makes the Kindle unique. If you need more than that, you can enter the search mode and type @time to get both the current time and the date.
3. Using Kindle GPS
After you have entered browser mode on your Kindle, hold down Alt and 1 to get to the Google Maps and GPS page. This will display your current location. If you are interested in finding a nearby gas station hit Alt and 2, a restaurant Alt and 3, Alt and 5 provides you with a keyword box so you can custom search. This great Kindle hack makes a GPS system arbitrary on your road trips.
4. Send a Text Message
Yep, your Kindle can send text messages to mobile phone users. All you need to do is put in the ten digit phone number followed by the proper cell phone gateway. This is a list of the current gateways:
AT&T: @txt.att.net
Alltel: @message.alltel.com
Cingular: @cingularme.com
Nextel: @messaging.nextel.com
Powertel: @ptel.net
Sprint: @messaging.sprintpcs.com
SunCom: @tms.suncom.com
T-Mobile: @tmomail.net
US Cellular: @email.uscc.net
Verizon: @vtext.com
Virgin Mobile: @vmobl.com
5. Text-to-Speech Contents
To toggle the text-to-speech option on and off, hold down the Shift key and the Sym key. You can pause text-to-speech by pressing the Shift key. If you prefer a female voice to a male one, you can toggle that by pressing the Alt and Aa key. To speed up or slow down the voice, use the five way controller. If you want to start text-to-speech at a particular portion of the text, move the cursor directly before that spot and then enter text-to-speech mode.
6. All Purpose Kindle Shortcuts
These Kindle hacks are keyboard shortcuts will save you tons of time searching and typing in repetitive things. Alt and B will bookmark a page. Another quick bookmark is to maneuver the cursor to where you want it and press the five-way key twice. The Kindle Store can be accessed directly by holding down Alt and Home. Alt and Shift and G takes a screen shot. Alt and G alone will refresh your current page and Alt and R will reload a page when you are in Web mode.
7. MineSweeper
The Kindle has a built-in MineSweeper game for moments of levity between heavy literary novels or just to pass the time in the checkout line. Hold Alt and Shift and M to bring up the Minesweeper console. This Kindle hack will eat away at your spare time for sure.
8. Change Text Spacing
Depending on how close you hold the Kindle to your eyes when you read, the spacing on some of the text may be just too tight or way too wide. If you hold down the Alt and Shift keys and then toggle between the 1-9 keys on the keyboard this will change the spacing between lines. Even a one number jump can make a huge difference.
9. Picture Viewer
Loading pictures on your Kindle is as simple as creating a folder and filling it with your favorites right from your computer. Hook your computer to your Kindle with a USB cord. Create a picture folder on your Kindle (call it whatever you want, it will show up as a book title). If you want separate albums just make subfolders to house them. Unhook your Kindle and press Alt and Z to see your photo album in the books section. Selecting the photo folder will automatically launch the experimental browser that allows photo viewing.
When you are in picture viewing mode there are several shortcut keys. Zoom in with the Q key, out with the W and return to the original size with the E key. If you want the picture at actual size use the C key. Full screen mode can be entered by pressing F and you can rotate any picture with the R key. When the picture is too big to fit on the screen you can pan around with the five-way controller.
Use the Alt plus Shift plus 0 to set the current picture as your screensaver.
10. Unicode Hack
The only actual physical Kindle hack that is safe enough to be included on this list of top ten Kindle hacks is the Unicode Hack. It is a rather involved process and you need the correct version of hacking software for your particular Kindle. This hack will allow you to incorporate several other upgrades that run on the Unicode system. A complete guide for installing and using this hack can be found at blogkindle.com.
References
ireaderreview.com/2008/09/23/top-19- amazon-kindle-tips
hackaday.com/tag/kindle
Image courtesy of WikiMedia Commons/Jon 'ShakataGaNai' Davis