Kids' Science Presents: Solar Powered Toys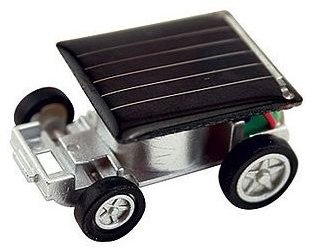 Solar Racecars
Solar racecars are perhaps the most popular of all of the available solar powered toys out there. Simply put them down on a sunny area and watch them move! They will keep on moving until they hit a shady patch or until you shade them from the sun with your body or hand. Some of them, such as the Micro Solar Power Racing Car (pictured; $3.20 on Amazon), come already built and ready to ride. Others, such as the Owi Super Solar Racing Car ($10.95) can be built from scratch using the instructions provided. Our advice: buy at least two of them so that kids will have fun racing them down the sidewalk. For a pair of cars that are meant to race, try the Solar Racers by American Science & Surplus, which includes a starting gate and track for the cars to race on, for $85 on Amazon.
Solar-Powered Animal Toys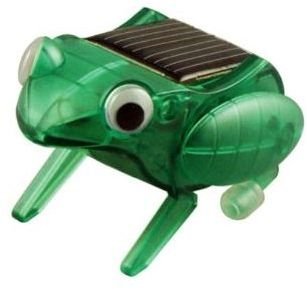 Although they're a bit less typical than solar-powered cars, solar-powered animal toys can give kids plenty of fun experimenting and showing them off to their friends. For example, OWI makes a great solar-powered hopping frog ($13.94) that you can build yourself, as well as a flapping sea gull robot for the same price. The latter does not fly, but it does seem to be suspended in midair and flaps its wings due to sunlight-generated energy. Building and observing these solar-powered animal toys can give kids hours of educational fun in the sun.
Solar Power Kits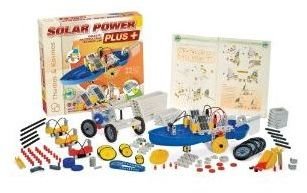 If you know a kid who loves tinkering and putting things together, you may want to consider purchasing a solar power kit. These kits come in different variations, but they are all similar in that they allow the child to build solar-powered toys using their own creativity, with an understanding of how solar power works. Although some of these kits are more expensive than most solar-powered cars and animals, running at about $70.00, you can find cheaper options as well. At the most expensive end, for $68, Thames and Cosmos Solar Power Plus is a "giant photovoltaic's science lab," where you can build 22 different solar powered toys while learning about basic concepts related to solar energy.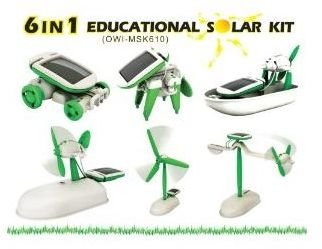 On the cheaper side of things for $24 on Amazon, you could try out American Science & Surplus's Solar-Powered Boat Kit. This kit supplies the solar panel, hobby motor, two different types of propellers, tape and tubing, as well as three different boat designs you can make. What do you supply? The soda bottles, of course! These models are built using recycled soda bottles as a frame for solar powered boats. You can also try OWI's 6-in-1 Educational Solar Kit, which enables you to build tiny models that demonstrate how solar power can operate different types of toys (e.g., a fan, an airplane, a mechanical puppy).
These solar powered toys are the perfect gift choice for a science-loving child who enjoys building "cool" toys.
All images from Amazon.com product listings.