Where to Find the Best Kindle 2 Covers With Side Light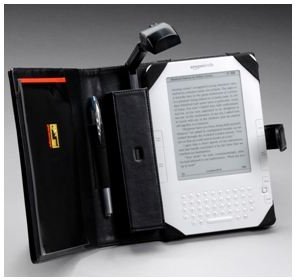 Why Buy a Kindle Cover With a Light?
The creators of the Kindle 2 (and all Kindle generations for that matter) wanted the eReader to actually simulate reading a real book—meaning no backlight. Of course this means in order to read your Kindle in low light or at night, you need a nearby lamp or if you're reading in bed, a small light that won't wake up your partner!
Another great reason to use a Kindle 2 cover with a side light—it gives all Kindle owners the opportunity to make their Kindle unique by accessorizing—something that is growing rapidly with the Kindle's popularity. So, below, we seek out some covers with side lights for the Kindle 2 and offer up some other options—because finding these second generation covers with lights seems a little hard.
Periscope Lighted Folio
Straight from the innovators at Periscope and for only $49.95 comes their Lighted Folio—a great Kindle 2 cover with a side light. Weighing in at only 13 ounces and is powered by 3 AA batteries that last up to 40 hours. The retractable built-in LED light works great in any lighting and it also comes with a notepad and pen holder, just in case you need to take some notes on your eBook. What's special about this Kindle light is it also comes in pink and Periscope is donating a portion of each sale of pink models to Breast Cancer Research.
Image Credit courtesy of Periscope.
Other Side Light Options for Your Kindle 2
TechNews along with some other Kindle cover guides offers reviews on the Case-Mate Enlighten that does indeed come with a side light. However, after a trip to Case-Mate's website, we couldn't' find one. So what are some other options to help you read your Kindle 2 in dark lighting scenarios?
Mighty Bright XtraFlex 2 Light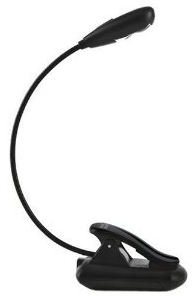 Mighty Bright offers their XtraFlex2 clip on light in black or white for only $14.99 on Amazon. Weighing in at only 5.6 ounces, this Kindle light comes in certified "Frustration-Free" packaging—meaning it opens easily. It comes with 2 super LED lights and an optical-grade lens for even lighting. It grips easily to any Kindle 2 cover and has an adjustable arm.
Fulcrum Multi-Flex LED Light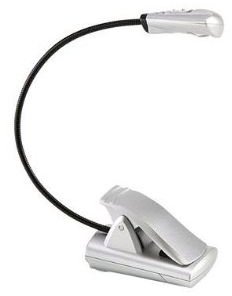 The Fulcrum Marketing Group offers up their Multi-Flex LED light available in silver and priced at Amazon for only $7.98. It weighs only 3.2 ounces and has an ultra-bright LED light that never wears out—along with a cool on/off switch. It does require 3 AAA batteries (not included) and its study clip means you get a stable base—great for reading on a table or on your lap. We love its flexible gooseneck arm which is easily adjusted.
Gizmo Dorks Black eBook Reader Light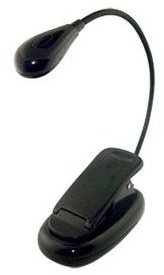 Gizmo Dorks offers their Black eBook Reader for the Amazon Kindle 2 for those on a budget. Available only in black, it's priced nicely at only $2.99 on Amazon. Its LED light is connected to an adjustable gooseneck for easy direction of lighting and clips onto any Kindle 2 cover—a must for traveling or reading in bed.
Final Thoughts
As Amazon offers new models such as the Kindle 3G with Wi-Fi and the Kindle DX, finding Kindle 2 covers with side lights may be a little challenging. There are some other lighting options for your Kindle 2 so you can go for the Periscope model, or try one of these great Kindle 2 cover clip-on lights for reading anytime or anyplace!
Screenshots of clip-on lights all courtesy of Amazon.com.