Easy Ways for Adding Free eBooks to the Nook and NookColor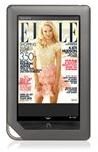 Your Nook is Powerful
If you own a Nook or NookColor, you are already aware of many of its features. One feature is the ability to acquire and read free eBooks from many other sites as well. All you need is your Nook and two free software programs: Adobe Digital Editions and Calibre. Using these tools will make adding free eBooks to your Nook simple.
Image courtesy of Barnes and Noble.
Adding Free eBooks from Barnes and Noble
The Barnes and Noble website offers thousands of free eBooks. To find them, click on "Free NOOKbooks" in the drop down NOOKBook menu, or enter 0.00 in the search box at the top of the page. If you are looking for a particular genre, say history, you can first select "History" in the NOOKbooks drop down box and then choose "Sort by Price - Low to High" from the drop down box just above the list of books in that topic.
When you find a book you're interested in, click on the book to find out more about it. You can download the book from this screen or from the initial screen by clicking on "Buy Now." Because these books come direct from Barnes and Noble, they will be automatically added to your Nook or NookColor.
Downloading and Converting Free eBooks from Other Sites
If you find books at other sites, you must first download the book onto your computer. Keep track of where the book is stored on your computer, and check to see what format the book is in. You can tell this by the file extension. Nooks read EPUB, PDB and PDF format books, but another format is not necessarily a deal breaker
In order to read an eBook on your Nook or NookColor, the book must be in EPUB, PDB or PDF format. EPUB is preferred. Some sites supply books in other formats, and to read these books, you must first convert them. Calibre, a free program, will help you do this. Download Calibre and install it on your computer. Once you have opened Calibre, click on the red book icon at the left-hand side of the top bar. Navigate to the book you just downloaded, and upload it into Calibre.
Click on the yellow "Convert Books" symbol, change output mode to EPUB, and click "OK." Select the option to convert each book individually. The book will either convert to an EPUB format, or it will give you a message that the book is DRM-protected. If it is DRM-protected, you will not be able to legally remove the DRM. Amazon's Kindle uses DRM protection and cannot legally be loaded onto your Nook at this time.
Adding Books to Your Nook Using Adobe Digital Editions
Adobe Digital Editions (ADE) is free software that allows you to manage your eBooks, read them on your computer, borrow them from many libraries, or transfer them to your Nook. Download and install the free software by clicking on the link here.
When adding free eBooks to your Nook, or converting them using Calibre, keep track of their location on your computer. Some sources will download right into Adobe Digital Editions, but other sources will download the book directly to your hard drive. Open ADE and click on the icon of three books in the upper left corner. Navigate to the drop down "Library" menu and select "Add item to library." Now navigate to your new eBook and click "Ok." Your new book will appear on the ADE desktop.
Close Adobe Digital Editions, connect your Nook to your computer with the USB cable, and wait for the Nook to appear as a disk drive on your computer. Reopen Adobe Digital Editions and the Nook should appear on the desktop.
Select the book you want to transfer to your Nook. Drag and drop it to your Nook. Your free eBook is now ready to be read on your Nook or NookColor.
A Semi-Secret Source of Free eBooks
Every Friday, Barnes and Noble offers free books on their blog, Unbound. Sometimes, the books are by popular authors; at other times, the book is a way to introduce readers to new authors. The free books ae available for several days so if you miss checking on Friday, don't despair.