Review of the Kodak EasyShare Z981 Digital Camera
Introduction
The Kodak EasyShare Z981 digital camera is one of the recent superzooms from Kodak and is the successor to the Kodak EasyShare Z980 digital camera.
Some of the key differences between the Z981 and the Z980 are:
26X zoom as against 24X
14 megapixels as against 12 megapixels
absence of a hot shoe for attaching an external flash unit
Features (4 out of 5)
The salient features of the Kodak EasyShare Z981 digital camera include:
26X Schneider-Kreuznach Variogon Optical Zoom Lens (Equivalent focal length of 26–676 mm in 35mm parlance)
A fast (f/2.8–f/5.0) wide-angle lens
Kodak's Share button
Vertical Shutter Release with a detachable grip
Some other features of the camera include:
Picture Capture Speed of less than 0.2 seconds
720p HD Video Capture
Programmed Auto, Aperture Priority, Shutter Priority and full Manual modes along with multiple scene modes and face recognition
Performance (4 out of 5)
Kodak's Share Button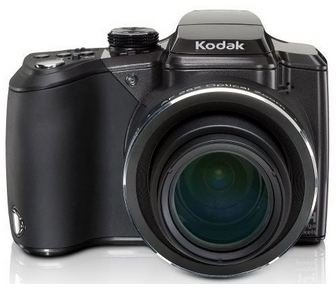 This provides the ability to tag and share photos across websites such as YouTube, Facebook, Flickr, and Kodak Gallery sites. Further, this can be used in conjunction with the face detection feature as follows - the face detection works on 5 faces at a time, and the camera can be programmed to automatically tag 20 specific people based on face detection. This enables quick tagging and easy upload of photographs on YouTube, Flickr, etc.
SuperZoom Performance
The Kodak EasyShare Z981 features a whopping 26X zoom which is 2x more than most other superzooms. The inbuilt image stabilization ensures crisp images even at longer ranges. However, a tripod is recommended to ensure shake-free images at the long zoom ranges.
Vertical Shutter Release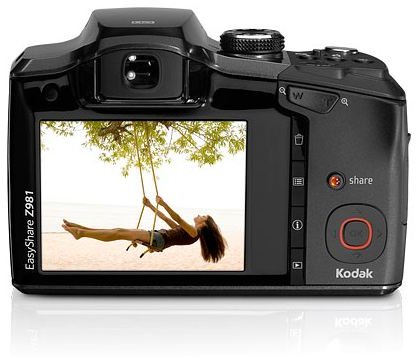 The vertical shutter release button is especially useful while taking photographs in a portrait orientation. Most cameras are better suited to take photographs in the landscape orientation and this uncommon but thoughtful feature makes vertical shooting a breeze with the Kodak EasyShare Z981.
Image Quality
In terms of image quality, the output from the Z981 is about average for a digital camera in this range. There is significant image noise at higher ISO and images produced by the Z981 are not the best in terms of color.
Price to Value (4 out of 5)
In order to understand the price to value proposition which the Kodak EasyShare Z981 digital camera offers, let us evaluate its pros and cons.
Kodak EasyShare Z981 Digital Camera - Pros
26X Zoom (2X more than its predecessor, the Z980 which had 24x zoom)
14 Megapixel (2MP more than its predecessor, the Z980 which had 12 megapixels)
Vertical Shutter Release Button
Kodak "Share" button
Affordable Pricing
Kodak EasyShare Z981 Digital Camera - Cons
No Flash Shoe for attaching an external flash. This forces you to depend on the in-camera flash at all times.
The camera runs on NiMH AA batteries and exhausts the batteries very quickly.
Taking the above pros and cons into consideration, the Kodak EasyShare Z981 digital camera offers a good price to value proposition for a superzoom camera.
Click here to purchase the Kodak EasyShare Z981 from Amazon.com.
At the time of writing this article, the Kodak EasyShare Z981 was priced at about $285 which is significantly lower than other superzoom cameras from Nikon and Canon.