Review of the Nikon D5000 DSLR Camera
Nikon D5000 Overview
Before we get into the Nikon D5000 review across parameters such as design, performance, price to value, etc., let us look at the camera specifications.
The Nikon D5000 DSLR has a 12.3 megapixel DX-format CMOS sensor, LiveView with a vari-angle LCD (tilt and swivel LCD), 19 scene modes, continuous shooting at 4 frames per second, ISO range from 200 to 3200, Active D-lighting, 11 point auto-focus system, built-in image sensor cleaning and in-camera image editing.
Features (5 out of 5)
Some key features of the Nikon D5000 DSLR are: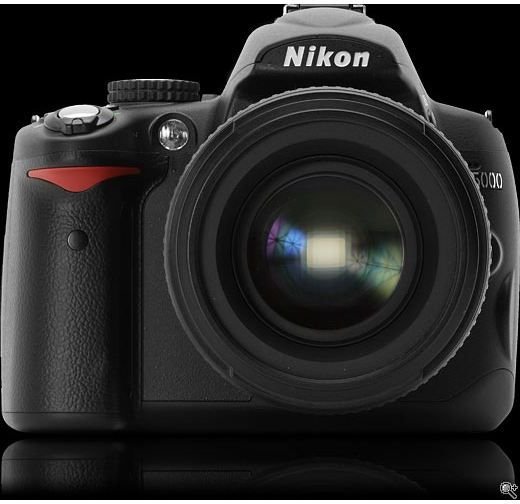 19 Scene Modes
A plethora of scene modes are available such as Portrait, Landscape, Night Portrait, Night Landscape, Sports, Kids, Beach/Snow, Sunrise/Sunset, Dawn/Dusk, Food, Silhouette, Macro (Close-up) mode, High Key, and Low Key.
HD Movies
The camera has inherited the high quality HD capabilities of the D90 and can shoot 720p HD videos. This provides the much-needed video-capture facility for those special moments in life.
In-Camera Editing
There is a host of in-camera editing options such as red-eye reduction, cropping, color balance, straightening, fish-eye effect, etc.
Design (4 out of 5)
The design of the Nikon D5000 DSLR is extremely user-friendly and has many features to boast about. This Nikon DSLR review would be incomplete without mentioning the advantages for the vari-angle LCD and the command dial.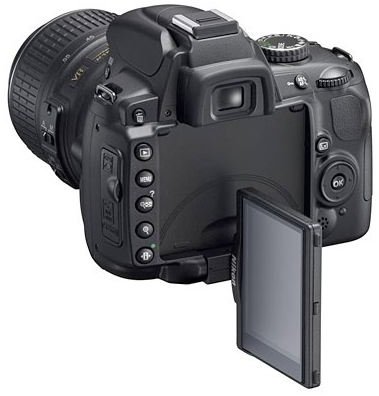 Vari-Angle LCD
First there is the vari-angle LCD (a tilt and swivel LCD) which is 2.7" in size and displays 270,000 colors. This is good to review photographs after shooting but is perfect for LiveView mode. The vari-angle LCD especially helps take shots from awkward angles such as close to the ground or high above a wall etc.
Command Dial
The command dial is an additional dial which is present on the back-panel aside from the mode dial on the top of the camera. This helps switch between various scenes in Scene mode, as well as between various Aperture and Shutter values in Aperture-Priority and Shutter-Priority modes respectively. This facilitates changing settings easily and quick shooting.
The only negative or downside which I felt about the Nikon D5000 is the lack of a motor for the lenses in the camera body. Therefore for auto-focus to work on any lens, the lens needs to be equipped with a suitable motor. (This makes the camera body cheaper but the lenses more expensive)
Performance (5 out of 5)
The Nikon D5000 delivers excellent performance across various conditions.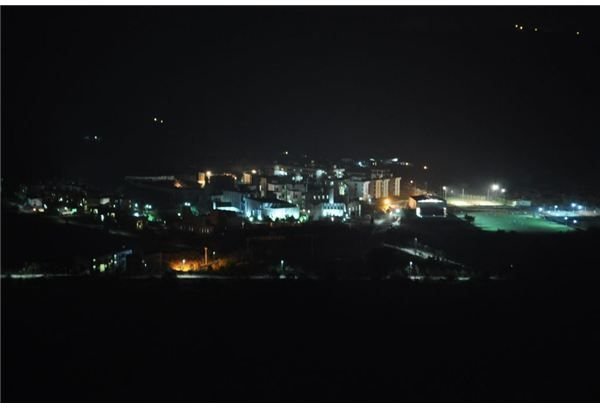 Be it a bright mid-day scene, the orange glow of sunrise/sunset, a dark silhouette or dark night shots, this camera shoots fabulous photographs across all such situations. Further, the presence of 19 scene modes and the command dial along with the mode dial makes shooting simple and easy for learners.
This photo shown on the right is a night photograph of a settlement in a valley taken with the Nikon D5000 (click on image to enlarge).
Price to Value (4 out of 5)
The Nikon D5000 DSLR offers a good Price to Value proposition. The features it offers are very good for its price point. At the time of writing this review, the Nikon D5000 DSLR camera can be purchased for $699 ($749 with a $50 rebate) on Amazon. This includes the Nikon D5000 camera body as well as the 18-55mm kit lens.
However, before making your decision, you could also consider the Nikon D90 DSLR. You may also wish to read this Nikon DSLR Buyer's Guide for additional help and information.