Olympus FE-46 Digital Camera Review & Buying Guide
About the Olympus FE-46
The Olympus FE-46 is an affordable and user-friendly point-and-shoot digital camera. Olympus is known for its affordable, functional and good quality line of cameras, and the Olympus FE-46 certainly won't let you down in any of those departments. Upon opening and using this camera, you'll notice its sleek design, sturdy quality and overall lightness. Once you turn it on and take a few pictures, you'll notice how easy it is to use the camera and how nice the pictures turn out. Upon further detail, you'll notice the features that this camera has, that some other competitor point-and-shoots don't have, which makes this camera extra enjoyable.
Specifications (4 out of 5)
Megapixels and Optical Zoom
The Olympus FE-46 is a 12 megapixel camera, which is astounding for a basic point-and-shoot. For the most part, images come out crisp and clear, though you may occasionally find yourself with blurry or dark images, especially when shooting in poor lighting conditions.
The camera is equipped with a 5x optical zoom so that you can zoom in really close to objects, landscapes and people to get the perfect, up-close shot without having to get really close physically.
LCD Display
On the back of the camera is the LCD screen which is a generous 2.7", comprised of 230,000 pixels. You'll notice that there is no viewfinder available, so pictures must be taken using the LCD screen. This isn't really a problem, considering the screen is fairly nice and is easy to see in direct sunlight, thanks to the Backlight Boost Button, which is a feature you won't see in a lot of digital cameras.
Memory
Storage is easy with the Olympus FE-46, as users have the choice between using xD-picture cards or microSD memory cards.
ISO
The Olympus FE-46 has a high ISO of up to 1600 that allows you to take razor-sharp images.
Design (4 out of 5)
At first sight, the Olympus FE-46 looks rather cheap, but when you actually hold and use it, you'll see how good the quality actually is. The overall design is very striking, and the camera comes in four different colors: Pearl Black, Flamingo (or light) Pink, Light Blue and Pearl White. The camera is fairly small, about 3.9" wide, 1.1" deep, and 2.4" high, and weighing it at only .4 pounds, or 6.4 ounces. This camera will most certainly fit wherever you prefer to carry it.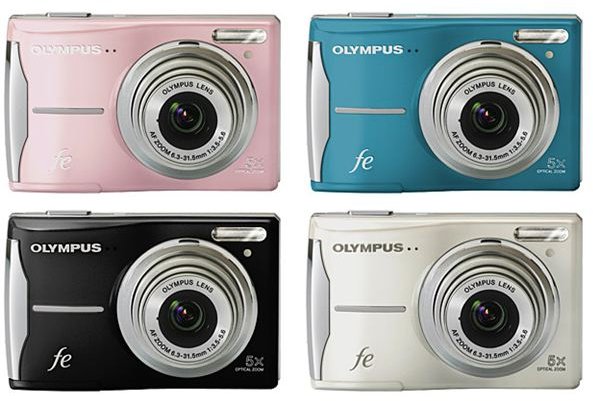 In the Box (3 out of 5)
2 AA batteries
Wrist strap
CD-ROM software
User manual
USB and A/V cables
microSD adapter
Warranty card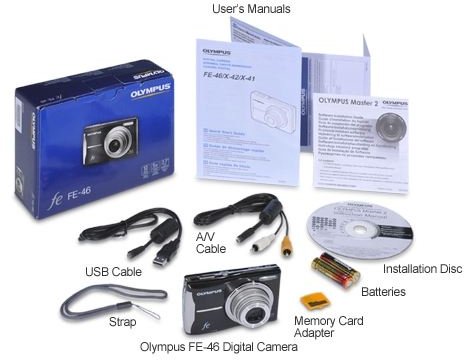 Easy of Use (5 out of 5)
This camera is great for beginners and kids, since it is very easy to use. The menu buttons are really easy to maneuver, and, if you do run into problems, there's in-camera help guides that will describe settings to you with the touch of a button. The official Olympus website describes the camera as "Family Friendly", so this camera would make a great gift to photographers who are just starting out.
Features (5 out of 5)
Magic Fillers
This feature is really neat and is rarely seen in other point-and-shoot cameras. With magic fillers, you apply special effects to your images, like pop art or wedding, right on the camera.
Intelligent Auto Mode
Most new cameras have this feature, but it's a great feature to have. Intelligent auto mode enables your camera to automatically detect scenery, and it will base certain settings on things like lighting and color so that your image comes out looking perfect.
In-camera Editing
Also a nice feature to have, the Olympus FE-46 can tune your images right on the screen by fixing things such as red-eye, brightness, and image size. This eliminates the need to upload the images to your computer and use software to fix simple things.
Face Detection
The Olympus FE-46 can detect up to 16 different faces per image with its face detection feature, even if the faces are moving. It will automatically focus on the face so your subjects will be sharp and bright, not faded into the background.
Image Stabilization
Image stabilization is nice because you don't have to worry about shaky hands or fast subjects. The camera uses a faster shutter speed to capture sharpened, blur-free images.
Shooting Modes
There are 20 different shooting modes on the Olympus Fe-46. This enables you to take custom images, depending on the background or your interests. For example, if you're at a sports game, you can set the shooting mode to sports and take detailed action images.
Cons (3 out of 5)
Though one would assume that such an inexpensive camera would have many flaws, the Olympus FE-46 is actually a really nice camera for basic photographic use. The only major problem with this camera, like many others, is the poor image quality in bad lighting conditions.
Price to Value (4 out of 5)
The Olympus FE-46 is, overall, a feature-filled, high quality, affordable digital camera. You can take some pretty nice images with this, even if you have no idea what you're doing (which shouldn't be a problem since it's a really simple camera to use). You can buy the Olympus FE-46 for $79.00.