The Best Four Thirds Cameras
The Best Four Thirds Cameras
Without exception, the biggest manufacturer of Four Thirds cameras is Olympus. With seven models in its current lineup, and over 90 years of manufacturing experience, you can be sure that an Olympus Four Thirds camera is a quality digital SLR.
The E-450, E-620 and E-30 represent some of the most cutting edge camera technologies, and they offer photographers an attractive alternative to more traditional systems from the likes of Nikon, Canon and Pentax.
Olympus E-450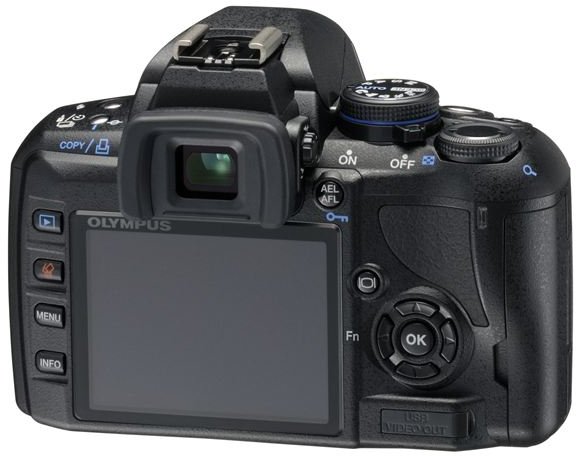 The Olympus E-450 is the best entry level Four Thirds camera available just now. Among its best features are its size and ease of use. In fact, it is one of the world's smallest DSLRs. This 10mp camera has built-in art filters, a speedy autofocus during live view, dust reduction, and face recognition software. It has a bright 2.7" LCD screen, digital image stabilization, and is compatible with the Olympus wireless electronic flash system. The perfect shot preview mode will even show you exactly how your photo will look, before you even take it. It is a tempting choice for photographers new to DSLRs and it compares well with entry level Nikons or equivalent models from Canon.
Olympus E-620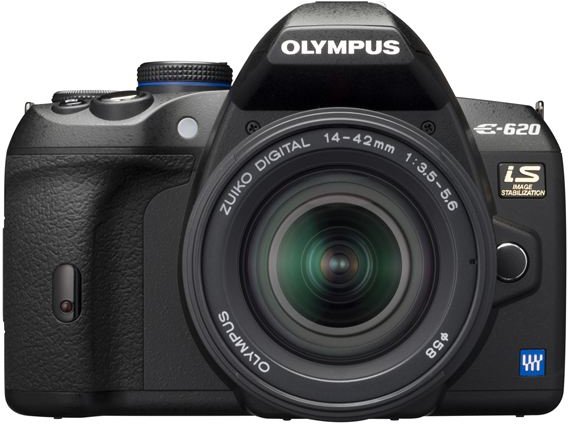 Released in March 2009, the E-620 is a TIPA award-winning camera. It has more advanced features than the E-450 and is aimed more at photographers who have had at least some experience with DSLRs before. The E-620 has 12.3 mp sensor, six art filter effects, and a faster 7 point autofocus system. There is a new in-body image stabilization system, an improved image processor, and a continuous shooting mode that will allow you to shoot at up to 4 frames per second. The E-620 gives you the ability to select different aspect ratios, (4:3, 3:2, 16:9), for your photographs, and this could save you time in post processing when you consider how to crop your pictures. Multiple exposures and a swiveling LCD screen round off this feature packed Olympus Four Thirds camera.
Olympus E-30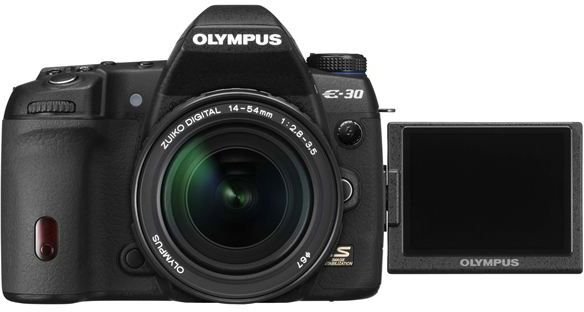 The Olympus E-30 is one of the best specified Four Thirds Cameras that you can buy. When they launched this camera in November 2008, Olympus were looking to steal buyers away from Nikon's equivalents like the D90 and D300s, or Canon's EOS 50D and EOS 7D. It has features from both the E-620 below it, and the pro level E-3 above it. It's 12.3mp sensor can shoot in no less than 8 aspect ratios, and the 11 point autofocus system is among the fastest on any camera when used with a fast Olympus SWD lens. When you include the flip out LCD screen, in-body image stabilization and shadow adjustment technology, you have a competitive digital camera that could please any advanced amateur.
Conclusion
The pros and cons of a Four Thirds camera is something you should definitely consider before purchasing one as your next DSLR. But if you are already know that the system is right for you, then any of the Olympus Four Thirds cameras above would server you will. They are without doubt some of the best Four Thirds cameras you can buy today.
This post is part of the series: The Four Thirds and Micro Four Thirds Camera Series
The history, advantages, and disadvantages of owning a camera from the Four Thirds or Micro Four Thirds system.