Canon's Professional Digital Cameras: The Best of the Best
Canon's Professional Range
If making money from photography is how you earn your living, you cannot afford to compromise on quality. That's why Canon has a range of professional DSLR cameras that are dedicated to achieving results of the highest quality, in the most demanding of conditions. This level of quality and performance does not come cheap, but if you need the ultimate camera, and you spend your time shooting sports or weddings, this is definitely where you should start looking.
Canon EOS 1D Mk III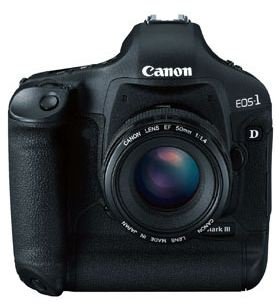 With a street price of around $3700, (body only), this 10 megapixel digital SLR is popular with sports photographers because it can shoot up to 10 frames per second. The EOS 1D Mark III has a weather resistant, all metal camera body, a 100% view from the redesigned viewfinder, and a 3" LCD screen with live view. The 57 custom functions mean that you can set up the camera buttons and menus any way you want, and the 63 zone metering system, combined with the fast 45 point autofocus, ensures you will rarely miss that important shot. This rugged digital camera will serve any professional well, but it does not have a full frame sensor, and has recently been replaced in the Canon line up by the EOS 1D Mk IV.
Canon EOS 1D Mk IV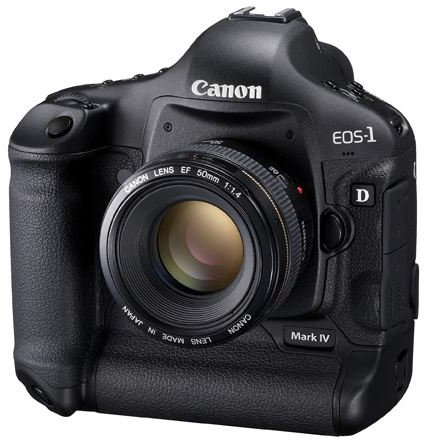 The recently announced EOS 1D Mark IV, (October 2009), will effectively replace the Mark III. Its upgraded features make this an attractive option for professional photographers. Selling at around $5000 when launched, this 16 megapixel camera has some significant upgrades over its predecessor. The ISO range was expanded to an amazing 102,400, and a full HD movie mode was also included. The LCD screen resolution was increased for greater clarity, and although the 45 autofocus points remained unchanged, 39 of them are now high precision cross type points. It remains one of the fastest digital SLR cameras you can buy with a blistering 10 frames per second, and has image quality that is second to none. Sports photographers, or those looking for the ultimate feature packed digital camera, need look no further.
Canon EOS 1Ds Mk II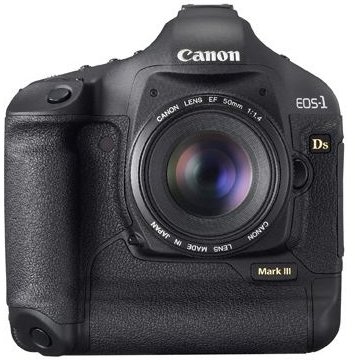 The Canon 1Ds cameras are Canon's range of high resolution, full-frame sensor digital SLRs. The EOS 1Ds Mark II was unveiled in September 2004, and is most often used by wedding photographers, landscape photographers, or professionals who specialize in studio photography. It has a 16 megapixel sensor that is sensitive from ISO 50-3200. The DIGIC II processor lets you shoot up to 4 frames per second, and will produce prints that are large enough for almost any purpose. It has dual memory card slots and a 45 point autofocus system. There is no live view or video mode from the 2" LCD screen, but the 1Ds Mk II still retails for around $5000, if you can find one. It is a serious camera for serious photographers, but its feature list is starting to look a little dated by modern standards. However, that is where the Mark III enters the frame.
Canon EOS 1Ds Mk III
At over $6000, the EOS 1Ds Mark III is one of the most expensive cameras available from any manufacturer. This updated version of the Mk II camera includes a new 21 megapixel sensor for some of the highest resolution images possible from a digital camera. It has a dust reduction system for the sensor, a DIGIC III processor, a larger, brighter, 3" LCD screen and a shooting performance boost to 5 frames per second. The fast and accurate autofocus system even has extra sensitive focus points for lenses that are f/2.8 or faster. The EOS 1Ds Mark III was released in August 2007, and although rumors of a 1Ds Mark IV are gathering strength, the Mark III remains one of Canon's most advanced digital cameras to date.
Top Picks
Without a doubt, some of the best professional digital cameras are made by Canon. The Canon camera that most professional photographers use today depends largely on what kind of photography they specialize in. Sports shooters find it hard not to choose the Canon EOS 1D Mk IV, but wedding photographers, landscape artists and studio professionals long for a Canon EOS 1Ds Mk III. Ultimately, neither will disappoint.
References
Images courtesy of Canon USA
This post is part of the series: Canon DSLR Buyer's Guides
This series of camera guides takes you through all the DSLRs in the current Canon lineup and puts them in order from entry-level Rebels all the way through to the latest professional grade cameras.