Review of the Nikon Coolpix S620 – 12.2 MP Compact Digital Camera with Fast Response Time
Overview of the Nikon Coolpix S620
The Nikon Coolpix S620 is an ultra-slim, compact Point and Shoot digital camera offering 12.2 MP of resolution and a 4x wide-angle zoom lens. This particular model in the Coolpix line may be of particular interest to those who are looking for a camera that's ready to shoot at a moment's notice since it sports a start-up time of only 0.7 seconds along with a quick response time when actually snapping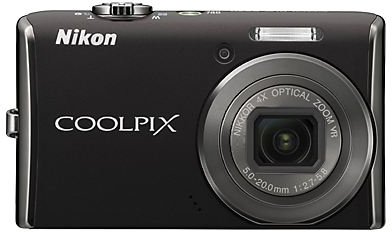 a shot. Here's a brief rundown of some of the camera's most noted specifications.
Nikon Coolpix S620 Specification Highlights:
12.2 megapixels (MP)
4x Zoom-NIKKOR lens
1/2.33-in. CCD image sensor
45 MB internal memory, supports SD/SDHC memory cards for additional storage
Lens Shift Vibration Reduction (VR)
ISO Sensitivity: minimum 100, maximum 6400
2.7 inch TFT LCD with anti-reflection
Rechargeable Li-ion battery EN-EL 12 (included with camera) – battery life of approximately 250 shots
Features (4 out of 5)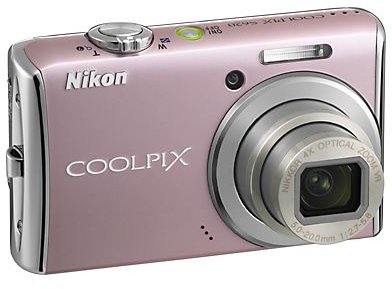 As mentioned before, one point where the Coolpix S620 excels is in its fast start-up and response time. If you've ever been frustrated due to losing "the perfect shot" while waiting for your digital camera to respond to your commands, you'll certainly appreciate this feature. Nikon promises a start-up time of 0.7 seconds, and while I didn't pull out my stopwatch and make repeated trials, I can say that the S620 start-up seemed virtually instantaneous.
The Coolpix S620 also offers a higher maximum ISO setting of 6400. Before you stop reading and rush out to buy the camera because of this feature alone, be wary of the limitations. With most subject matter, extremely high ISO settings are going to introduce a lot of noise and/or loss of detail, no matter what digital camera you use and the Coolpix S620 is no different. In particular (and probably because of the S620's built-in noise reduction algorithms), watch out for detail loss at these higher ISO settings with this model. Nevertheless, just having the option to choose these higher settings is a big plus.
The Smart Portrait System is one of many automated features found in the Coolpix S620. While I have had some mixed results with these functions, overall I am impressed with the camera's ability to recognize faces, wait for the subject to smile, and capture a blink-free image. You'll probably have to practice a bit to get a true feel for these capabilities, but you should be able to obtain some very decent results the first time you try them out.
Design (3 out of 5)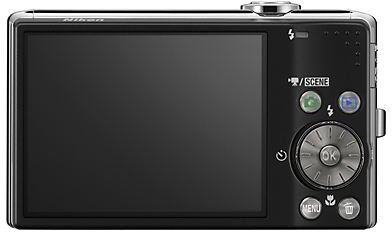 Weighing in at 120 g (4.2 oz.), the Coolpix S620 is extremely light and portable. It's also small enough to fit in a jacket pocket or most side compartments of a shoulder bag since its dimensions are only 90 x 53 x 23 mm (3.5 x 2.1 x 0.9 in.) when the lens is not projected. It's available in both black and pink.
In an effort to make the LCD monitor as large as possible, the screen has been extended to the very edges of the camera. While I do appreciate the larger screen, I found this aspect made it a little difficult to hold the camera without smearing my fingers all over the corners of the monitor. Unfortunately, the fingerprint repellent layer wasn't quite as repelling as I would have liked, and I ended up constantly wiping the edges of the screen.
Ease of Use (4 out of 5)
For the most part, the Coolpix S620 is very easy to use, and it's not difficult at all to navigate through the control settings. However, unless you're already rather intimate with the Coolpix line, you may find yourself needing to spend some time with the manual and experimenting a little before you get the hang of some of the advanced features of the camera.
Price to Value (4 out of 5)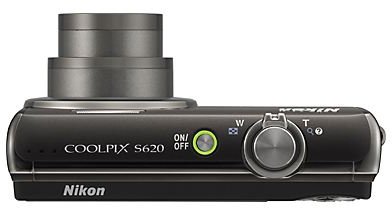 The Nikon Coolpix S620 has a Canadian MSRP of $329.95. (The suggested list price in the U.S. is $269.95.) In addition to the camera, this price includes the following components.
EN-EL 12 Li-ion Rechargeable Battery
Battery Charger
USB Cable
Audio/Video Cable
Camera Strap
Coolpix Software Suite
Compared to some standards, 45 MB of internal memory may sound like a lot, but it really isn't when you're dealing with 12.2 MP images. So, even though the Coolpix S620 technically comes with all the supplies you need to start taking photos right away, it would be a good idea to purchase an additional memory card as soon as possible.
Overall Rating (4 out of 5)
There's quite a bit of competition for digital cameras in this price range, but the Coolpix S620 still manages to hold its own rather well. Oddly, the only thing that really gives me any reason to pause with this model is the "edge-to-edge" viewer, but that same factor might make the camera more attractive to other users who don't mind wiping off some smudges now and then. And, to be quite fair, if you want a large viewing area on an ultra-compact digital camera, I can't think of an alternative design.
If you're considering this as a starter camera, you might want to investigate some of the less advanced models in the Coolpix line before you settle on this one, especially if you're trying to save some money, since you may not need all the features found in the S620. However, if you're looking for a solid digital camera with around 12 MP that's fast, powerful, and compact, keep the Coolpix S620 on your short list – it would be a fine investment.