DSLR: Olympus E-400 Digital Camera Review
European DSLR
Olympus is one of the major manufacturers of digital cameras. One of its older offerings is the Olympus E400 digital camera. This is a 10 megapixel camera that has something of a retro look. It features a 2.5-inch, 215,000 pixel LCD screen. It sells for around $1,000 as of May 2011.
Olympus mainly released this camera in its European market. But, American consumers can purchase this camera from online, third-party vendors. This Olympus E400 digital camera review surveys the good and bad of this DSLR camera.
Body (4 out of 5)
The first thing that you notice about this camera is the body. It's designed to expertly fit into your hand. It's kind of boxy, but it works for the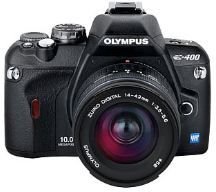 camera. The one minor issue is that Olympus removed the grip on this camera. The screen is located on the back along with a few menu buttons. The settings dial is located on the top of the camera.
The camera only weighs 375 grams, making it extremely lightweight. The camera, however, feels like it has a lot of substance. At the time of its release, the E400 was the lightest and most compact digital SLR camera.
You can also change out the lenses with this camera, and it complies with the Four Thirds Standards. This means that you can use high-quality Four-Thirds compliant lenses with this camera.
This camera comes with two macro lenses: 28-84 mm and 80-300 mm. These are both standard lenses, but they are still pretty decent. Another available accessory includes an underwater casing. The camera also comes with its own rechargeable battery.
Image Quality (5 out of 5)
This is a mid-range camera, mainly geared for the advanced amateur. Professional photographers will probably not like the extremely compact body. But, consumers will enjoy that they can throw this camera into backpack and take it anywhere they need to.
Just because the camera is aimed towards this market doesn't mean that it doesn't take quality pictures. Because it really does take amazing shots. The images are clear and crisp even when zoomed out. You can shoot images in up to four different quality settings. The SHQ is the highest quality setting. The camera comes with an amazing 31 scene modes.
Modes (5 out of 5)
As mentioned earlier, this camera is designed to go underwater, and it includes two modes specifically for this purpose: Underwater Wide and Underwater Macro. It even has an Image Stabilization mode. This mode keeps your images from looking blurry even if you are fully zoomed out and don't have a tripod.
Other important modes include the following:
Landscape/Landscape with Portrait
Portrait
Night Scene/Night Scene with Portrait
Sunset
Fireworks
Macro/Nature Macro
Beach and Snow
The camera has both auto and manual modes, which is very important if you want to capture more than standard images. It also has special color modes, including the ability to convert your images into Black and White. It has different flash settings, including red-eyed reduction and Auto Flash.
Features (5 out of 5)
The E400 also comes with a combination +/- and manual exposure button. You can change the exposure compensation range plus or minus five stops. The camera also has three different auto focus points, and you can access these focus points in either manual or auto focus. It has an ISO range between 100 to 1,600. You can also adjust the ISO in 13 point increments, which is pretty great for a mid-range camera.
Further, the camera still takes amazingly clear pictures up to the 800 ISO range. You only start noticing noise after this range. But, it doesn't get really bad until you get above 1200. The camera has a maximum shutter speed of 30 seconds. This is great for night photography, still providing clear images in low light.
Another major feature of this camera is the Super Sonic Wave Filter. This keeps the sensor free from dust and debris. This eliminates an annoying task for you. This anti-dust system does its work as soon as you turn on the camera. But, it doesn't waste a lot of time. Within one second, you can start using the camera.
Bang for Buck (5 out of 5)
Overall, this Olympus E400 digital camera review shows you that this is a wonderful camera for advanced amateurs. Even professionals may like this camera as a backup. It's super easy to use and the images are amazing. The only problem is that this camera is really only available in European markets. If Americans can snag one, they'll be more than happy with the camera.
There's no major downsides to this camera. The images are sharp even at different ISO settings. And, you can take it underwater.
References
Roscoe, Michael. "Olympus E-400 Review".