Reviewing the Kodak Playsport Video Camera: Sample Videos and Kodak Playsport Tests
Ease of Use (4 out of 5)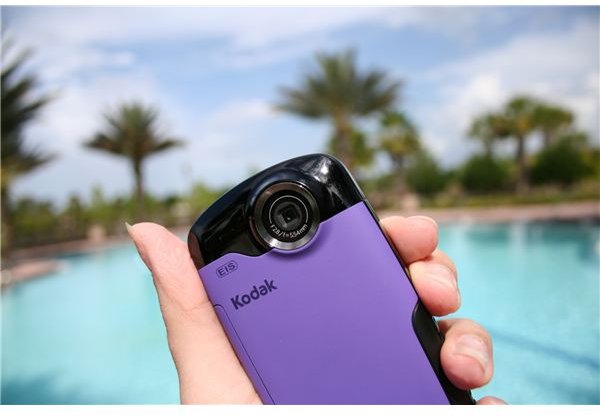 The Kodak Playsport is a great camera for afternoons at the pool or the beach, outdoor adventures at nearby nature parks or visits to the theme parks. With controls that are simple and straightforward, there are very few options for which you will need to refer to the Kodak Playsport manual. Along with a few other selections, the camera has four basic buttons that allow for recording, playback, deletion and option changes.
After messing around with miniDVDs and the limited video-recording capabilities of my Canon PowerShot digital camera for years, I knew it was time to upgrade to a camera that could record high-quality digital video. I wanted a camera that I could use to save video content directly to an external hard drive for simple storage and easy access. The Kodak Playsport video camera was the perfect solution for shooting quality content on the go.
The Playsport options/settings menu allows the user to turn on the H2O (underwater color-correction) or EIS (electronic image stabilization) features. One of the few Kodak Playsport issues I encountered when first using the camera was the need to select these options again any time the camera was turned off. Of course, this is probably preferable so that the primary settings remain the default. You don't want to accidentally leave the H2O setting on above water, as this will cause overly bright or reddish images. You will simply need to change the settings whenever you begin taking photos under different conditions. Likewise, you need to remember to check that your ideal settings have been reselected whenever you turn the camera off and back on.
Users should also note that the Kodak Playsport "H2O" setting is not required to be on for the camera to be waterproof. Although the manual does not specifically describe this feature in detail, the main purpose is to adjust the color when underwater.
Design & Durability (5 out of 5)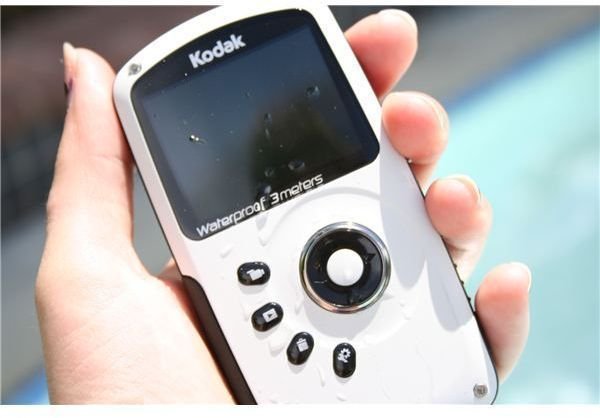 There are all kinds of options when it comes to recording high-definition digital video. What first set the Kodak Playsport above the others in my search for a camera was the simple fact that Kodak's waterproof camera was an affordable choice that could record video both in and around the water.
During our Kodak Playsport tests, the waterproof camera performed exceptionally well:
YouTube Kodak Playsport Test Underwater
YouTube Kodak Playsport Test at Waterpark
The camera is well-prepared for light raindrops or heavy water spray, ready to take a dip right out of the box. With a sleek design available in several eye-catching colors, it is very solid and seems capable of withstanding the most rugged of adventures or accidental falls.
At a size smaller than many smartphones or touchscreen devices, Kodak's handheld pocket video camera fits comfortably in one hand and can be easily mistaken by others as a phone. We found that even a three-year-old could easily manage to take a photo with the durable and user-friendly Kodak Playsport.
Video & Image Quality (4 out of 5)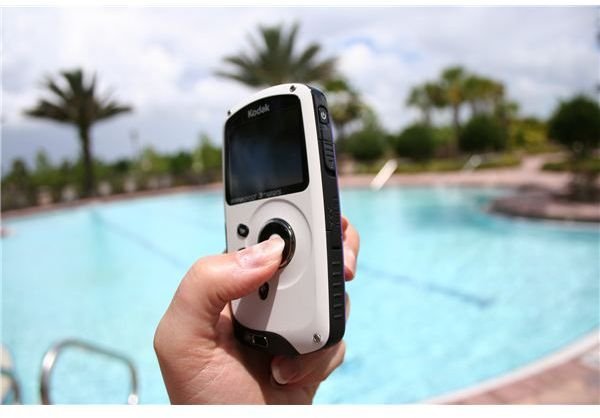 The Kodak Playsport zoom works better than expected and the quality is much better than the older digital zoom functions of handheld devices that I had previously used to record short video clips. For Playsport video samples, take a look at the following videos taken of "One Ocean," Sea World's new killer whale show that opened in April 2011:
YouTube Kodak Playsport Test featuring One Ocean show
One Ocean YouTube footage testing Kodak Playsport zoom
Although the footage may be a bit choppy without a steady hand when using the zoom, footage shot at a closer distance remains sharp and detailed. Using the included HDMI cable to view footage on a large screen TV really shows off the camera's quality. Kodak Playsport stills are taken at 5.3MP.
The camera also performed surprisingly well in low-light conditions shot during the evening and within darker indoor settings. Look at this video from Sea World's underwater dolphin viewing area:
YouTube Kodak Playsport Test under Low-Lighting
The Playsport includes 128 MB of internal storage with an SD/SDHC expansion slot. Read up on choosing a Kodak memory card to learn more about HDSC memory cards for Kodak Playsport storage.
Continue to Page 2 for Kodak Playsport reviews of the camera's performance, battery life and price.
Performance (4 out of 5)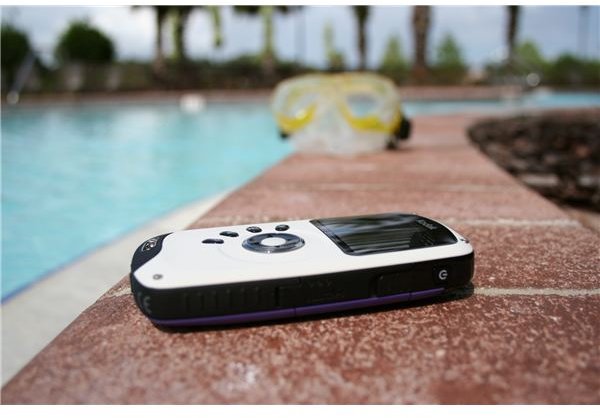 The Playsport offers many great features. We found the image stabilization and H2O color-correction settings to be more than adequate for the purposes of our basic videos, and the LCD glare shield for glare reduction is especially helpful at the beach.
Although some online reviews have reported Kodak Playsport problems relating to muffled or absent audio after underwater use, I did not encounter this problem after repeated water exposure. Even as the camera dips underwater, splashing and other audio continue to be heard. After bringing it back above the surface, the audio was recorded without any problems. After scrutinizing multiple test videos during playback, it seemed that the only muffling of audio seemed to be when the camera was subject to intense water spray (as expected).
Kodak Playsport z3 Battery Review
Once fully charged, the camera battery lasted for several hours over multiple days of use. The Kodak Playsport manual estimates that total charging time will average 4 hours. When recording in higher-quality formats, the battery life dropped significantly. However, with the majority of video being recorded in 720p, our brand new battery lasted at least 2-3 hours before needing to be recharged.
Kodak Playsport Tips
To take rapid photos consecutively when shooting stills, press the white button repeatedly to exit the prior image's preview and continue shooting.
Remember to select the waterproof feature (H2O) and confirm that it is on before taking the camera underwater to improve the hue of your images and video. Likewise, be sure to turn the H2O underwater mode off when shooting above water to avoid excessively bright video or color-saturated images.
Save battery life (and storage space) by shooting in a lower-quality format.
Consider an eye-fi wireless SD card for your Kodak Playsport video camera, one of several great handheld wi-fi technology products that allow users to transfer their videos and photos wirelessly from their camera.
Price (5 out of 5)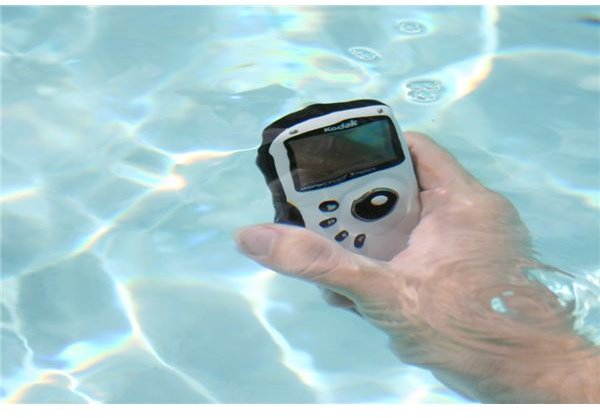 Originally retailing for $149.95, Playsport Zx3 cameras both used and new can be found online anywhere from $75 to $125. The new Playsport Zx5 retails for $179.95. Although it may not have the highest-quality lens or features found on professional industry-standard cameras, this is an incredible package available at an attractive price - especially when compared to some of the best underwater digital cameras on the market that don't offer HD video.
The convenience and simplicity of the Kodak Playsport video camera make it a great family camera for shooting video at home, on outdoor adventures or during vacation with the kids. The durability, convenience and overall quality of the Kodak Playsport HD waterproof pocket video camera make it well worth the low cost.
Resources and References
Kodak Playsport Specifications (Zx3 specs) also referred to as the Kodak Playsport z3
5.54 mm, 35 mm equivalent
48 mm at 1080p; 36 mm at 720p, WVGA and still capture
5.3 MP stills, 16.9 widescreen
4X digital zoom
128MB internal memory
mono audio (with built-in speaker)
high-speed USB 2.0
AV and HDMI output (hdmi cable included)
Li-Ion Rechargeable Digital Camera Battery KLIC-7004 (with charging cable adapter)
standard tripod mount
one-year warranty
Kodak Playsport Zx3 vs Zx5
The newer Kodak Playsport Zx5 integrates a few added benefits for increased durability and weather resistance, including shockproof and dustproof features. The Kodak Playsport z5 also includes sharing capabilities and other options like macro mode. However, unlike the Zx3, the kodak playsport video camera Zx5 does not come with hdmi cable.
Image Credits
Kodak Playsport images courtesy Microstock Photography Source.
This post is part of the series: Kodak Cameras and Memory Cards
This series reviews and compares a variety of Kodak cameras, memory cards, related products and accessories, including the new Kodak Playsport video camera.