Top 10 Digital Camera Gift Guide: Ideas for Kids, Teens, Seniors, Budget, Outdoors, DSLR & More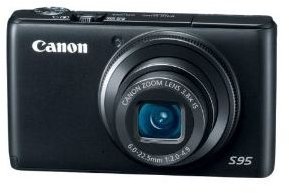 All Around Point-and-Shoot
Let's get things rolling with the basics: the best well-rounded point-and-shoot on the market, the Canon PowerShot S95. Packed with automatic and manual features and controls, the 10.0 megapixel S95 is an easy-to-use camera for the serious hobbyist. It comes with a 3.8x optical zoom, 28mm wide angle lens that opens to f/2.0, and includes anti-shake compensation software for steady shots.
The PowerShot S95 shoots 720p HD video as well, standing in for your video camera in a pinch. And with a maximum ISO of 12,800, you can capture highly-detailed images even in low light.
The Canon PowerShot S95 runs about $369.
Kids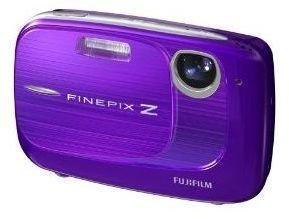 The choice of cameras for very young kids — toddler to grade school — is easy: just get a chunky Fisher-Price camera or one of its clones. They aren't great cameras, but they're tough and kid-friendly. It doesn't matter so much what the image quality is at this age, because young kids simply want to enjoy the process of snapping and viewing photos.
However, when kids reach the preteen years, say, middle-school age, they're ready for a more grown-up camera. You still want something rugged so it can take the abuse of being lugged around in backpacks, but you can take quality into account too.
With this in mind, try the Fujifilm Finepix Z37. It comes in tween-friendly purple, green, and blue, with a 2.7-inch LCD, 10 megapixel resolution, and 3x optical zoom. It's an affordable camera, priced from $89.99 to $129.95, and it's both thin and lightweight at 4 ounces.
Best Zoom for the Buck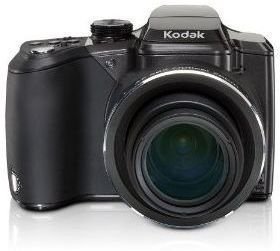 The Kodak EasyShare Z981 delivers a 26x optical zoom for under $200. You read that right. 26x optical zoom. That much zoom power requires a big lens, which makes for a bulkier camera, but given what you get, it's worth it. Zoom also works in video mode on the Z981, and it's a high resolution, 1280 x 720 quality.
Anti-shake technology compensates for the long zoom, though using a monopod or tripod is still recommended if going the full 26x. Reviewers give the Kodak EasyShare Z981 high marks for picture quality as well, and if you tend to use your camera while traveling, it uses AA batteries, more convenient than rechargeables for photographers on the go.
The Kodak EasyShare Z981 sells for about $199.
Continue to page 2 to learn the top serious point-and-shoot camera, the best camera for fashionistas, and more.
Serious Point-and-Shoot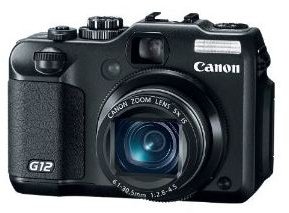 The Canon G12 is a point-and-shoot digital camera for "advanced amateurs," as the PR copy states, likely managing to insult both amateurs and advanced photographers alike.
However, make no mistake: the G12 is the camera for the hobbyist who wants to take great pictures with a feature-rich camera and who doesn't want to make the leap to the expense and bulk of an SLR — just yet.
Canon's known for fabulous picture quality in its digital cameras, and the G12 is no exception. Its 10 megapixel CCD sensor, combined with the DIGIC 4 Image Processor, produces even high ISO-shot images with low amounts of noise. The G12 has shake-reducing technology for low light and close-up shots without blur. Additional features include HDR, easy-to-use controls lauded by reviewers, 720p HD video, and a 2.8-inch foldout viewscreen.
The Canon G12 is available for around $480 at Amazon.
Fashionistas
With a viewscreen on the front of the camera as well as on the back, the Samsung Dual LCD digital camera is built with fashion-conscious social butterflies in mind. No need to guess or set a timer when posing with friends — just point at yourselves, frame in the screen on the front, and click!
A diminutive compact, the 5.4-ounce Samsung is smaller than a business card and only 0.8 inches thick, easy to slip into the smallest of pockets for a night on the town. It's available with trim in blue, red, purple silver, black, and orange to coordinate with any fashionista's palette.
It doesn't skimp on the features either. The Samsung Dual LCD has a 12.2 megapixel sensor and 27mm wide angle lens, along with 4.6x optical zoom, and takes video as well. Get it for around $189.
Budget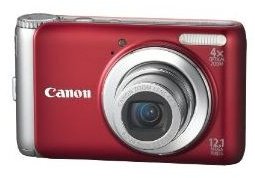 At around $89, you can't go wrong with the Canon PowerShot A3100IS. The venerable PowerShot line has been making quality budget digital cameras for over a decade, and they keep getting better — now with a 12.1 megapixel sensor and 4x optical zoom with image stabilization.
The A3100 comes with 18 "smart" automatic picture settings, including a low light mode that reviewers love. It also has a 2.7-inch LCD, Face Detection technology, and earns kudos for being supremely easy-to-use.
Continue to page 3 to learn the top digital SLR, the best camera for teenagers, and more.
Digital SLR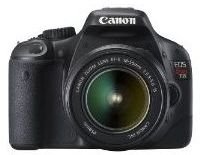 If you have a serious shutterbug on your gift list, think about getting them a digital SLR camera. These are professional-quality cameras with the ability to swap out lenses, allowing the photographer ultimate control over their shots.
The Canon EOS Rebel is widely considered the standard by which DSLRs are measured, and the T2i model continues that trend. It comes with an 18 megapixel CMOS sensor and supports an ISO range of 100–6,400, extremely useful for shooting in difficult situations such as low light. It's also a fast-shooting camera, capturing 3.7 frames per second with shutter speeds up to 1/4000th of a second. Add in a 3.0-inch monitor and a 1920 x 1080 HD video capability and you've got yourself one of the best cameras available under $1,000.
The Canon EOS Rebel T2i is available for around $799 on Amazon.
Teenagers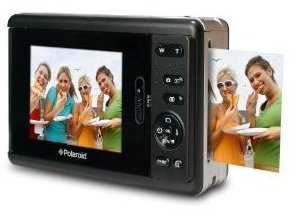 Teenagers are ready for any camera an adult would use, so for regular usage, it just comes down to your teen: are they outdoorsy and want a rugged camera? Do they want something small enough to take anywhere?
However, for a digital camera that seems to be designed with teens in mind, check out the Polaroid PoGo Instant Digital Camera. Remember Polaroid? Some of you are old enough to have snapped photos with big, bulky Polaroid cameras that spit out instant pictures. It was a teen dream back in the pre-digital days: instant photos!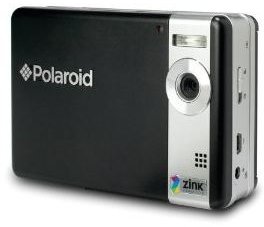 The PoGo does the same thing, in modern form. How cool is that? It's a camera and photo printer in one, spitting out 2 x 3 inch photos in less than a minute. The prints are sticky on a peelable back, so teenagers can either keep the printed photos as is or peel off the backing and stick them anywhere. Including the cost of the 10-packs of photo paper, prints come to about 37 cents apiece, not bad for instant service, and reviewers love the quality of the prints.
Get the PoGo for about $154 at Amazon.
Continue to page 4 to learn the top camera for seniors, the best camera for waterproof/outdoors use, and more.
Seniors
The best digital cameras for older folks are easy to use and easy to hold, with clear controls. It must also have a simple method for downloading photos from the camera — I can tell you from experience that if it isn't very obvious how to do it, your elderly friend or parent is never going to bother getting those images off the card and onto Facebook.
Kodak EasyShare is often cited as a great camera for the elderly because it's considered easy to use, but I disagree. The Kodak computer software, which innocents will install without a second thought, downloads the camera's images in a proprietary format that's difficult for the uninitiated to convert to any usable form.
Keeping that in mind, I'm recommending the Panasonic Lumix DMC-ZS7. It lists for $349.95 but can be found for $249.95. It has a 3-inch display that reviewers praise for being clear and crisp even in direct sun, a side grip that makes it easy to grab and hold on to, and easy to navigate menus — all excellent when purchasing a camera for a senior.
The Lumix DMC-ZS7 isn't just for seniors, though. It's one of the highest-rated cameras on Amazon, with a Leica lens, 12x optical zoom, intelligent auto settings for many photography situations, and just plain quality images. And while it does use a rechargeable battery, reviewers report that its charge lasts about as long as AA batteries do.
The Lumix DMC-ZS7 sells for about $249.
Waterproof / Outdoors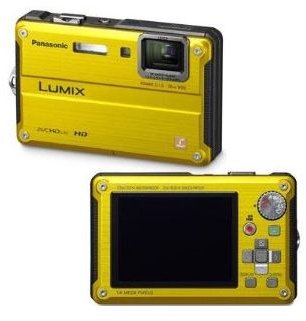 Crows one reviewer: "If Batman had a camera, this would be it!" The Panasonic Lumix DMC-TS2 is a waterproof, shockproof (and freezeproof, and dustproof) camera designed for hard knocks. It can be dropped safely from a height of more than 6 feet and submerged over 30 feet underwater without incident.
This Lumix isn't just tough, though. It has a 14.1 megapixel sensor, 4.6x optical zoom, shoots HD video, and has several auto shooting modes. It also comes in black, silver, orange, blue, and yellow — be sure to select a bright color to make it easy to find in deserts, tundra, or coral reefs, or wherever you plan to put this digital camera through its paces.