What is The Best Pro Camcorder to Use When Videoing a Wedding? Buying Guide & Recommendations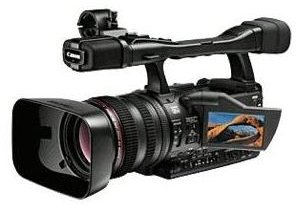 What to Look for in a Camcorder?
If you're going to be videotaping someone's wedding, you want to be sure that you have the best digital camcorderr for the duty. There's nothing worse than taking hours upon hours of recordings only to find out that you can't use most of the video since it's so grainy or dark. So, what is the best pro camcorder to use when videoing a wedding?
Well, there are some things to look for when going to buy a camcorder. First of all, you want one that has a good microphone. If not, you'll miss all of the dialogue or only get audio with a lot of static.
It may be best to go ahead and purchase an external mic if you do want to pick up a lot of audio. Even the best camcorders will only have mediocre microphones, especially since the mics are imbedded in the video camera itself. You may even make the mistake of accidentally covering up the microphone. Look for models that have XLR plugs as this will allow you to plug in an external mic.
Good Features and Controls
You should be able to push up the ISO on your camcorder to 400, higher is preferable. ISO allows you to take video in low-light settings. Without a higher ISO, all of your clips will probably be dark, especially if the wedding is indoors.
If you are familiar with white balance, get a camcorder where you can manipulate the white balance. The white balance helps you adjust the color settings of your camcorder. If, however, you are not familiar with white balance, then you should probably just leave it alone (or take the time to learn). Regardless, be sure that you buy a camcorder that allows you to easily access important controls like zoom, focus and shutter speed. If not, you'll be playing with your camcorder more than filming.
Recording, Zoom and Stills
Try to get a camcorder with optical zoom over digital zoom. The higher the digital zoom is, generally the worse the quality of the video is. Either way, just don't to zoom too far in with either since over-zooming will affect the picture quality, no matter what. Instead, try moving closer to your object.
Finally, pick a camcorder that allows you to take stills. If you to capture a particular important movement for the couple's wedding album, you can quickly switch to stills setting and take a couple of shots.
Recommendations
Now, that you know what you're looking for, here are a couple of recommendations for camcorders that could work for you.
Canon's XH-A1 Mini DV Camcorder is a prosumer camcorder (approximately $5,000 online) that's actually made for independent filmmakers. The picture quality is through the roof, and it has a lot of special features, including an adjust LCD screen, HD filming and 20x zoom.
The Sony Handycam HDR-XR100 80 GB Hard Drive HD video camera ($350 to $540 online) is also another great choice. It comes with face recognition technology and the ability to convert clips into still pictures, and it records in true HD 1920x1080, and it can record for hours with its 80 GB memory.