The Best Camcorders from $200 to $500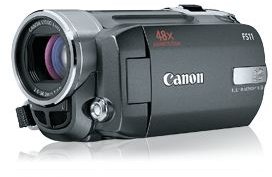 In the market for a decent camcorder, but you don't want to break the bank? There are options available to you. Low to mid-range camcorders come with many nice options that would be perfect for anyone just starting out. Many new camcorder users just need camcorders that offer good video quality. They aren't ready for the prosumer or professional camcorders yet.
Canon - Always Good
Canon has been producing quality cameras and camcorders for a very long time. Their budget F series has a few different models to choose
from, including the FS10 with 8 GB of memory. But, the high-end model the FS11 (around $450 to $500 retail) comes with a 16 GB internal memory and a built-in electronic lens cover. It's well built and will fit perfectly into your hand. Weighing only 10.7 ounces, it would be easy to take this camcorder on a hike or to the beach with the family. You'll love the 2.7 inch LCD screen and the 48x zoom. You won't, however, love a few things about this model.
This camcorder is not meant for the serious videographer. There are some problems with the zoom switch, making it hard to control, and it only comes with standard-definition (740x480) video resolution. Overall, however, it's a nice starter video camera, and the included software makes it easy to edit your videos, including editing out any problem sections.
JVC
A better option might be the JVC Everio GZ-MG330 Hybrid Camcorder ($400 to $500 retail). While it's been out for a few years, the camcorder is still well worth the money, and users have consistently given this model excellent reviews. It's small, inexpensive and very sleek looking. It also shoots in standard definition and sports a 2.7 inch LCD screen. It is a little heavier than the Canon model at 11 ounces, but the zoom on this camera is much better, reaching up to 35x. It has a 30GB hard drive and the ability to capture still photos. What's nice about this camcorder is that in the Ultra Fine mode, the hard drive can record over seven hours of video and, in the Economy mode, over 37 hours. You can also record over 37 hours of video and nearly 10,000 still images.
The image quality is not the best, and you need to be up close to someone to get clearly defined auto. But, for the price tag, it is still a fine machine.
Aiptek
Another possibility, if you're looking for a camera that shoots in HD is the Aiptek AHD H12 Extreme Camcorder sells for between $200 and $300. It is available in different colors, including silver. Users love this camcorder and for good reason. You can record full HD 1080p video, and it has a 12x optical zoom, which is rather amazing for a camcorder at this price. It comes with built-in software that allows you to quickly and easily upload videos to YouTube, allowing you to easily share your videos with your friends and family.
The major downside to this camcorder is that it doesn't have any type of manual white balance or exposure. You have the choice between presets and automatic exposure and white balance. So if you like adjusting your own settings, this is definitely not the camcorder for you. Others, however, will love its usability and features.
Sony
The Sony Handycams are known for their usability, especially for entry-level to mid-range consumers. One of the best entry-level, compact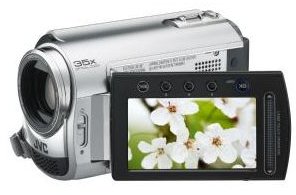 Handycam's is the HDR-CX130. This camcorder fits nicely in the hand, and the 3-inch touch screen is quite easy to use and responsive. The best feature on this camcorder, however, is the wide angle lens. It's amazing how much you capture with it.
The downsides to these camcorders, however, are the still photos and the HD recording. The camcorder does take really good video, but it's not spectacular. The still images are really not that great. You will need to carry a camera with you if you plan on taking stills.
You really have a lot of choice for camcorders in this price range. All these models, however, do have some drawbacks since they are really entry-level camcorders. You would have to upgrade to get superb video and image quality. Try a few out. Don't just buy one online because it's on sale. Head to your local electronics store, and experiment with the features. Once you narrow down the one that you like the best, shop around online for the best price from the camcorders included in this best camcorder $200 to $500 list.
References