Complete Guide to Finding the Best Camera for Any Age Group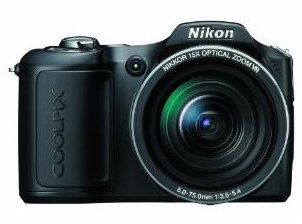 One Way to Search for the Perfect Camera
There are many criteria you could use when searching for the perfect camera for someone. What will they use it for? Where will they use it? How accomplished a photographer are they? These are all important things to take into consideration, but you might want to begin with a more general search: how old are they?
Different age groups tend to want different things from their cameras. The youngest children want to do what their parents are doing, and start off just fine with a low-quality Fisher-Price camera. Once out of the toddler stage, try moving them out of toy-level and into something still tough and forgiving but with a few more features. Teenagers tend to want fast cameras for capturing those quick snapshots, and gravitate towards small cameras with unique features like Polaroid's "instant" digital camera with a built-in printer. Adults run the gamut from beginners to pros, and we've rounded up a great selection of articles to help you narrow down the choice. And seniors want ease of use, with simple controls and downloading, quality images, and comfortable grips.
Check out the appropriate sections below and you'll find a list of what we consider the best of the best of our digital camera articles oriented towards specific age groups.
Cameras Suitable for Kids
Little ones love gadgets that emulate what they see the big kids and adults using, and digital cameras are no exception. When choosing a camera for a child, you need to take their needs into consideration, from a rugged design, to sizes designed to fit in small hands. Check out this list of great articles to help you choose a kids' camera. I recommend beginning with the first one to learn what to look for when shopping.
Great Cameras for Teenagers
By the time they hit the teenage years, kids are looking for trendy, highly portable cameras that still have some durability to them. They're throwing them into backpacks and tucking them into pockets, after all. These articles help you decide how to choose the perfect camera for a teenager, along with some reviews of cameras our writers thought were just the thing for teens.
Cameras for Adults
Adults are such a broad spectrum that you'd think it might be hard to pin down how to select a camera for one. Think about what the person might use the camera for and go from there. We've got tons of great articles for selecting compact cameras, full size cameras, point-and-shoots, DSLRs and more. You can even look for the best cameras by brand (I'm partial to Canon for amateur and prosumer models, but several other brands, like Fujifilm and Polaroid for example, make great cameras as well). Use these articles as a jumping-off point to help you select the perfect camera.
By Brand
Cameras for Seniors
The best digital cameras for seniors are easy to use, with clear displays and a simple method for getting images from the camera. Keep an eye out for popular features like video with image stabilization – great for recording grandkids in action! We've picked out articles that focus on ease of use, even with a few specifically directed towards elderly photographers.
References
Promotional image courtesy Amazon.com.