Review of Nikon Coolpix S80 Digital Camera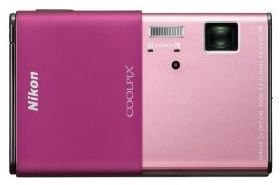 The Nikon Coolpix S80 is a slim and compact camera that offers ease of use and good photo quality. It focuses on being easy to use by offering most of the controls via the touchscreen display and having a slider cover that also functions as an on and off switch for the camera.
Design (3 out of 5)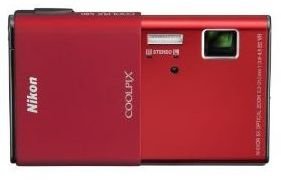 This compact camera features a few unique elements that sets it apart from most of the other compact cameras out there. Most notable is the slider element that covers up the lens when the camera is not in use. The lens does not extend beyond its position which is at the top left corner of the front of the camera. This design provides an efficient way for people to protect the lens when it is not in use. The non-moving lens also increases the starting time of the camera because it doesn't have to extend before the user can take photos. However, the slider is also the only way for you to initiate turning on the display on the rear side of the camera to view your photos or to play around with the settings. This exposes the lens even if you are not trying to take photos. All the controls of the camera are accessed via the large touchscreen at the rear side, which is sleek and gives the camera a very clean look. It gets a rating of three out of five for its design.
Features and Performance (3 out of 5)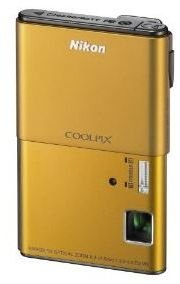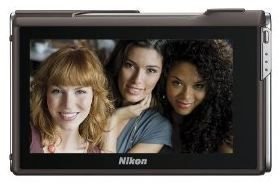 With its 14 megapixel capability, this compact camera offers high quality photos enhanced by a 5x optical zoom lens, creative filters, sensor-shift vibration reduction, Best Shot selector, Scene auto selector, Smart Portrait System and motion detection technology. These photography capabilities are complimented by how easy it is to use the camera thanks to its design.
The overall picture quality is good but it does have its issues in terms of white balance and exposure. These elements appear different in the live preview and the final image, which can be quite frustrating because you may think you have captured a great quality photo in live preview, but you may find that it is not up to par when you see the final image. Everything else like color quality and contrast are excellent. You can take pictures with more or less excellent quality in five different shooting modes: Easy Auto, Auto, Small Portrait, Scene and Movie.
It can be used to record 720p video clips that are of good quality if you are just shooting videos for personal use or for uploading to the Internet. You can also set it to record in VGA and QVGA formats at 30 frames per second and 15 frames per second, respectively. There are not enough settings to configure the video mode except for turning on or off the macro mode or turning on or off the touch shooting and setting the movie quality. One good thing about it is that it records sound with video in stereo. It saves video clips in MOV format. Its set of features and performance earns this Nikon camera an average rating.
Verdict (3 out of 5)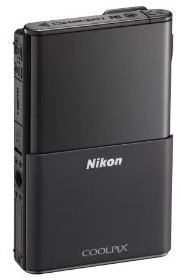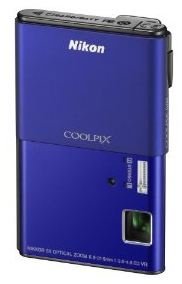 The Nikon Coolpix S80 is designed to be ultra slim and compact, and with its easy to use design, it is ideal for taking photos quickly and efficiently. It may not offer the best quality of photos and videos compared to other cameras of its class, but its ease of use is enough to earn it an overall rating of three out of five, or an average rating.
This camera is available in red, blue, pink, black, gold and silver. You can purchase this from Amazon for around $175.
Reference
Amazon, https://www.amazon.com/Nikon-S80-Touchscreen-Wide-Angle-Pink/dp/B00427ZLVA/ref=sr_1_1?s=electronics&ie=UTF8&qid=1301622783&sr=1-1
Nikon USA, https://www.nikonusa.com/Nikon-Products/Product/Compact-Digital-Cameras/26231/COOLPIX-S80.html
Photo Courtesy of Amazon