Buying Guide and Recommendations: Best Video Camera for iMovie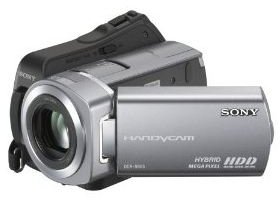 The best video camera for iMovie does not just capture high quality video. The more you capture, the more materials you can use when editing, so having plenty of storage space is a good quality. Speed, image stabilization and file transfer efficiency are some of the things you should look for when shopping for an iMovie-friendly camcorder.
Sony DCR-SR65 1MP 40GB Hard Drive Handycam Camcorder with 25x Optical
This camcorder features a Carl Zeiss Vario-Tess lens with 25x optical zoom and 2000x digital zoom, a 2.7-inch widescreen Clear Photo LCD touchscreen display, a built-in microphone that is capable of 2-channel recording and support for Memory Stick Pro Duo memory sticks. You can capture a lot of footage continuously with its large built-in 40 GB hard disk drive. This will give you more material that you can edit in iMovie. The more video materials you have, the more creative you can be when creating a movie. You can buy it for $474.99.
Canon FS200 Flash Memory Camcorder with 41x Advanced Zoom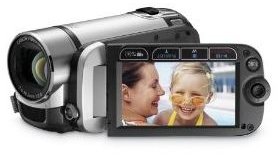 This camcorder from Canon features Canon lens with 37x optical zoom, 2000x digital zoom and 41x advanced zoom, a Digic DV II image processor, an image stabilizer, a Dual Shot mode and the ability to record directly to a removable SDHC memory card. Its image stabilizer technology helps you capture smoother video even if you have shaky hands. The iMovie has an image stabilization feature which can make your video more smooth, giving you the most steady image possible from your captured video. You can get it for $399.
Canon HG10 AVCHD High Definition Camcorder with Optical Image Stabilizer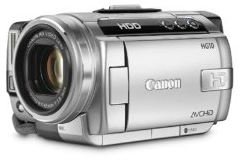 This Canon camcorder features a full HD CMOS sensor, a 24p Cinema mode, a Canon lens with 10x optical zoom, a 2.7-inch widescreen Multi-Angle Vivid LCD display, an HDMI terminal, a SuperRange optical image stabilizer and a built-in 40 GB hard disk drive. Its storage space allows you to capture plenty of high definition video optimized an image stabilizer. This will make your video editing tasks easier while allowing you to have more room for creativity and a wider selection of content. You can buy it for $899.
Sanyo VPC-HD2000A Xacti 8MP High Definition 1080p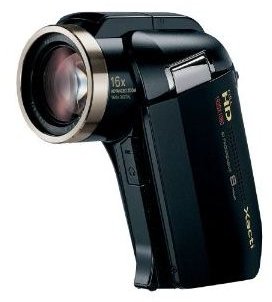 This compact camcorder can capture full HD 1080p video at 60 frames per second and 8 megapixel still photos at high speed sequential shooting in 12 frames per second. It also features slow motion playback of up to 600 frames per second. In addition to these high quality capture modes, the camcorder also features a 3-inch LCD color display screen with level 7 brightness and 285 degrees of rotation. You can but it for $413.72.
Sanyo VPC-FH1A Full HD Video and 8 MP Digital Photos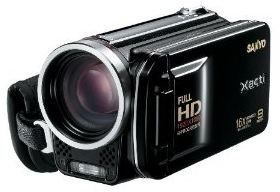 This camcorder from Sanyo has a lens with 16x advanced zoom for capturing video and a 10x optical zoom for capturing photos. It also includes Face Chaser technology that identifies up to 12 faces in a video or a still image. Its sequential photo shooting speed is 12 frames per second. The most notable feature of this camcorder is its support for the iFrame video format, which is the same format used when editing video using video editing software like the iMovie. You can buy it for $548.
These cameras are your best bets if you are looking for the best video camera for iMovie editing tasks. Large storage spaces, image stabilization and iFrame compatibility are helpful factors in having an efficient and creative experience when editing with the iMovie software.
References and Image Credits
https://www.amazon.com/Sony-DCR-SR65-Handycam-Camcorder-Optical/dp/B00123XZLA/
https://www.amazon.com/Canon-Memory-Camcorder-Advanced-Silver/dp/B001OI2VXG/
https://www.amazon.com/Canon-Definition-Camcorder-Optical-Stabilizer/dp/B000U8HBRW/
https://www.amazon.com/Sanyo-VPC-HD2000A-Xacti-Definition-1080P/dp/B002Q4VBT2/
https://www.amazon.com/Sanyo-VPC-FH1A-Video-Digital-Photos/dp/B002Q4VC9G/