What Are SDXC Memory Cards?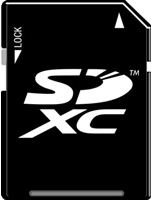 SDXC Memory Card Capacity and Speed
SDXC memory cards currently have capacities ranging from 32 MB to 2 TB. This is the same for either the standard 9 pin or Mini SDXC 8 pin cards. The current bus speeds allow for 104 MB per second transfer speed but future cards are predicted to run at upwards of 300 MBs. These speeds are vastly superior to the current SDHC speeds.
SDXC Card Capabilities
According to SDCard.org, "A 2 TB SDXC memory card could store an estimated 100 HD movies or 480 hours of HD recording or 136,000 fine-grade photos." With storage capabilities like that a case of 8 SDXC memory cards could hold a photographer's lifetime body of work. A family could have up to 800 of their favorite movies at the touch of a button. Videographers could record live sporting events, political rallies, or even use the cards as the preferred recording media for surveillance equipment. The possibilities for SDXC cards are only limited by the imagination of the user.
SDXC Card Compatibility
It is very important to understand that SDXC cards will only work in devices that are equipped to handle them, they are not backwards compatible. This mean you need to look for the SDXC logo on the device you are planning to use or consult the manual for the device to make sure it will work. SDXC compatible devices are able to use the older SDHC and SD cards as well but must have specific programming to read the exFat partitions of the SDXC memory card.
Because the physical form of the SDXC memory card is exactly the same as the SDHC and SD cards it will fit in most card readers. But just because it fits doesn't mean it is compatible. Most computers with Windows Vista or Windows 7 have the required software to read the exFat partitions but older operating systems do not. If you have recorded material on the card and then put it in a computer and get a message that says "Do you want to format the media card?" this means the computer is unable to read the information from the card. If you format it then all of the memory you have on the card will be erased and the exFat file system will be replaced with a Fat32 file system and you will relegated to a maximum of 32 GB of storage.
If you have already formatted your SDXC card and rendered it back to a SDHC (32 GB card) don't worry, there is partitioning software that can reformat the SDXC card correctly. You will still have lost your data but you will get the storage space back again. That software, SDFormatter 3.0, can be found at SDCard.org on the "Using SDXC" page.
SDXC memory cards are the immediate future of digital media storage and will allow people to record and store 100 hours of high definition digital movies or images. These cards, with their tiny footprint, are already the choice of professional photographers and will soon be in the price range of the everyday consumer.
Resources
SDCard.org