Adding Search Provider to IE9 - Add Google as Search Provider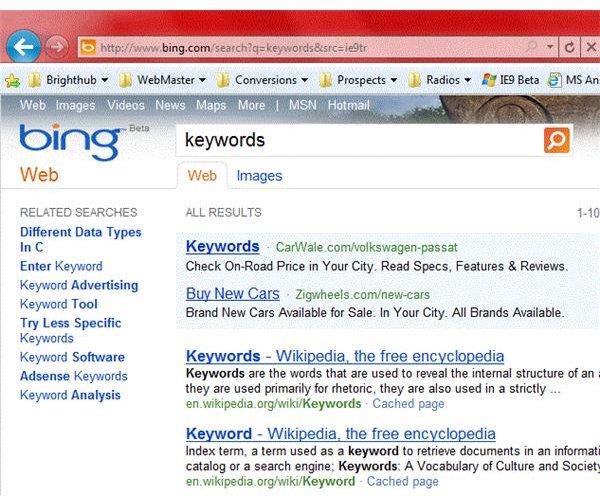 Why Go for Adding Search Provider to IE9
Why will anyone be adding search provider to IE9? The answer is that when you install Internet Explorer 9, Bing is set as the default search provider. This means when you search for anything using the address bar, IE9 passes the search keywords to Bing so that it can search and return the results. This is evident from the following screenshot that shows Bing on the search results page.
**
Please note that this is applicable only when you search from the Address bar in IE9. The new Internet Explorer from Microsoft integrates Search bar into Address bar to save on space. For details on what else is changed, please read our article - What is New in IE9.
Different people like to use different search providers for searching on Internet. Most of you might prefer Google over Bing. Of course you can always type the Google URL and search from the Google search page but this process involves several steps. If you can search Google directly from Address bar, you will be saving time. Others may want Yahoo or other search providers to return results when searching from Address bar.
To use a search provider different from Bing, you will be adding the search provider to IE9 if it is not already installed. For example, if you wish to use Google, you will have to add Google as search provider. IE9 comes with few search providers pre-installed. Thus, you may not always be adding search provider to IE9. If the search provider is already installed, all you need to do to change the default search provider is to select the search provider (Tools -> Manage Add-ons -> Search Providers) and click on Make Default.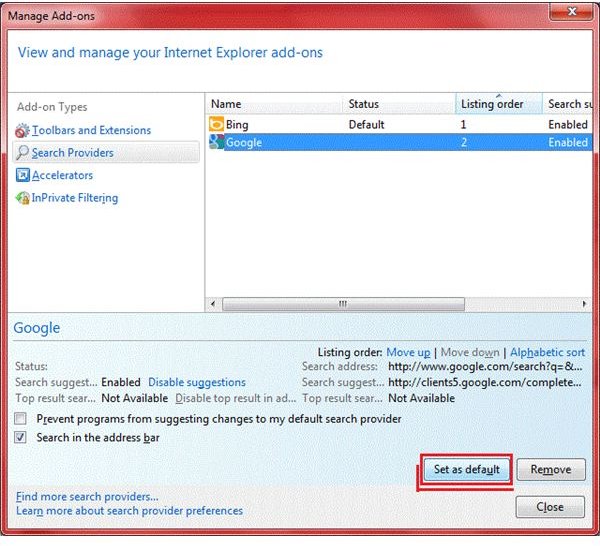 Tip: If you do not want to change the default search provider in IE9 yet wish to use a different search provider for a particular search, type the keywords in the Address bar. When the Address bar opens drop down list showing history and search suggestions, look for the logo of the search provider at the bottom of the drop down list. If you do not find the logo of the search provider you want, you will have to add the search provider to IE9. Clicking on the logo of a particular search provider will force IE9 to send the keywords to that search provider.

The process of adding search providers to IE9 and making it your default search is easy. To understand this, we will use Google Search as example.
The next section shows how to add Google as search provider. The same method is applicable for adding any other search provider.
How to Add Google as Search Provider in IE9 and Make it Default
If the search provider you want is not installed already, you need to add it manually. To add Google as search provider, follow these steps:
1 Open Manage Add-ons window using the Tools icon on the top-right corner of IE9 window
2 Click on Search Providers and then again on Find more search providers at the bottom of Manage Add-ons window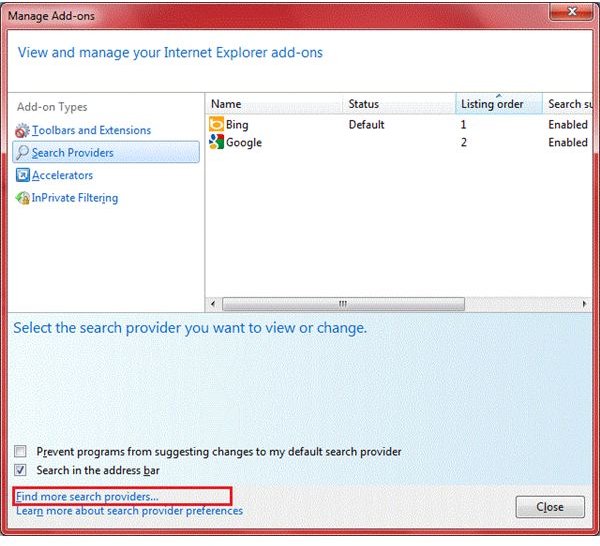 3 When you click on the link, a new page opens with a list of compatible search providers. Browse to the one you want to add (in this case, Google) and click on the button that says Add to Internet Explorer
4. Once you click on Add to Internet Explorer, another dialog box appears asking if you want to make it your default search provider. If you wish to add Google as search provider and make it default, select the option. Click Add and close the add-ons page.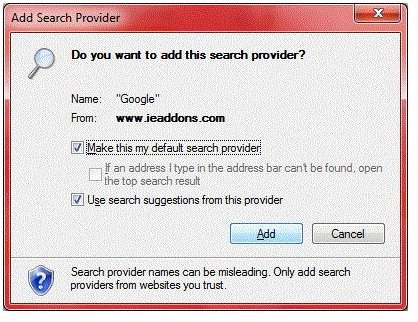 Note: The new search provider will not appear in the Manage Add-ons window that is open. To view it, close and re-open it.
The above explains adding search provider to IE9 using Google as an example. If you face any problems, please feel free to post in the comments section.
Update - 5/12/2011
As of now, the Internet Explorer addons page has gone localized. This means that the page that opens when you click on Add More Search Providers, will now show the local search engines. It may or may not display search providers from Google, Bing, Yahoo etc. If you can't find the search provider you are looking for, please change your locale to US. The addons page for US contains most of the popular search providers. If you are not able to specify the locale, just use the following URL (from Internet Explorer) instead of going through the above steps:
https://ieaddons.com/us/addons/default.aspx#searchproviders
I have contacted the IE team and asked them to add the popular search providers to all the locales' pages. While they may or may not accept the request, you can still use the Internet Explorer's US addons' page to get the search provider you want. I will update you if they accept the request.
I would also like to thank John (see comments) for bringing the issue to my attention.
This post is part of the series: Internet Explorer 9 - Tips and Tricks
This series on Internet Explorer 9 offers you several tips and tricks to enhance your browsing experience. It tells you how to make Google the default search provider, how to use the Address bar for convenient browsing, and covers IE9 shortcuts key among other information.