Windows 7 Printer Drivers for HP and Lexmark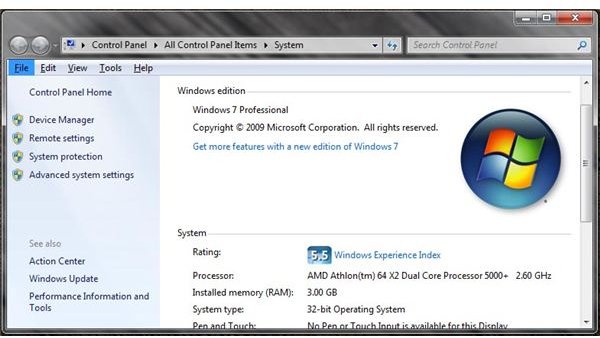 Windows 7 and Printers
Windows 7 is like all the previous versions of Windows when it comes to installing drivers for hardware. While some things will operate using built-in drivers, chances are that you will need to download and install separate drivers when installing new hardware. Printers are no different in this regard. Before you install your printer, you will first need to install the appropriate Windows 7 printer drivers. Locating the drivers can sometimes be a hassle, so in this article we will provide links to the driver download page of all the major printer manufacturers and help guide you toward downloading the right printer drivers for your Windows 7 system.
32-bit and 64-bit
Before you begin hunting online for printer drivers, you need to first know what you are looking for in regard to your system. Windows 7 is available in both 32-bit and 64-bit options, and the drivers are often different. This is why you need to identify which type of Windows 7 operating system you are using so that you can get the most appropriate drivers. To determine which type system you have, follow these steps:
On your Desktop, right click on Computer and then choose Properties in the menu that comes up.
In the system window that appears, look for the line marked 'System Type' an note whether it is 32-bit or 64-bit.
Now that you know what type drivers you are looking for, it's time to go to the manufacturer's website and download them.
HP Printer Drivers for Windows 7
HP makes it very easy to get drivers for all of their products, and they provide a nice searchable database full of information like drivers, how to install them, troubleshooting guides, and more. To download HP printer drivers, first go to the HP support page and then look up the model number of your printer. Make sure you have the exact model number because HP likes to use random letters and numbers after model numbers to differentiate between them and the drivers are often not interchangeable. If the printer is currently connected, you can even download a plug-in that will detect the printer and find the drivers for you.
If you are not happy with your HP printer or want a newer one, be sure to check out this article on the top three HP printers that are compatible with Windows 7.
Lexmark Printer Drivers for Windows 7

Lexmark is another big name in printers and their support site is very simple to use. You can type in your model number, or scroll through a graphical list of printer types that includes images of each model. I really like the way they keep the screen small and tight, so you won't be intimidated by long scrolling pages featuring way too much information that makes you dig for what you actually need. HP is guilty of this on their site, but then they do make a lot more products than Lexmark.
If you are in the market for a wireless printer, one of our reviewers has given Lexmark the highest rating and considers it one of the best wireless printers for Windows 7.
Canon Printer Drivers for Windows 7

Canon is a global company and so the front-end of their website is designed to appeal to all languages and nationalities. What this means for someone needing Canon printer drivers is that you'll have to dig a little to get down to what you need. If you are in the United States, just go directly to https://www.usa.canon.com/cusa/support and that'll take you to their main driver download page. Otherwise, go to https://www.canon.com and pick your region.
On Canon's site, you have to drill down through a tree-like series of menus, but at the end where you pick your actual printer model, they provide images for most of them. Be sure you get the drivers for your exact model number, otherwise they may not work.
If you're looking for a good scanner to go along with your Canon printer, be sure to read this Canon CanoScan LiDE 600F review.
Brother Printer Drivers for Windows 7

Brother is another big name in printers and other peripherals for computers, and their download page uses a series of drop-down menus to let you find the right Windows 7 printer driver for your system. Their printers are easy to identify by looking at the letters in the model number to tell which class they fit into. First you have to pick with model you have, then choose which operating system, then the language to use for the download. It takes a bit more clicking and page loading than some other sites, but at least the information is all there.
If you need help with your Brother printer, be sure to check out this article on how to find Brother printer support for your Windows 7 computer.
Windows 7 Printer Drivers
There are other manufacturers of printing devices for computers, such as Epson and Dell, and you can get drivers and support info from their sites, too. When it comes to PC hardware, it is always smart to save your driver CD's and keep them in a safe place because you never know when you might need them again. There have been times when I have needed drivers from companies that have gone out of business and it turned out to be a lot of trouble to find what I needed because I didn't have the original disks.
Once you have successfully installed your printer, it is recommended that you save those driver files for future reference. You never know when you might need to reinstall them, and it'll save you time to have the drivers burned to a CD or DVD, or saved to a USB flash drive. If anything, make a folder on your hard drive called Drivers and keep them all in there.
After you install your printer, don't forget to run Windows Update to see if there is a more current version of the driver available.
Windows 7 Printers
If you are having trouble getting your printer to work in Windows 7, be sure to read this article on how to connect and share printers. For more information, also check out this Windows 7 printer sharing guide. Wireless printers are becoming much more popular these days thanks to so many people having home wireless networks, so you may also want to read this list of the best wireless printers for Windows 7.