Microsoft OneNote Review What Is Microsoft OneNote 2010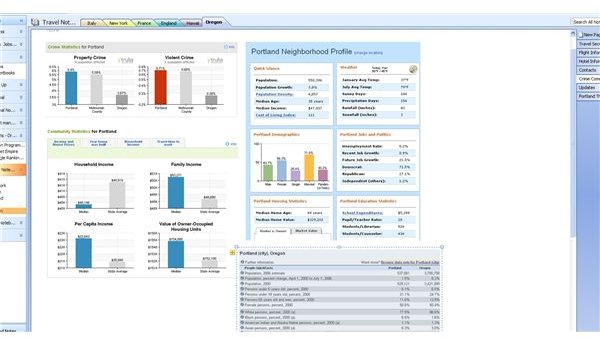 Microsoft OneNote Review (5 out of 5)
Microsoft OneNote is a powerful data management, information collection, and document organization tool originally developed by Microsoft for Students using Microsoft Office. It started taking off with OneNote 2007, but was not available in the business editions. But, its ability to store virtually any kind of information in an organized and easily retrievable manner make it a powerful tool for professionals as well. (Here is the Microsoft Office OneNote 2007 review.)
OneNote is designed to mimic a paper notebook. The OneNote interface parts parallel those found in a three-ring binder type of notebook with sections, section groups, pages, and notebooks themselves. Users put data and information on these pages in the same way that they would a paper notebook except that the words are typed on a keyboard and pictures are pasted electronically instead of with tape or glue. Of course, if you still want to "write" in your notebooks, you can use a digital notepad with OneNote as well.#mce_temp_url#
At first glance, OneNote seems like an unnecessary remake of Microsoft Word. With the right template Word can also store and organize text, graphics, pictures, and multimedia. However, there is one very big difference.
What OneNote does that makes it so useful is that it eliminates the typical boundaries associated with Microsoft Office applications like Word, Excel, Access, and PowerPoint. While everything in Microsoft Word must eventually be able to be paginated in some way into printable form, OneNote notebooks are subject to no such restrictions. Users are free to paste whatever size picture they want without concern about how it fits within the margins. (In OneNote, there are no margins.)
Furthermore, OneNote allows users to insert not only text, graphics, and pictures, but also multimedia as well. Sound files, like lecture recordings, videos and even animations can all be put into OneNote.
Of course, the biggest challenge of collecting lots of information and data in both real notebooks and electronic notebooks is being able to find and retrieve the desired information at a later time. OneNote takes advantage of the advanced search features of Windows 7. OneNote notebooks are indexed using Windows 7 indexing options by default so that searching for a newspaper clipping is as easy as remembering a particular phrase, tag, or any other piece of information.
OneNote Features and Functions
Perhaps the most powerful feature of OneNote is its ability to accept virtually any Paste from the Windows Clipboard. Frustrated users have for years had to figure out just where to paste something like a wide-screen, full-screen, screenshot of a webpage without having to resize or otherwise "fix" the copied image. In OneNote, margins are non-existent, so pasting large, awkward shaped pictures and graphics can be done with ease.
Just pasting a picture into a file isn't all that useful however. That is why OneNote also has a text recognition feature that allows the program to read the text right out of an image. Imagine being able to not only pull text out of a screenshot, but also read the text off of a sign that you took a picture of, or even recreate the menu of that wonderful little restaurant you visited in Paris.
OneNote 2010 takes full advantage of the Office Ribbon interface allowing the multitude of functions to be easily accessed when needed and stay hidden when not useful to the user. Thus, a freelance writer using OneNote for research and to store ideas is not bothered by graphics functions and toolbars, but the freelance photographer using OneNote to catalog models and new locations for photoshoots can easily embed digital photos of the same. Some users even use OneNote to organize a home business.
OneNote Organizational Tools
One of the most useful organizational tools to come along in the computing industry has been tags. OneNote supports tagging of notes or pages so that grouping information together is easy. A designer working on multiple projects can use tags to make it easy to find everything for a particular project, even if that particular data is used by more than one project.
In addition, OneNote makes widespread use of color and collapsing and expanding menus. These allow users to scan across what can be a ton of information and quickly find what they are looking for.
Give OneNote a try. It is a top note taking application for students, but it is also much more. It's already sitting there in your Office 2010 Home and Business Edition or other versions of Office 2010.