Clean Install Windows 7 Upgrade Guide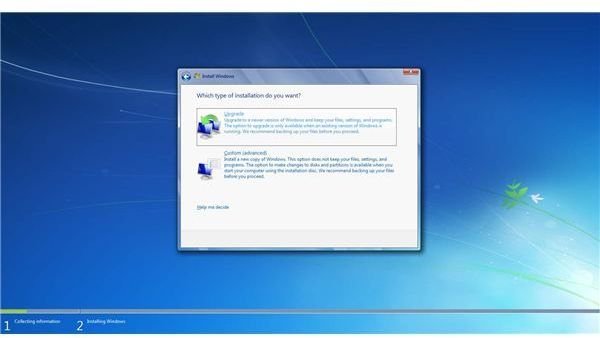 Fresh Start
It's a reality of computing that you may occasionally find yourself in the position of having to do a clean install of your operating system. This can be a tedious and time consuming process, particularly for those who have been following the upgrade path for the past few iterations of Windows. If you're one of those people dreading doing multiple installs or you can't find your previous Windows disks, don't worry. Here's how you can do a clean install of Windows 7 with nothing but your upgrade DVD.
(Note: If you're instead looking for information on other types of installations, such as full install or multi-booting, check out this guide on Windows 7 installation methods.)
Sanctioned Methods
These two methods to clean install Windows 7 Upgrade version that are sanctioned by Microsoft, which happen to also be relatively straight-forward.
This first method is just a normal upgrade installation. Even without your other Windows disks or keys on hand, if you have a previous version of Windows (XP or Vista) installed on your computer you can just run the installer from your current Windows OS and go through the whole upgrade process. Running the installer program from Windows will automatically activate Windows 7. This method will also still allow you to do a clean install, either to existing empty partition or on one that was formatting during the installation process. It is also possible to start the installation by booting from the Windows 7 Upgrade DVD, since the installer will be able to detect an installation of Vista or XP. When following this procedure it is very important that you do not format your disk drives with anything other than the utility that runs in the Windows 7 installer, as it will need to see your other Windows OS to verify that you're upgrading.
If you've finished your installation, but find that Windows did not activate during the setup you can try to activate it yourself by going to the search box on the Start menu and typing in "Activate" and opening "Activate Windows". If the activation failed you can try a "double-install" by reinstalling Windows 7. Put the DVD back in your drive and run the setup program within Windows 7. When prompted, select the "Upgrade" option and go through the installation procedure as you normally would, letting it "upgrade" the existing Windows 7 installation. Once finished and inside Windows 7 again, open the Activate Windows program again and verify that the activation was successful.If it was not successful, then you may want to contact Microsoft technical support. Or, if you're willing, you can attempt the workaround below.
A Different Approach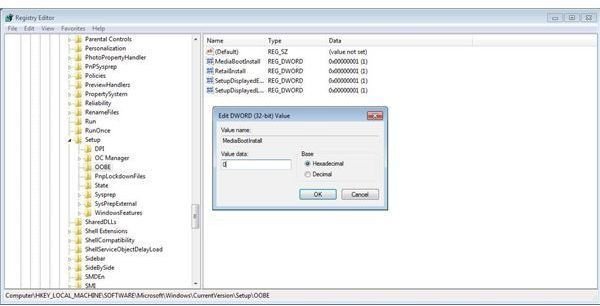 If the above methods have failed, you can try a simple Windows 7 registry hack to work around activation issues. As always with registry editing, make a backup and and be cautious about what you do in the editor. With that disclaimer out of the way, open the Start menu and type "regedit" in the search box, then open "regedit.exe". Once in regedit, navigate to HKEY_LOCAL_MACHINE/Software/Microsoft/Windows/CurrentVersion/Setup/OOBE/. Double-click the MediaBootInstall and change the Value data to 0 from 1, while leaving it set to Hexadecimal, and hit Ok.
Close out of regedit, go back to the search box on the Start menu, and search for "cmd". Don't hit enter, we need to run the command prompt with Administrator privileges. Instead, right-click the cmd shortcut and select "Run as administrator" from the context menu, then select Ok when the UAC window pops up. In the command prompt type in slmgr /rearm and wait until "Command completed successfully" shows up. After that, reboot your computer and try activating Windows again once it starts up by running Activate Windows from the Start menu search box. If this is also unsuccessful then you may want to contact tech support if you haven't already.
But hopefully your operating system is activated at this point and ready for you to go ahead with configuring it. If you're new to this version of Windows you can check out some Windows 7 tutorials to help you get started.