Microsoft Word Clipart Gallery Office Tools Organizer Free Everything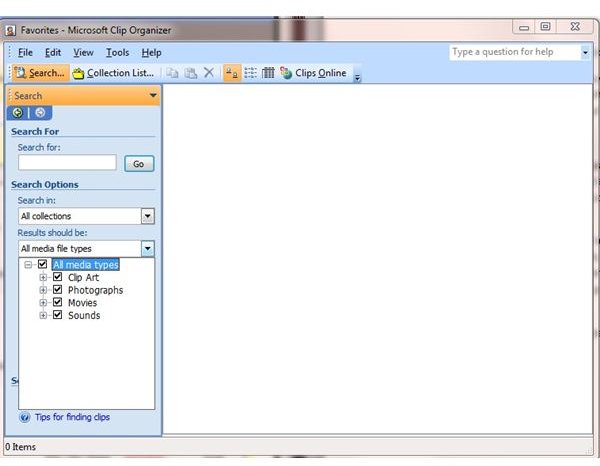 Microsoft Clipart Gallery
Clipart first came into its own when introduced into word processing programs like Microsoft Word as a way to add some graphical eye-candy to long text documents. Its use skyrocketed with the development of Microsoft PowerPoint with users tripping over themselves to add "funny" little cartoons to presentations and signs. However, finding clipart was a hit or miss proposition. While some users purchased CD collections of clipart, many graphics were just downloaded without permission by users who figured that there was not a problem because their little presentation was not for wide distribution anyway. The rapid expansion of document sharing and collaboration via email, plus the ability to upload virtually any file to a website online changed all of that.
To both help users find relevant clipart, and to help encourage its use as a valuable Microsoft Office feature, Microsoft began building the Microsoft Clipart Gallery. Today, in recent versions of Microsoft Office, including both Office 2010 all editions and in Office 2007, Microsoft includes a clip art organization tool called Clip Organizer which puts a wide variety of images at the fingertips of Office users. However, no such tool is included for those using Word online.
Clip-art has not stood still, however. While little graphics and charts remain the most common usage in text documents designed to be printed, presentations that will be shown via computer connected projector, or even online presentations require more than just a bunch of static pictures. In Office 2010, the Microsoft Clip Organizer supports not just graphics and pictures, but also sound files and movie files or animations, as well, giving users everything they need to find clipart images for PowerPoint presentations easy.
Finding Microsoft Word Clipart
The first step in using Microsoft Office clipart is to find what you need. Whether putting together a report for work, or a certificate of appreciation template in Microsoft Word for a co-worker, there are numerous clipart files installed by default with both Office 2010 and Office 2007. However, an even bigger collection is available online. The best part is that you don't even have to open a browser or go to microsoft.com to find them.
Microsoft Office comes with a handful of additional tools installed alongside the usual Office applications like Word, Excel, PowerPoint, and Access. These tools are located inside of the tools folder on both the start menu and in the directory structure. For this reason, they are easy to overlook. One of these tools is called Clip Organizer and it provides a quick and easy way to find free clipart to use in MS Word documents.
To start Clip Organizer, click Start -> Programs -> Microsoft Office -> Tools -> Clip Organizer. Once Clip Organizer is opened, click the Search button on the toolbar at the top. Before searching, take a minute to check the Search Options. Be sure to select "All Collections" for the Search In field in order to include all of the clipart files online at Microsoft's Office website. If you are looking for something specifically, for example only images, you can deselect the other options under Results should be.
You may notice that the definition of clipart has expanded in Microsoft Office and now includes not just graphics and pictures, but also video files and audio files as well.
When searching for clipart, keep your search terms simple. This is not some high-powered Internet search engine. Matches are based only on the keywords that the files were tagged with. That means that finding a picture of a kid on a beach is best done by searching for "beach" and then looking through the files that come back.
Microsoft Word Clipart Free Online and Installed By Default
Once you have found the image or other file you are looking for, there are two ways to get it into your Word document.
The first way is to click on the image and choose COPY from the menu of options. Then, return to your Word file and paste it into your document. The new image editing features in Word 2010 can help make this process less painful than in the past. With these new Office 2010 features, users can edit, resize, and crop clipart images right inside of Microsoft Word 2010 without having to rely on an external image editor.
The second way to use that cute little Snoopy clipart you found is to save the file first and then use the INSERT menu function inside of Word itself. In this case, click on Make Available Offline and choose which collection to add the image to. Once that is done, then click on Insert -> Clip Art and select the file you have chosen. Notice that you can also do a search directly from here, but it is more difficult to sort through several images in a sidebar than in the organizer tool.
Microsoft Free Clipart Online
It's tough finding your own clipart online. Graphics or stock photos may seem free, but understanding the licensing agreements that come with pictures is difficult. With users more aware than ever about the problems of copyright infringement, and corporate legal departments displeased with executive presentations using pictures and sound files of which no one seems to know the origins, finding free clipart legally is more important than ever.
Microsoft clipart online offers thousands of royalty free images and multimedia files than can be downloaded free by Microsoft Office users. Some of free Microsoft clipart has been created by the company, but much more has been legally licensed from its rightful owners. Ultimately, this works to ensure that no matter what the need, users can find relevant clipart to suit their needs ranging from free sports clipart, to free Halloween clipart, Christmas clipart or other free holiday clipart by using the Clip Organizer tool or visiting office.microsoft.com. So rest assured that those baby scrapbook layouts you have been working on are on the up and up with those baby footprint pictures you got off Microsoft.com