Microsoft Outlook Email Themes Best Free Cheap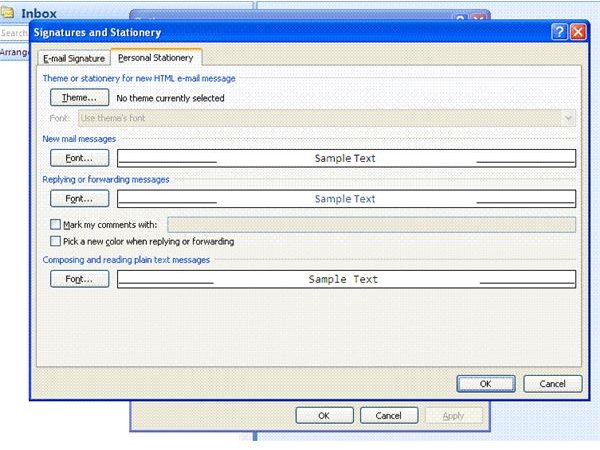 Built-in Microsoft Outlook Email Themes
Plenty of Microsoft Outlook email themes come with MS Outlook when you purchase the Office package. Most of them are based on the MS Word themes already installed on your computer. This is because most Outlook users have MS Word as their default editor for composing and reading emails. Whenever you add or delete a MS Word theme, your MS Outlook is also affected. Let us check out some of the best, built in MS Outlook email themes.
To check the themes installed on your MS Outlook, click Tools and then Options. Select the Mail Format Tab and you get the Stationary and Fonts options. This opens up a list of themes that are built into your MS Outlook. You can preview each theme by clicking on the theme name. Though each theme carries its own fonts, you can change the fonts using the Signatures and Stationary dialog (see image below).
To select a theme from the built in Microsoft email themes, click on the Theme button and select any theme (in the left pane) to preview it (in the right pane). The following image makes the process more clear.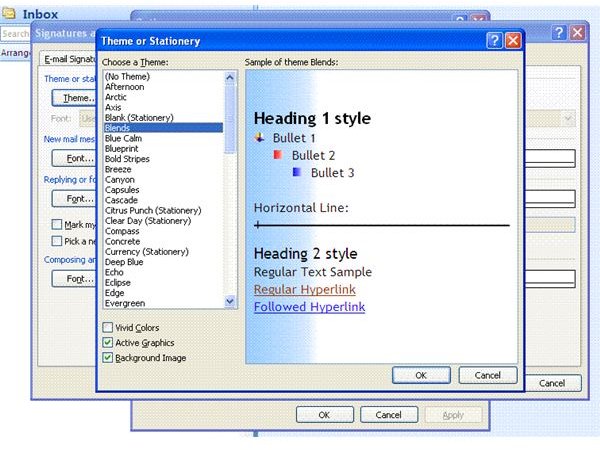 You can further customize the theme by changing the fonts using the previous window that gives you options for selecting themes and fonts for composing new mail, replying etc (Refer to figure 1 above).
The following two are my favorite built-in MS Outlook email themes:
Blends: In case you have not checked this theme, it gives you a blue colored left margin with smaller fonts to offer a cool style to messages. This is a built in theme as shown in figure 2 above.
Glacier: This theme looks more like a paper. It contains horizontal stripes/lines. The left margin is again blue with the remaining portion offering a look of a scratchpad.
Note: You can also download themes from the Templates for MS Outlook.
More MS Outlook Email Themes - PowerPlugs Stationary
Crystalgraphics offers you a range of Microsoft Outlook email themes compatible with most versions of Outlook Express and MS Outlook. You can have a look at the range available: from sceneries to animals to industrial. You can find just the right one that suits your message. Crystalgraphics sells these themes at USD 9.95 per stationary. Each set of stationary contains a number of Outlook themes. For example, if you buy MS Outlook sceneries, you get 25 themes under the collection.
Golden Leaves: This theme offers golden colored leaves in the left margin and a light grayish space for your message. The theme contains Arial fonts that you can customize using your Outlook Express.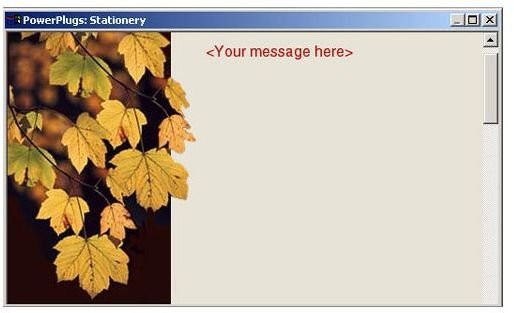 Deep Blue Sky: In contrast to other themes that generally offer graphics in left corner, you get a sky scene at the top of the theme while the area for message is pure white. As with any theme, you can customize the fonts here too, using MS Outlook.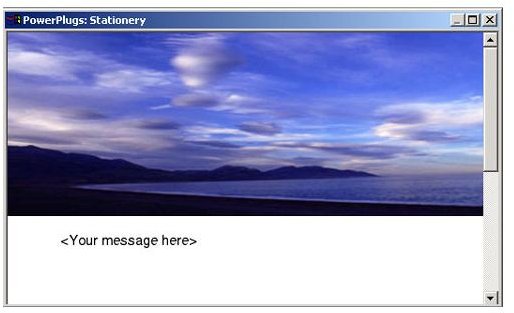 Both of the above themes are part of PowerPlugs Sceneries Part 1, priced at USD 9.95. For more themes and their preview, visit PowerPlugs website. Powerplug also offers you technical support in case you are not able to install the themes properly.
Tip: For Office 2007 and above, if you like the theme of an incoming message, you can always get it. Open the message and click on File -> Save as Stationary. The Microsoft Outlook email theme is stored at the default location so that you can use it in your emails.