How to Import and Export a Web Site in Expression Web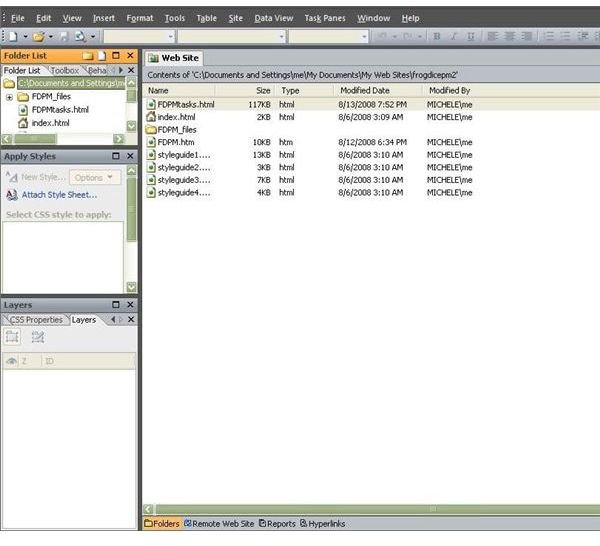 Personal Web Packages
If you've ever had to move your web site from one server to another, then you know what a chore that process can be. Rather than moving one file at a time, Microsoft Expression Web contains a tool that allows for the creation of a single file, or personal web package, that can be used to transport a web site from one location to another. One of the great things about this feature is that you get to pick and choose which files you want to include in both the import and export process. This way you can decide to move an entire web site, a portion of the site, or even just a single web page.
Creating an Export Web Package
To create a personal web package for the purpose of exporting material from a web site, follow these instructions.
Step 1: Begin by opening the web site that you want to export in Expression Web. Make sure you are in the Folders view and that you are able to see the entire list of files that are contained on the web site. (Click any image in this article for a larger view.)
Step 2: From the File menu on Expression Web's toolbar, select Export and then choose Personal Web Package.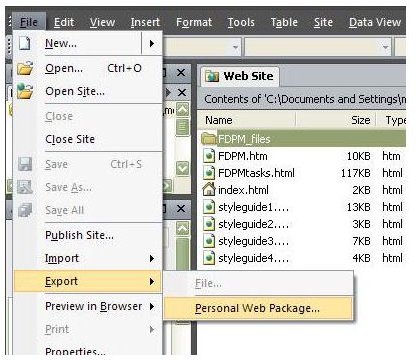 Step 3: The Export Web Package dialog box should now appear on your screen. Select each of the files that you want to include in the export from the Files in Web site column and add them to the Files in Package column.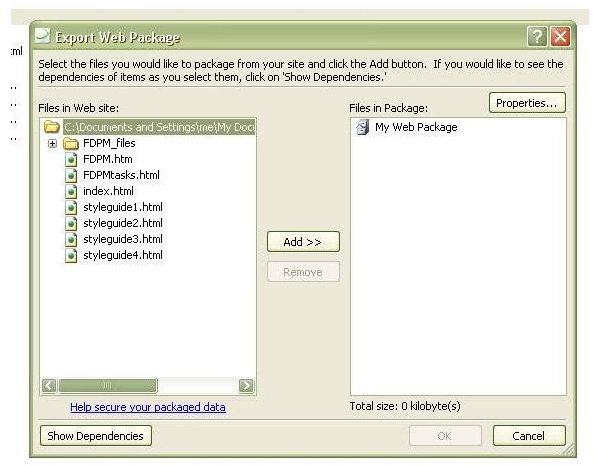 If you're not sure what additional files are needed for your selected files to load and display properly, click the Show Dependencies button located in the lower left-hand corner of the dialog box. This option allows you to make sure that you're including all necessary files in your export package. Click OK when you have finished selecting your files.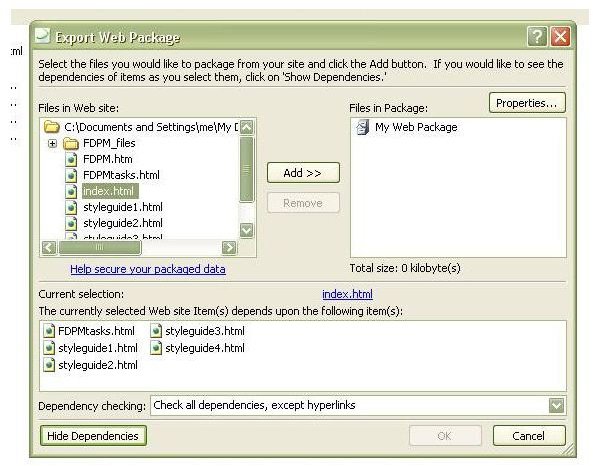 Step 4: A File Save dialog box will now appear prompting you to enter a location and name for your export package. After doing this, click the Save button and a single file with a .fwp extension will be created with all the contents selected.
Importing a Personal Web Package into a New Web Site
Once you have a personal web package file, you can easily import the files into a new or existing web site by performing these steps.
Step 1: Open or create the web site in which you would like to import the file package in Expression Web.
Step 2: Select Import from the File menu on the toolbar, and choose the Personal Web Package option.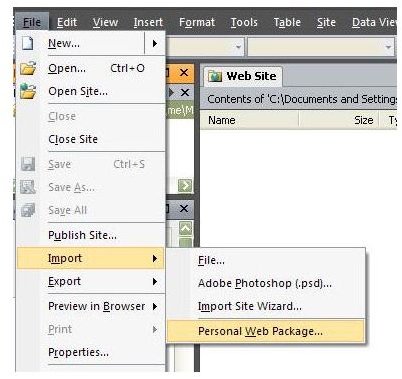 Step 3: Navigate to the directory that contains your file and click Open to access the Import Web Package dialog box.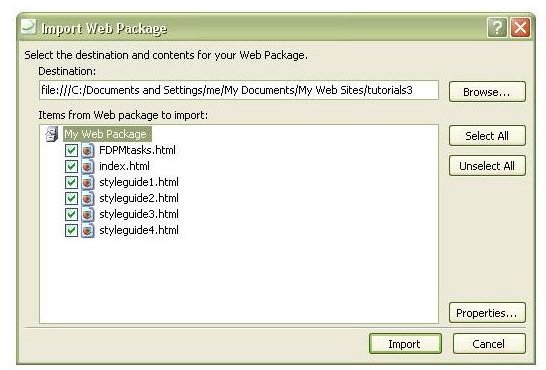 Choose which files you would like to import. By default, all files should be selected. Click Import when ready. At this point, you may receive a security warning like the one shown below.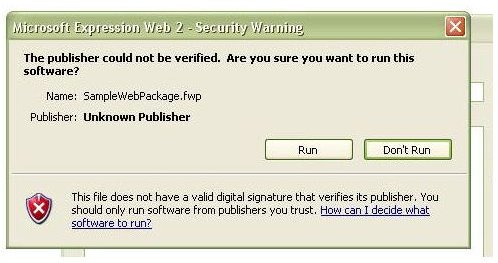 If you or some other known source created the personal web package, choose Run. If you received the file from an unknown party, you may want to do some more investigation to make sure the contents of the file are not malicious.
Step 4: After you have selected Run, Expression Web will unpack the files. This may take a minute or two if you are importing a large web site. However, it generally only takes a few moments. Once Expression Web has completed this, click OK and the new files will appear in your web site.
For more tips and tricks, be sure to browse through the other articles in Bright Hub's collection of Expression Web tutorials.
This post is part of the series: Creating New Web Sites and Web Pages in Microsoft Expression Web
In this series, we'll take a look at the several options offered by Microsoft Expression Web for the creation of both single web pages and entire web sites.