Internet Explorer Will Not Open - Causes and Fix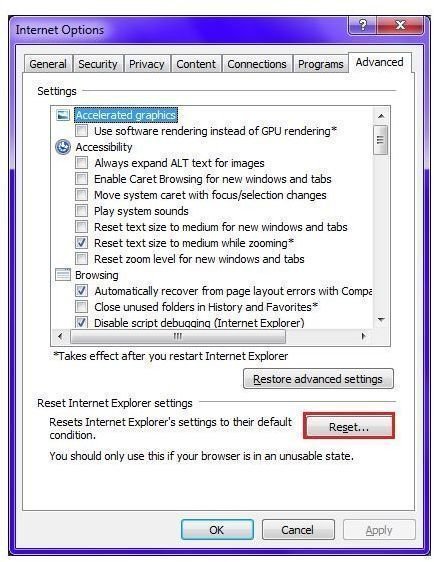 Internet Explorer Will Not Open - Possible Causes
Internet Explorer will not open when you click on it. While sometimes it gives you an error message such as "This page requires JavaScript" or "Cookies are not enabled", other times Internet Explorer will simply not open and show you an hourglass as if it is working. In all cases, you can find the iexplore.exe process in the Task Manager though.
When Internet Explorer will not open without presenting any error messages and acting as if it is working in background by showing an hourglass, it usually means some components are clashing or are corrupt.
If you are presented with "Cookies not enabled" message, it may mean that your IE preferences need to be changed. You can change them via Internet Options or by a reset. We will discuss this in the following section.
When Internet Explorer presents you with a message "this page requires JavaScript" and hangs, it may mean that either you don't have Java installed on the machine or the Internet Explorer settings are prohibiting Java from running on that machine. If latter is the case, it too can be solved through an IE reset.
The next sections help you troubleshoot to fix the problems when Internet Explorer will not open.
Internet Explorer Will Not Open - Fixing the Problem
When Internet Explorer will not open without giving you any error message and shows an hourglass, you can try to reset the Internet Explorer. This option cures several problems on IE6 and later versions. You may lose any customization though. You may create a system restore point if you wish so that you can rollback if the problem persists.
To reset the Internet Explorer, open the Internet Options from Control Panel. Go to the Advanced tab. Click on the last button that is labeled "RESET". After clicking on the button, double click on the Internet Explorer icon and see if it opens. The problem should be fixed now.
If you still problems, you may have to reinstall the browser. If you are using XP, refer to our article, reinstalling Internet Explorer for more details on uninstalling the browser. Once you have uninstalled IE, you can download the installer program from Microsoft website and install it. For details on how to reinstall IE on Vista and Windows 7, please read our article - How to Reinstall Internet Explorer in Windows 7 and Vista.
The above should solve the problem where Internet Explorer will not open, including the problem where you get the error message "Cookies are not enabled".
The same procedure may fix the problem where Internet Explorer says "JavaScript not enabled". If you are still receiving the message, it means Java is not installed on your machine. You can download and install Java for free. Once you have installed Java, your problem should be fixed.
If you are still facing problems where Internet Explorer will not open, please write to us about the problem using the comments section (please include IE version number and operating system) so that we can identify the problem and assist you in troubleshooting.
This post is part of the series: Troubleshooting IE - More on Internet Explorer Problems
This series is a follow up to How to Repair Internet Explorer 8 When it Hangs. It includes articles containing general information on Internet Explorer and troubleshooting IE for certain problems.