Paid & Free Windows Screen Capture Utilities - Software Reviews for Windows Desktop Screen Capture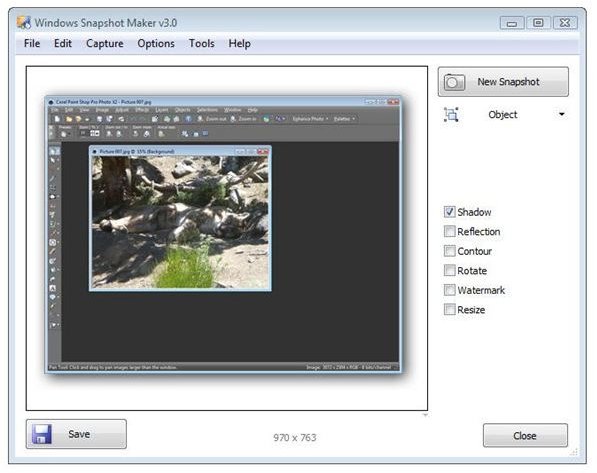 Screen Capture Software
Windows screen capture software comes in many different shapes and sizes, not to mention prices. Some programs are capable of capturing streaming video while others are relegated to just taking screenshots of a still image shown on your display unit. Even within these two categories, there is a lot of variation when it comes to the capabilities of the product.
Snipping Tool
If you're a Vista user and only interested in capturing screenshots, you may be content with Vista's Snipping Tool. However, while the Snipping Tool works great most of the time, it doesn't handle certain situations very well. For instance, I've never found a good way to take a screenshot of an application while using an interactive menu with this tool. With that being said, it's still much, much better than just hitting the Print Screen key and hoping for the best.
WinSnap 3.0
A nice alternative is WinSnap 3.0. This handy little program takes very professional-looking screenshots, is packed with features, and is easy to use. It may not be free like some other screenshot utilities, but it is extremely reasonable with a personal license costing less than $25. A big plus with this application is that the license fee includes free upgrades to any future release of the product.
More often lately, people are looking for a program that is capable of doing more than just taking a screenshot. Instead, users want software that is able to capture and record footage or a series of frames from their PC. That is, you may want to record a video that you're watching on your Windows computer, capture the mouse and keyboard movements you're using when performing a specific task in an application, or even record a portion of a game you are playing online.
Fraps
One application that gets a lot of positive reviews from gamers is Fraps. Not only can this application capture video from a game (even in full-screen mode), but it also includes several benchmarking tools that can be used to evaluate your computer's performance when playing these games.
Replay Video Capture
Those who are more interested in capturing the video and audio from an isolated application on the desktop may want to check out Replay Video Capture instead. In his review of the product, Lamar Stonecypher gives several tips on how to get the most out of this software in addition to offering his unbiased recommendations.
More Options
Of course, there are other alternatives as well. If you already own or are thinking of purchasing a photo editing application, you can generally use this software to take and edit screenshots. Likewise, many Windows video editors will have built-in tools for capturing video from your machine.
If you have questions or recommendations about another product, let us know! Leave a message on the Windows Platform Discussion forums and share your thoughts with us.